City of Pharr and PSJA ISD to host Victory Celebration for Winning It's Time Texas Community Challenge on Wednesday, 5/4 at 11 am
FOR IMMEDIATE RELEASE
MONDAY, MAY 2, 2022
Pharr, Texas – The City of Pharr and PSJA ISD have been announced as winners in their respective categories for this year's It's Time Texas Community Challenge, a statewide competition sponsored by H-E-B that encourages citizens, communities, and organizations to live healthily.
To celebrate their victory, the City of Pharr and PSJA ISD, along with representatives from It's Time Texas will be hosting a PSJA Tri-City Victory Celebration at 11 am on Wednesday, May 4, 2022, at the PSJA Stadium (703 E. Sam Houston) in Pharr.
"This is an extremely proud moment for our city, our school district, and our communities," said Pharr Mayor Dr. Ambrosio Hernandez. "Each year we are proud to participate in the challenge and through our hard work, participants, and consistency, we earned 1st place this year and we could not be happier, especially to celebrate alongside PSJA ISD who also ranked at the top," added Hernandez. "We invite everyone to join us for this celebration!"
The City of Pharr earned 1st place in the Medium Community category. While the City of Alamo earned 3rd Place and the City of San Juan 4th place in the Small Community Category, each with over a million points. PSJA ISD was named the winner of the Large School District Category, for the 4th consecutive year, with more than 3.3 million points collected by students, staff members, and families participating in the challenge.
The It's Time Texas Community Challenge is an annual statewide competition that unites cities, school districts, businesses, and organizations with the common goal of transforming their community's health. This year nearly 300 communities from across the State of Texas competed from January 3  to February 27.
The event will include remarks from the City of Pharr, PSJA ISD, and local leaders as well as an Awards Presentation led by It's Time Texas recognizing these collective efforts.
All media and the public are invited to attend.
DETAILS
WHAT:  City of Pharr and PSJA ISD to Host Victory Celebration for Winning It's Time Texas Community Challenge
WHEN: Wednesday, May 4, 2022 at 11 am
WHERE: PSJA Stadium (703 E. Sam Houston, Pharr, TX)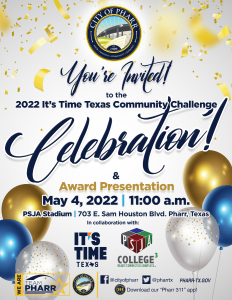 MEDIA ADVISORY
Pharr Media Contact: Yuri Gonzalez
Phone: (956) 310-2139
Email: [email protected]
PSJA ISD Media Contact: Arianna Vazquez-Hernandez
Exec. Dir. Of Communications/Public Info
Phone: (956) 354-2027, (956) 279-9420
Email: [email protected]
It's Time Texas Media Contact: Melissa Garcia
South Texas Regional Director
Phone: (956) 617-4446
Email: [email protected]