City of Pharr and Vanguard Academy to Host Grand Opening & Ribbon Cutting for Nature and Birding Center on Thursday, 7/16 @ 11:30 am
Pharr, Texas – Pharr city leaders, in partnership with Vanguard Academy, are proud to announce the Grand Opening and Ribbon Cutting of the City of Pharr and Vanguard Academy Nature and Birding Center. The center was made possible by a $250,000 matching grant from Texas Parks and Wildlife Department. The Grand Opening will take place at 11:30 am on Thursday, July 16, 2020, at 1025 S. Richmond Drive in Pharr.
The new center, including a nine-acre park, is expected to be an attraction for nature education and bird watching, as well as the arts. The City of Pharr is committed to working with Pharr families, communities, and local school districts when planning for the development of new city parks and community attractions.

"Not only are we expanding our parks and increasing our green footprint in our city, but we are also working to support and promote eco-tourism and the arts," said Mayor Ambrosio Hernandez, M.D. "One of the most attractive features of this park is its open-air, 500 capacity amphitheater which will allow our Pharr families the opportunity to enjoy many days and nights at this park – watching plays, listening to live music, and much more," he continued. "This is a great investment in our city, our students, and our community," he added.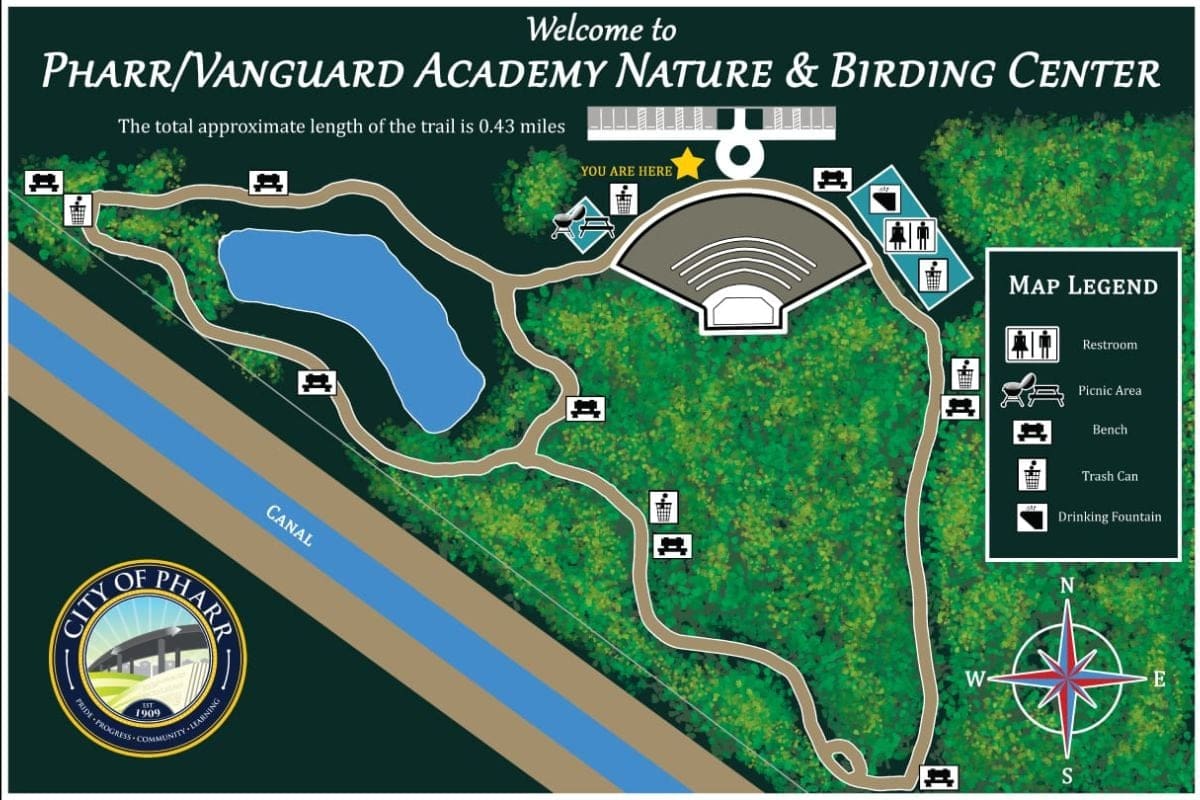 Ideally nestled within the nature and birding center, the amphitheater is a welcomed addition to Vanguard Academy, which is known for its emphasis on fine arts. Students at the academy will have the opportunity to enjoy band and orchestra concerts and plays, while the public will also have access to the amphitheater through city and school district-sponsored events.

The park also includes an information area for nature education, interpretive signage for accessibility, a decomposed granite walking trail, and picnic areas for families to enjoy. Filled with native plants and foliage to attract a wide variety of birds, butterflies, and more, the park also has binocular viewing stations located throughout the park, further aiming to promote eco-tourism by attracting bird watchers, nature groups, educational organizations, and more.
DETAILS
WHAT: Grand Opening & Ribbon Cutting Ceremony for City of Pharr and Vanguard Academy Nature and Birding Center
WHEN: Thursday, July 16, 2020, at 11:30 am
WHERE: 1025 S. Richmond Drive, Pharr, TX 78577