City of Pharr Celebrates Hispanic Heritage Month with Mural and Time Capsule Dedication
Pharr, Texas – In commemoration of Hispanic Heritage Month, the City of Pharr held a dedication ceremony to honor and celebrate Pharr's history, present, and future at the South Pharr Development & Research Center (DRC). At the event, Mayor Ambrosio Hernandez, M.D., and Pharr city officials dedicated a commissioned mural depicting Pharr's rich Mexican-American history and unveiled the rendering of a memorial monument that will house a time capsule to be opened in 50 years.
"Today, we join the nation in paying tribute to the generations of Hispanics who have positively influenced and enriched our nation and society," said Mayor Hernandez. "The Rio Grande Valley's history is founded on rich traditions, culture, and influences of our international neighbor, Mexico. Everywhere you look in our region—from our food to our language, to our music and our dancing—we share a unique connection and bond," he said before unveiling the city's newest mural.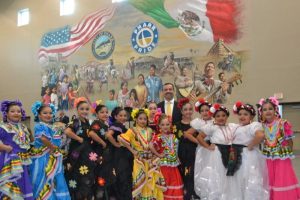 The mural was painted by artists and brothers José Arturo and Imuris Aram Ramos Pinedo from Zacatecas, Mexico and depicts people, places, and events of historical significance in Pharr's history. The mural also celebrates the Mexican and American culture and heritage that is present in border communities such as Pharr. The artists have painted a mural at the Pharr Memorial Library, and have plans for a future mural at the Pharr International Bridge.
"The City of Pharr is especially proud to celebrate the importance of Hispanic Heritage Month with the dedication of this stunning mural – a beautiful depiction of the City of Pharr's community and our deep connection to the Mexican Culture," remarked Mayor Hernandez during the ceremony. "José and Imuris have done a wonderful job capturing our history and the roots of our community."
Pharr officials ended the Hispanic Heritage Month Celebration by commemorating the future site of a memorial monument at the DRC, that will house a time capsule which will be opened in 50 years. The time capsule was presented at this year's State of the City address and contains notes to future Pharr citizens, City of Pharr relics and memorabilia, and photos and newspaper articles highlighting the 2018 State of the City as well as other newsworthy events from 2018.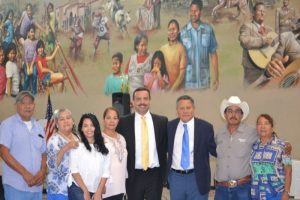 "The time capsule, which will be opened in 50 years from now, in 2068, was created to remember Pharr's past, preserve the present, and to remind future citizens of the city's rich history," stated Mayor Hernandez. "In 50 years, Pharr will look very different, and I look forward to our future leaders uncovering this treasure we will have left them," he added.
This Hispanic Heritage Month, the City of Pharr continues to preserve our rich cultural history while paying tribute to our past and the community that has sustained, grown, and developed alongside us. We are excited to see what our future holds!