City of Pharr Hosts Unveiling Celebration for Time Capsule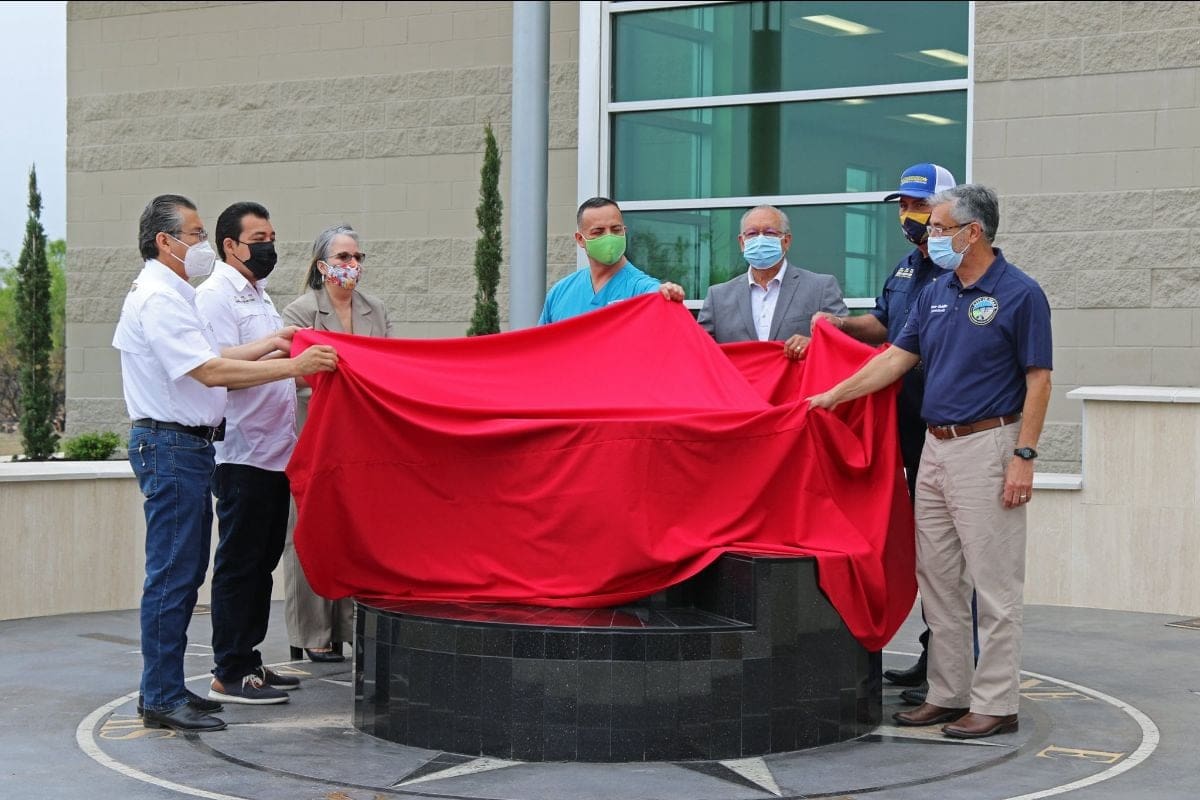 The City of Pharr recently held a Time Capsule Unveiling Ceremony to honor the city's past, preserve the present, and remind the future citizens of the city's rich history. Officials from throughout Hidalgo County attended the historic event, helping to fill the capsule with relics that will one day be opened by future Pharr leaders and residents.
"This is a historic day for the City of Pharr," said Mayor Ambrosio Hernandez, M.D. during the ceremony. "The time capsule was created to remember Pharr's past, its present, and the future – allowing us to honor the city's rich history while paying homage to our future," continued Hernandez. "This event was supposed to take place one year ago, but then the pandemic hit," he added. "However, this gave us more time to collect relics and even gave us the opportunity to collect documents and preserve mementos from the COVID-19 pandemic; a part of our history that will forever be remembered," said Hernandez.
The Time Capsule Monument, located at the Development and Research Center in South Pharr, was unveiled by city leaders amidst a crowd of elected officials, community representatives, city employees, students from nearby Carmen Anaya Elementary, and City of Pharr residents.
During his remarks, Mayor Hernandez noted that each of the dials on the monument's bronze sundial surface represents Pharr community leaders at this moment in time. A plaque placed on each dial is dedicated to current leaders including Mayor Hernandez and each current City Commissioner, Texas State Senators Juan "Chuy" Hinojosa and Eddie Lucio Jr., Texas State Representative Sergio Munoz Jr., Hidalgo County Judge Richard Cortez, and Hidalgo County Precinct 2 Commissioner Eddie Cantu.
Remarks about the city's past, present, and future were also shared by City Commissioners Bobby Carrillo, Dr. Ramiro Caballero, Daniel Chavez, Attorney and advocate Eddie Anaya, Nathaniel Perez from the Warren Group Architects, Inc., Principal Berta Cantu of Carmen Anaya Elementary, and Hidalgo County Judge Richard Cortez.
The City Commissioners shared a collective message of progress, unity, and dedication to public service and working for the betterment of the City of Pharr and all its residents with the hope for a better and brighter future. "It's amazing to see how far we have moved the city forward in the 13 years since I have been on the commission," said Commissioner Carrillo. "I'm sure when this capsule gets opened up and they see what the city looked like before, it will certainly look very different to them, but nonetheless, they will recognize that we laid a strong foundation for our future and our residents," he added.
"The City of Pharr has grown tremendously," said Judge Cortez during his speech. "Having heard everyone speak here today, you can see and feel the pride, dedication to service, passion, and vision for the future that these city leaders have for their community," he added. "Their work in the community is not only seen now but is helping to create a better future for Pharr," added Cortez. "It truly is something to witness this dedication and how it is shaping Pharr into a leader among our communities."
"This monument signifies our history, our prosperity, and what is yet to come in our future," said Mayor Hernandez. "We cannot imagine what Pharr's future will hold, but we know that this time capsule will be a monument of tremendous significance that our residents and families can appreciate and enjoy for years to come," he added. "Everyone that visits this place will know that one day, years down the line, it will be opened by a new generation of leaders, residents, and families!"
The time capsule which is set to be opened in the year 2070, was filled with City of Pharr relics, memorabilia, photos, and notes to future Pharr residents. By the time the capsule is opened, the city will be celebrating its 161 year anniversary.