City of Pharr Makes Spirits Bright with Annual Lighting of the Christmas Tree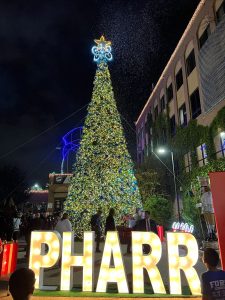 Pharr, Texas – The City of Pharr held its annual Lighting of the Christmas Tree on Monday, November 28th at the Downtown Park near city hall. The park was packed with excitement as city hall and the downtown main street lit up with lights in celebration of the Christmas holiday and festivities. The community was especially excited to welcome The Grinch back to Pharr.
Mayor Ambrosio Hernandez, M.D., Pharr City Commissioners, and employees welcomed the community to the FREE event which featured a countdown to the lighting of the tree, musical performances, popular Christmas Characters such as The Grinch, Mickey Mouse, and more.
"Christmas is about joy, happiness, and love but most importantly, it is about FAMILY," said Mayor Ambrosio Hernandez, M.D. "Today, we celebrate the lighting of our tree and city as we prepare for the festivities of the Christmas season, and I am so proud to see our community gather together," he continued.
After the welcoming remarks and invocation, Mayor Hernandez and City Commissioners gathered around a giant flip switch as the countdown began for the lighting of the tree. They were joined by children in the audience who helped them flip the switch.
Once the tree was lit and all the lights turned on, the community was invited to enjoy a walk around the Downtown Park and Pharr City Hall to view the spectacular Christmas decorations, listen to live Christmas music, and take photos with The Grinch and other Christmas characters.
"Our Tree represents light and this holiday season, I encourage each of you to spread light to those around you," added Hernandez. "We wish you all a joyous Christmas season filled with hope, aspiration, and love," he said.
Everyone is invited to enjoy the lights at Downtown Park throughout the holiday season. The City of Pharr will be hosting several upcoming family-friendly events in the area in celebration of Christmas. Stay informed of upcoming events on the city's social media pages.