City of Pharr to Host Veterans Parade and Fireworks on Saturday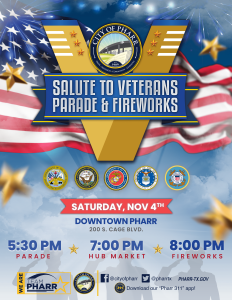 FOR IMMEDIATE RELEASE
THURSDAY, NOVEMBER 2, 2023
Pharr, Texas – In honor of all Veterans who served in our United States military and armed forces, the City of Pharr is proud to host and celebrate Veterans Day with a Salute to Veterans Parade and Fireworks!
The festivities will take place in Downtown Pharr (200 S. Cage Blvd.) on Saturday, November 4, 2023, beginning with a parade at 5:30 pm followed by The HUB Market taking place at 7:00 pm, and concluding with a fireworks show at 8:00 pm.
Fireworks will be displayed by Pecina Rd. and Cage Rd. in South Pharr. Citizens are encouraged to find a safe location to watch the fireworks show.
"Pharr is proud to salute all Veterans in our community, and we honor the many brave men and women who have served in the armed forces to protect our freedom and our country," said Mayor Hernandez. "On behalf of the entire Pharr City Commission, we invite the public, our citizens, and all our veterans to come and enjoy the festivities," he added.
City of Pharr officials invite all Pharr residents and families to attend and show their support as we honor the men and women who have served and who are currently serving in the United States military.
This event is FREE and open to the public. All media and the public are invited to attend.
DETAILS
WHAT: City of Pharr Salute to Veterans Parade & Fireworks
WHEN: Saturday, November 4, 2023, from 5:30 pm to 8:00 pm
WHERE: Downtown Pharr (200 S. Cage Blvd, Pharr, TX 78577)