The Board of Commissioners of the City of Pharr met for a regular meeting on Monday, October 7, 2019, and considered an agenda that included the following highlights:
City Proclaims October 23 – 31 as Red Ribbon Week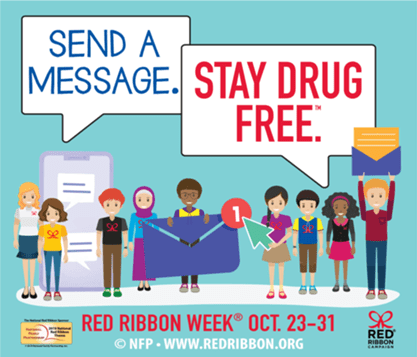 Pharr Mayor Ambrosio Hernandez, M.D., and City Commissioners approved a proclamation recognizing October 23-31, 2019 as Red Ribbon Week. Pharr joins the City of San Juan, City of Alamo, PSJA ISD, Rio Grande Valley Council, INC., and Behavioral Health Solutions of South Texas in observing the national drug-free week initiative. The Red Ribbon Campaign was established by Congress in 1988 to promote this belief and encourage a drug-free lifestyle and involvement in drug prevention efforts in commemoration of Enrique "Kiki" Camarena, a Drug Enforcement Administration Agent, who was murdered in the line of duty and has come to represent the belief that one person CAN make a difference. The city calls upon all citizens of Pharr, San Juan, and Alamo to participate in year-round drug-free activities.
City Approves MOU with Texas Parks and Wildlife for $5 million Grant for the Multi-Specialty Facility
Pharr Mayor Ambrosio Hernandez, M.D., and Pharr City Commissioners approved an MOU with the Texas Parks and Wildlife Department (TPWD) for a $5 million grant for the development of the Multi-Specialty Facility in the City of Pharr. The 2020-2021 General Appropriations Act, enacted by the 86th Texas Legislature (House Bill 1), included Rider 37 within the appropriations to TPWD, which appropriated from General Revenue, $5,000,000 (the Funds) in fiscal year 2020 for the purpose of making a grant to the City.
Commission Approves Ordinance Amending Fees for City Rental Facilities
Pharr Commissioners approved an Ordinance amending Ordinance No. O-2018-37 (rental of city facilities). The new ordinance establishes a new category (Non-commercial / Private) under Class I of rental fees and shall apply to any and all activities sponsored by private entities to which admission might be restricted, but to which an admission fee will not be charged and profit-making is not intended. These activities may include weddings, quinceañeras, receptions, birthday parties, and company banquets, etc. Changes to the ordinance have been made to reflect the recent renovations to the Civic Center which now has more capacity and boasts one Large Hall with rental fees starting at $400 and ranging to $2,000, one Small Hall ranging from $50 to $100, Conference Room A ranging from $40 to $60, and Conference Room B ranging from $30 to $40. All prices depend on the class (Class I Commercial / Profit-making or Class II Non-Commercial/non-profit-making) and the time of the event. Other changes made to the ordinance include a minimum requirement of two certified City of Pharr Police Officers to be contracted by the renter and allowing Class I reservations to be made up to one year in advance of the reserved date.
Commission Approves Resolution in Support of Proposition 8 
Commissioners approved a resolution in support of Proposition 8. House Joint Resolution 4 proposes a constitutional amendment, also known as Proposition 8 ("Prop. 8"), allowing for the creation of the Flood Infrastructure Fund (FIF) that would authorize $793 million in flood-control projects in the State of Texas. The Flood Infrastructure Fund (FIF) is a statewide, cooperative effort for regional flood planning, mitigation, and infrastructure projects to make Texas "future-proof." The entire State of Texas stands to benefit from the proposed FIF, which would help alleviate flooding, improve drainage infrastructure, and provide for the state's first-ever flood infrastructure fund. "Our state and our communities stand to greatly benefit from this fund," said Mayor Hernandez. "We want to remind citizens that this is money that will be drawn down from the state's "Rainy Day Fund" and will not have an impact on our taxes, grants, or contributions as a community," he continued. "We all stand to gain from this and it behooves to help ourselves, our city, and our state in support of Proposition 8."
Commissioners Approve Petition to Contract Pharr's Election with the Hidalgo County Elections Department
Commissioners approved the petition to contract Pharr's election with the Hidalgo County Elections Department. On September 11, 2019, the City of Pharr received a Petition for Election Services Contract with Hidalgo County signed by 59 individuals. The petition has been reviewed by the City Clerk and City Attorney and was forwarded to the Hidalgo County Elections Administrator to verify the names on the petition as requested by voters residing in the city of Pharr. Per Section 31.092, the City of Pharr has requested an election services contract with the County Elections Administrator to conduct a uniform/general Election to be held in 2020.