The Board of Commissioners of the City of Pharr met for a regular meeting on Monday, November 1, 2021, and considered an agenda that included the following highlights:
Commission Proclaims November 1, 2021 as Mayors' Monarch Pledge Day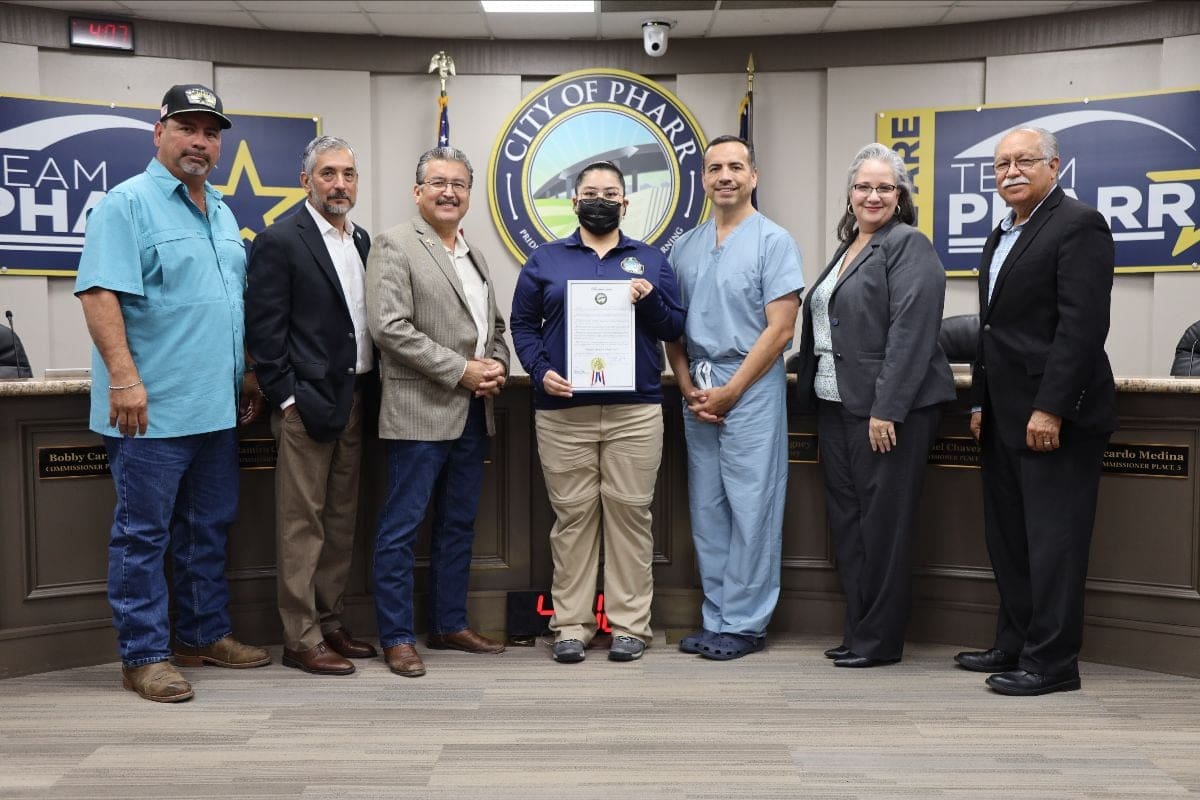 Mayor Ambrosio Hernandez, M.D., and the Pharr City Commission approved a proclamation declaring November 1, 2021, as Mayors' Monarch Pledge Day. The monarch butterfly is an iconic North American species whose multigenerational migration and metamorphosis from caterpillar to butterfly has captured the imagination of millions of Americans. Through the National Wildlife Federation's Mayors' Monarch Pledge, U.S. cities, municipalities, and other communities are committing to create habitat for the monarch butterfly and pollinators, and to educate residents about how they can make a difference at home and in their community. Mayor Hernandez has signed the National Wildlife Federation's Mayors' Monarch Pledge and encourages other city officials across our great nation to take a stand with him so that the monarch butterfly will once again flourish across the continent. The City of Pharr's Urban Ecologist, Libby Martinez, accepted the proclamation during the meeting and discussed the various initiatives the City of Pharr has implemented to ensure the monarch continues to thrive. Initiatives include the planting of native plants the monarch relies on, education programs at the city's nature park to help the public learn about their importance, and murals located at city parks that pay homage to the butterfly.
City Announces Pre-Registration Now Available for New Broadband Internet Service TEAMPHARR.NET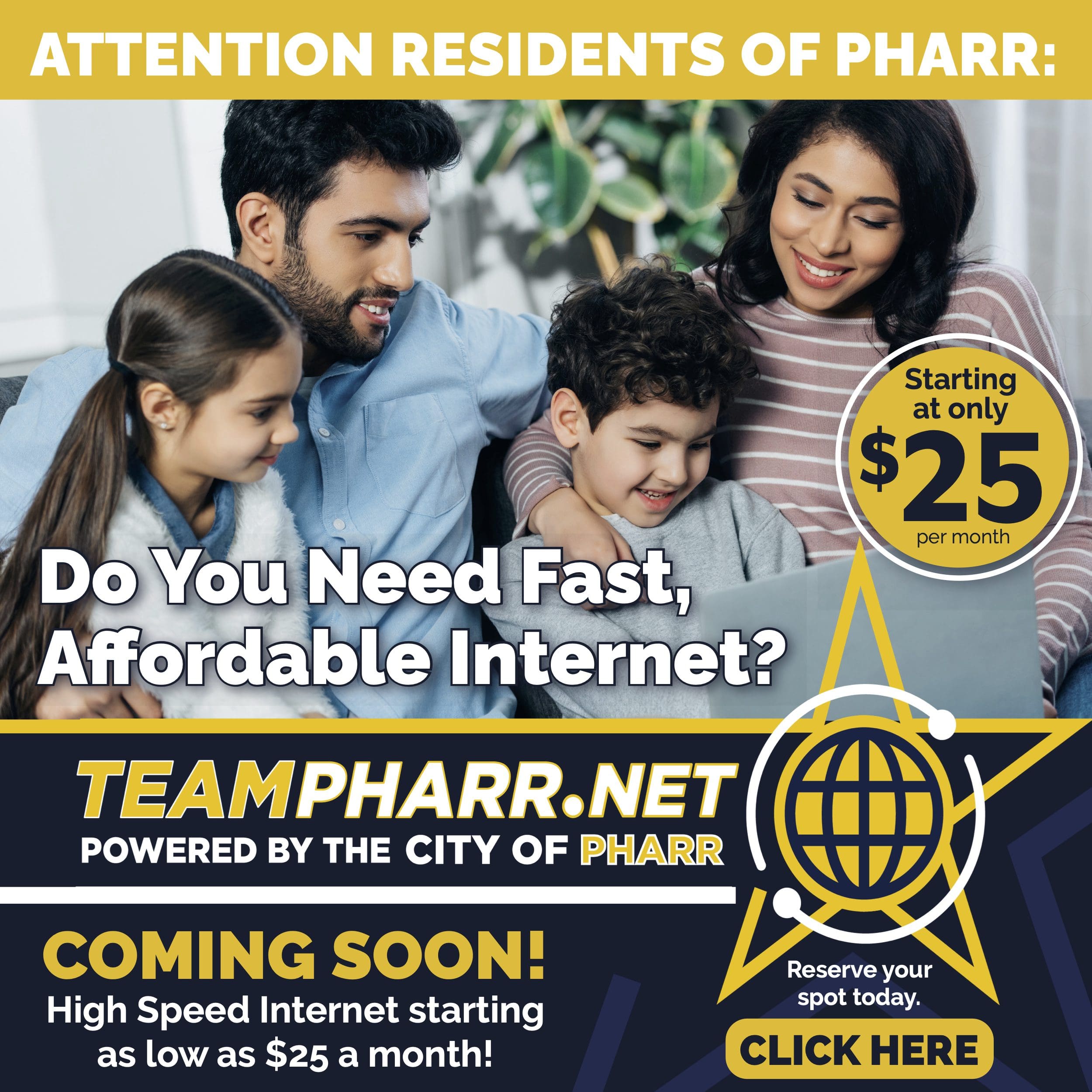 City Manager Ed Wylie announced during the meeting that the City of Pharr will start taking pre-registrations for their new broadband internet service TEAMPHARR.NET beginning on Tuesday, November 2, 2021. Interested Pharr families can begin the pre-registration process to reserve their spot for the new high-speed internet service starting at only $25 per month. For more information or to reserve your spot visit www.teampharr.net.
City Commission Approves Ordinance Amendment Authorizing Civil Service Positions within the Fire and Police Departments
The Pharr City Commission approved an Ordinance amending Ordinance O-2021-45 relating to the number of authorized civil service positions within the Fire and Police Departments. The City and Fire unions agreed to add two new ranks within the Fire Department. In addition, new positions will be added as authorized in the Fiscal Year 21-22 personnel budget for both departments.
Commission Adopts Resolution for the Hidalgo County, Texas Multi-Jurisdictional Hazard Mitigation Action Plan
The Pharr City Commission approved a Resolution adopting the Hidalgo County, Texas Multi-Jurisdiction Hazard Mitigation Action Plan Update 2021. The Federal Emergency Management Agency (FEMA) has concluded its review of the Hidalgo County, Texas Multi-Jurisdiction Hazard Mitigation Action Plan Update 2021 (HMAP2021) and is Approvable Pending Adoption (APA). The next step is for the participating jurisdictions, including the City of Pharr, to adopt HMAP2021 by resolution. A FEMA-approved HMAP is required for eligibility for grant funds through FEMA's Hazard Mitigation Assistance (HMA) programs, and FEMA also requires that HMAPs be updated every five years. In 2016, the City of Pharr adopted Hidalgo County's HMAP, and this year (2021) is time to update. City staff have been involved at every phase of the planning process to ensure the City is prepared to apply for grant funding. Updates to HMAP2021 include analysis of previous actions in HMAP2016, addition of projects listed in the Drainage Master Plan, and addition of projects identified by various departments.
Featured Event: Salute to Veterans Parade & Fireworks Show – Saturday, November 6, 2021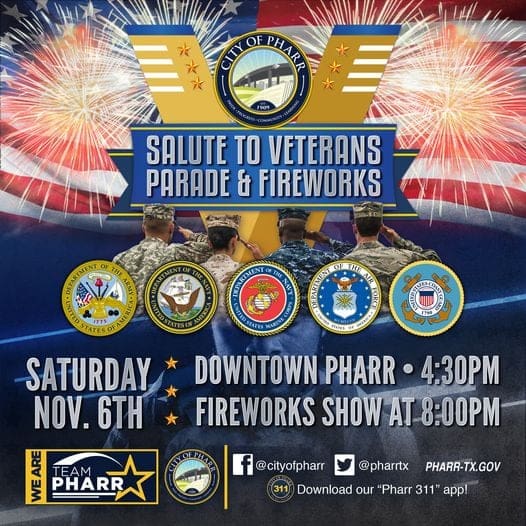 Veterans Day is a special holiday that honors all those who have served, and currently serve, in the United States Military – Army, Navy, Air Force, Marines, and Coast Guard. Join us Saturday, November 6th, in Downtown Pharr starting at 4:30 PM to honor veterans with the Veterans Day Parade! Let's support and honor our heroes, past and present. A fireworks show will be displayed over the city beginning at 8:00 pm.