Hidalgo County Issues Shelter-At-Home Order; Pharr School Districts Providing Meals for Students
FOR IMMEDIATE RELEASE
THURSDAY, MARCH 26, 2020
Pharr, Texas – Pharr leaders continue to closely monitor the situation regarding the coronavirus (COVID-19), the City of Pharr and Mayor Ambrosio Hernandez, M.D., and will continue to provide updates to keep the media and the public informed as information develops. City officials urge media outlets to please share with their respective reading/viewing/listening audiences.
---
Hidalgo County Issues Shelter-at-Home Order
Hidalgo County Judge Richard F. Cortez signed an Amended Emergency Order which includes a Shelter-At-Home mandate ordering residents to stay at home unless they are conducting essential business. The order becomes effective at 11:59 p.m. tonight, Thursday, March 26. According to Hidalgo County, the move comes after a total of eight Hidalgo County residents learned that they have tested positive for the highly contagious COVID-19 virus. Medical experts have advised Judge Cortez that the spread of the virus could increase exponentially without drastic action to keep people at home. The City of Pharr will comply with the order and will enforce accordingly.
Click here for more information or to read the order in its entirety.
---
Local Pharr School Districts Providing Meals for All Pharr Students
Where there is a need, there is always a way. Pharr Mayor Ambrosio Hernandez, M.D., and City of Pharr officials applaud the efforts that several local school districts have been making to ensure that all Pharr area students are being fed healthy, nutritional meals during this time that they are away from school. Pharr leaders also want to remind parents of schoolchildren in Pharr that these districts are making these meals available to all Pharr children in need under the age of 18, regardless if they are enrolled in the district.
"As community leaders, we are grateful for these school districts that have stepped up and provided these meals for our students," said Pharr Mayor Ambrosio Hernandez, M.D. "Many families rely on school meals to keep their children healthy, and it is necessary to continue supporting our students while they are not in school," he continued.
"On behalf of our Pharr community, we applaud and thank the school districts for providing this essential service to our Pharr students," he added.
Meals are being made possible through the Texas Department of Agriculture's Food and Nutrition Division, which is supporting the continued operation of meal service as a result of coronavirus impacting operations. Since the meal distribution began on Monday, March 23, 2020, these Pharr area school districts have distributed thousands of meals to local Pharr children.
---
Vanguard Academy
On Monday, 4,908 meals were handed out through their curbside pickup; on Tuesday, a total of 6,614 were distributed. Wednesday saw the largest number of meals given out – a total of 7,496. Vanguard continues to distribute meals to all students in the Pharr area through age 18. Please refer to the schedule below.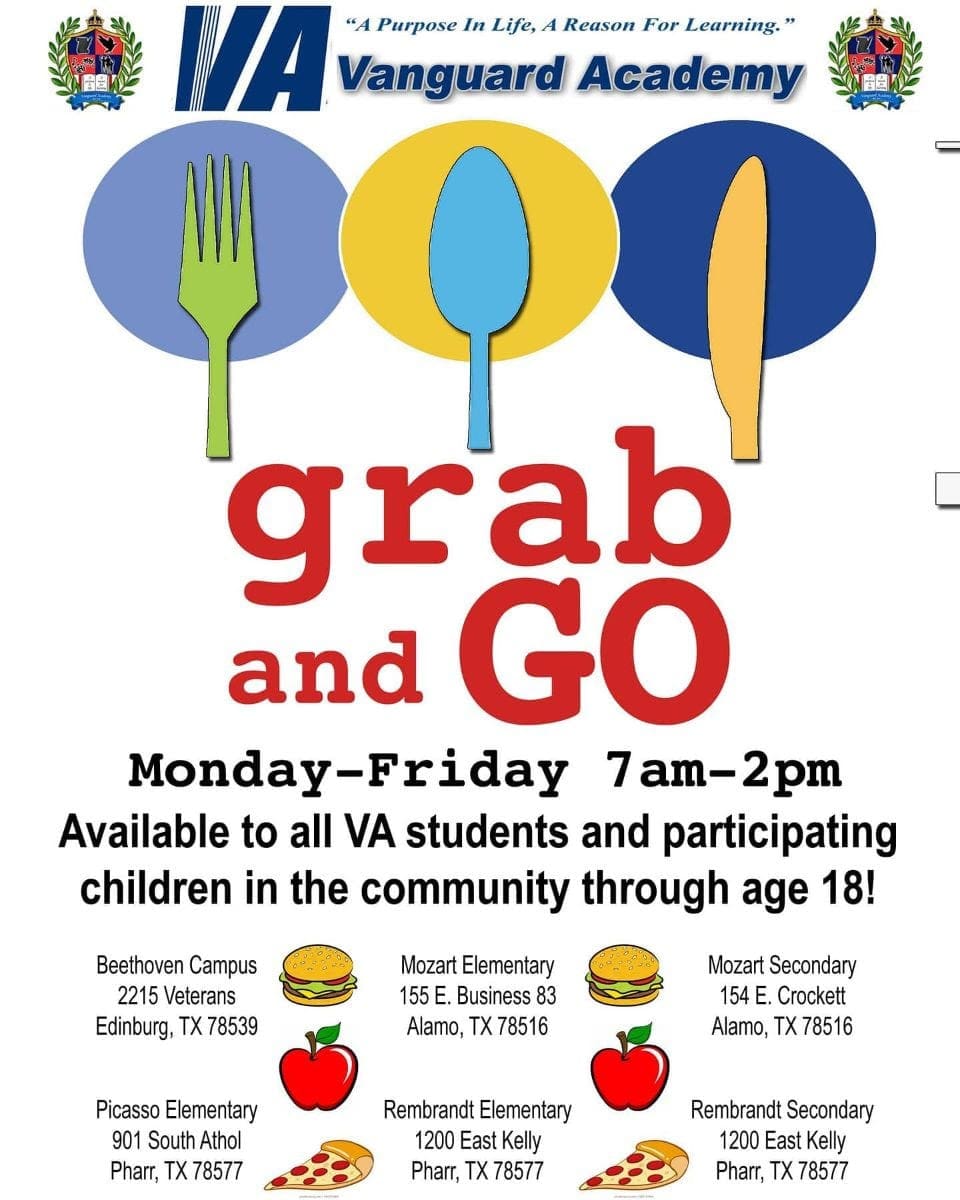 ---
Valley View ISD
Valley View ISD is also providing breakfast and lunch for curbside pickup daily from 10 am to 12 pm for students that are present in the vehicle. On Monday, the district served 550 meals; on Tuesday, the number more than tripled for a total of 1,189 meals. On Wednesday, 1,410 meals were distributed to students.
Distribution times and locations
Monday – Friday, 10 am to 12 pm
Valley View High School (High School and South students)
Valley View Early College Campus (ECC, Lucas, and Elementary)
Valley View Junior High (JH, 5th Grade, and North Elem.)
---
Hidalgo ISD
Hidalgo ISD is providing breakfast and lunch curbside pickup for all Pharr area students ages 1-18. According to Hidalgo ISD Superintendent Xavier Salinas, the demand has been increasing every day and is so high that they are finishing the food every day. On Monday, 1,422 meals were distributed to students. On Tuesday, a total of 1,622 meals were served. On Wednesday, 1,822 meals were distributed and as today, Thursday, 2,022 were handed out.
Hidalgo ISD will continue to have breakfast and lunch meals available for curbside pickup for all Pharr students ages 1-18 from 8 am to 11 am; the student must be present in the vehicle at the time of pick-up.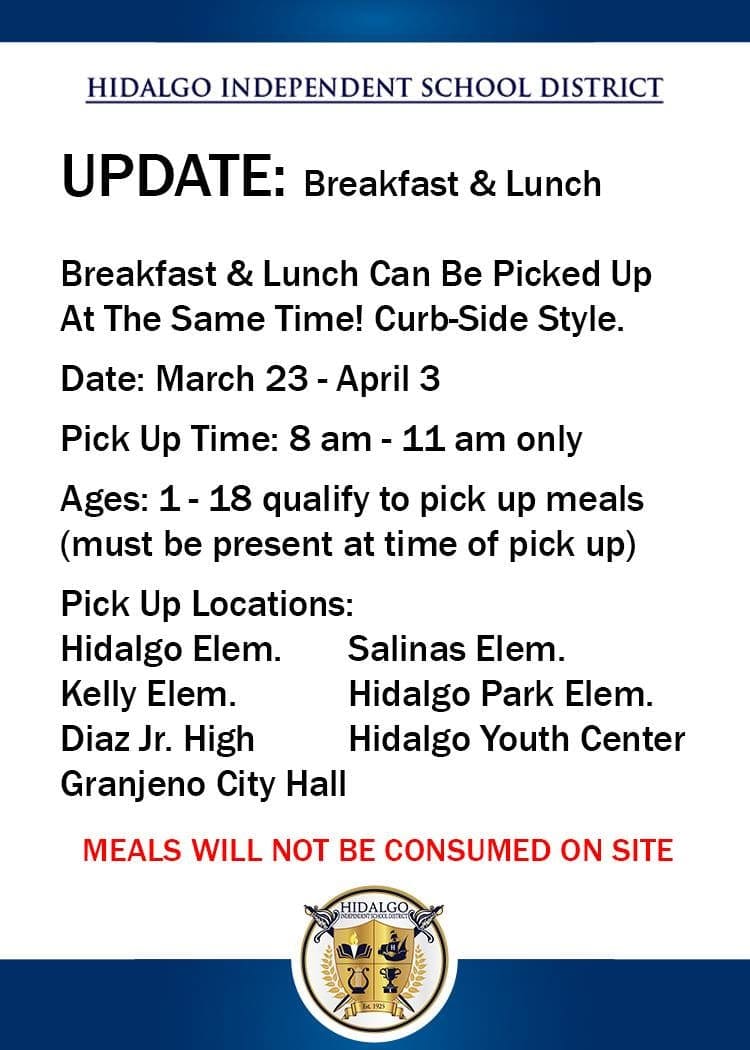 ---
IDEA Public Schools
IDEA Public Schools is distributing breakfast and lunch meals to students via curbside pick-up at its two locations in Pharr – IDEA Pharr and IDEA Owassa. On Monday, IDEA schools distributed a total of 1,312 breakfast and lunch meals; on Tuesday, a total of 2,676. On Wednesday, the schools served 3,612 meals to students.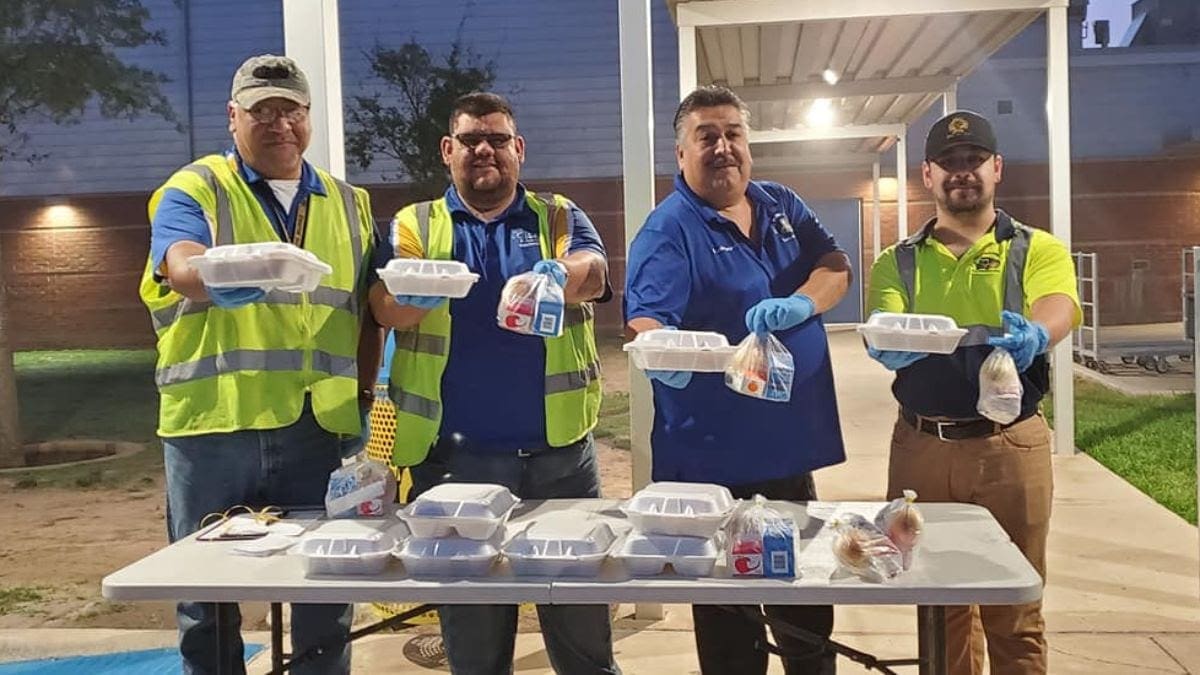 IDEA Public Schools employees distribute meals to students at curbside pick-up. Image courtesy IDEA Public Schools.
Distribution times and locations:
Monday – Friday, 7 am – 10 am
IDEA Pharr (600 E. Las Milpas Rd., Pharr TX 78577)
IDEA Owassa (1000 E. Owassa Rd., Pharr, TX 78577)
###