Dr. David D. Friedlein and Hilda Pedraza Appointed as City of Pharr Assistant City Managers
Pharr, Texas – During last week's city commission meeting, Dr. David D. Friedlein was appointed as Pharr's new Assistant City Manager, and Hilda Pedraza was reappointed as Assistant City Manager by Interim City Manager Dr. Jonathan B. Flores. These two individuals have a long history of public service, community relations, and will work closely alongside Dr. Flores to continue the city's exceptional growth.
"The City of Pharr is continuing to expand our services, enhance our organizational structure, and propel our city forward into the future," said Mayor Dr. Ambrosio Hernandez. M.D. "We are proud to welcome Dr. Friedlein to our team and to have reappointed Ms. Pedraza," he continued. "These positions serve a critical role in fostering community engagement, organizational growth, and working closely with our administration and leadership to ensure we are constantly planning for the future and Pharr's success," Hernandez added.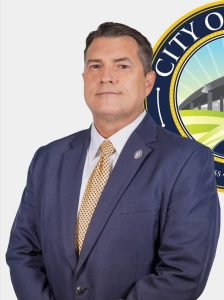 Dr. David D. Friedlein – Pharr Assistant City Manager
Dr. David D. Friedlein is a native of the Rio Grande Valley. He is a public service professional with 20 years of diverse law enforcement experience. Since 2004, he has served in various roles, including patrol, community-oriented policing, criminal investigations, public integrity, and financial services.
"It is an honor to serve the City of Pharr as their new Assistant City Manager," said Friedlein. "I am excited to work with Dr. Flores and Pharr's leadership team as we continue to make a positive impact in the lives of the citizens of Pharr," he added.
Dr. Friedlein is a graduate of the 277th Session of the FBI National Academy and is a member of the FBINA Association. In 2023, he was selected to serve as a member of the FBINAA – Texas Chapter – Finance Audit Committee. He has been married to the love of his life Stephanie for 25 years, and they have four wonderful children Tyler, Shayli, Macy, and Cayden.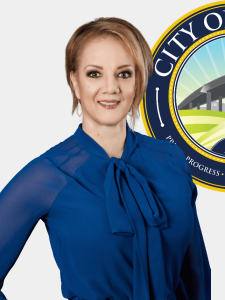 Hilda Pedraza – Pharr Assistant City Manager
Hilda Pedraza has more than 22 years of experience in public administration. She began her career in the City of Pharr in October of 2000. She has served as City Clerk for the City of Pharr since 2009 and was first promoted to Assistant City Manager in 2019. As City Clerk, Pedraza serves as the city election administrator, deputy registrar for the Vital Statistics Division, and Records Management Officer for the city. In her role as Assistant City Manager, Pedraza provides direct oversight of programs and operations and works with the City Manager to accomplish the city commission's vision and strategies. In addition, she also coordinates and develops department budgets, policies, and procedures, and determines appropriate personnel actions to include Fire and Police Civil Service rules and regulations.
"I am honored to continue to work with such a dynamic team of leaders for the betterment of the City of Pharr and to work closely with our city staff, administration, and the community to provide the highest quality services to our constituents," Pedraza said. "I look forward to working alongside Dr. Flores and Dr. Freidlein, two visionary leaders who are committed to Pharr's future," she added.
Pedraza earned her Associate's Degree of Applied Science in Public Administration and currently holds a Bachelor of Applied Science in Operations Management from South Texas College. She became a Certified Municipal Clerk by the International Institute of Municipal Clerks in 2018 and is Lean Six Sigma Yellow Belt Certified. She is a member of the Texas Municipal Clerks Association, the International Institute of Municipal Clerks, and the Lower Rio Grande Valley City Secretaries Association.