Fazoli's Donates Free Meals to Pharr Families in Need Amid COVID-19 Pandemic
Mayor Ambrosio Hernandez, M.D., the Pharr City Commission, and PSJA ISD Culinary Arts program students accept a donation from Fazoli's during their Grand Opening celebration in Pharr.
FOR IMMEDIATE RELEASE
TUESDAY, APRIL 21, 2020
Pharr, Texas – The City of Pharr is proud to announce a new initiative to help feed Pharr families in need in collaboration with Fazoli's, and local school districts. The entities are working together to ensure that families most in need across the community have access to free meals, amid the ongoing coronavirus (COVID-19) pandemic.
"I'm happy to share that the City of Pharr has partnered with Fazoli's restaurant, and plans are underway to provide free meals to our families most in need on a weekly basis," said Mayor Ambrosio Hernandez. "I wholeheartedly want to thank Jerry Maddox, Fazoli's owner, for opening his doors and being so generous during these uncertain times," added Hernandez. "This is certainly a difficult time for many families in our community as jobs have been lost and children are now learning full-time from home without access to the meals they would normally receive every day at school," he continued.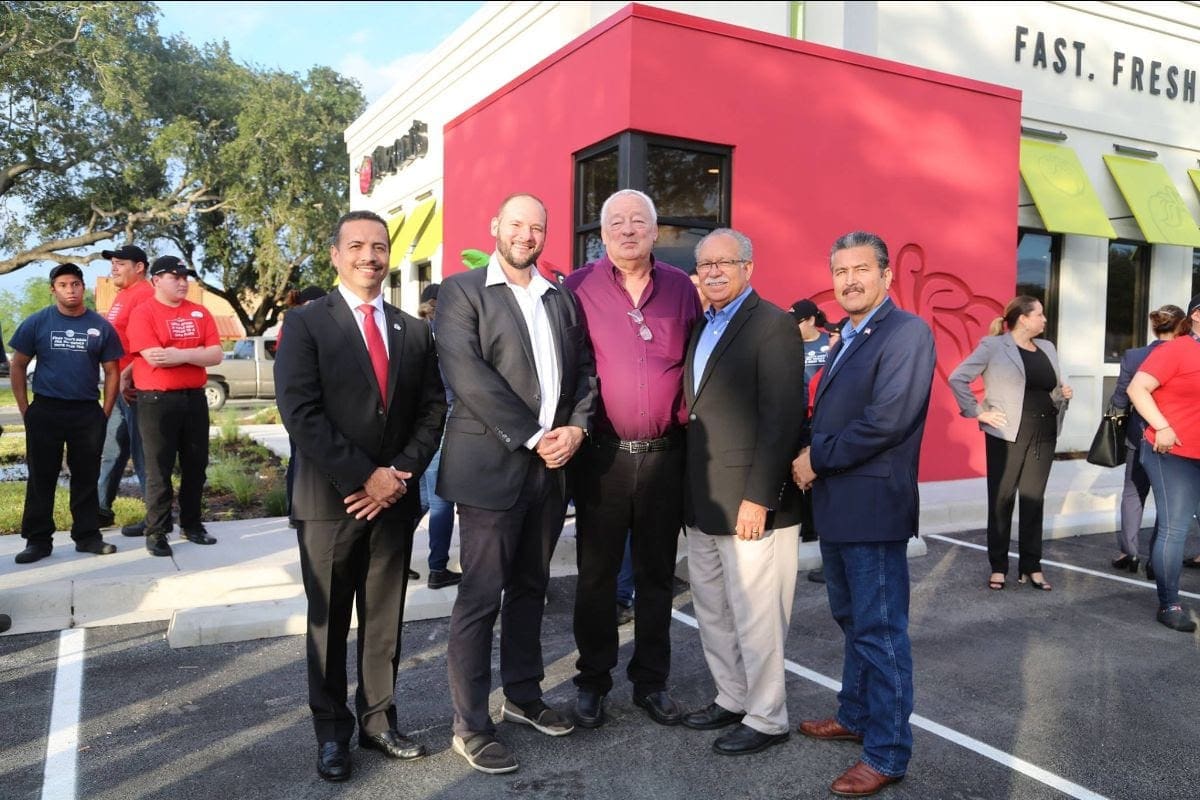 The Pharr City Commission, Jerry Maddox, and his business partner during the Fazoli's Grand Opening celebration in Pharr
Fazoli's announced that they will be providing about 70-100 free meals to Pharr families in need each week. Families selected to receive meals have been identified by local school districts.
Fazoli's owner Jerry Maddox remarked, "When times get tough, it's up to business leaders in the community to step up to the plate and deliver the needs of our community. What we are all going through has not been easy, but we need to do what's best to make this situation better for our families."
"We are extremely proud of the great work being done throughout the City of Pharr by our businesses, community organizations, and partners as we aim to get through this pandemic together," said Hernandez. "What Fazoli's and Jerry Maddox are doing shows that although we are facing a tough time, we are all doing our part to work together and share in the generous spirit of giving and humanity," he added.
According to Fazoli's national website, the Pharr, Texas franchisee and his team have been proactive in helping during the coronavirus pandemic by providing over 600 kids meals to the children in their community in 48 hours. In addition to free kids meals, the team also provided meals to emergency room doctors and nurses at Doctors Hospital at Renaissance.