Forum Brings Leaders Together to Discuss USMCA & the Future of North American Trade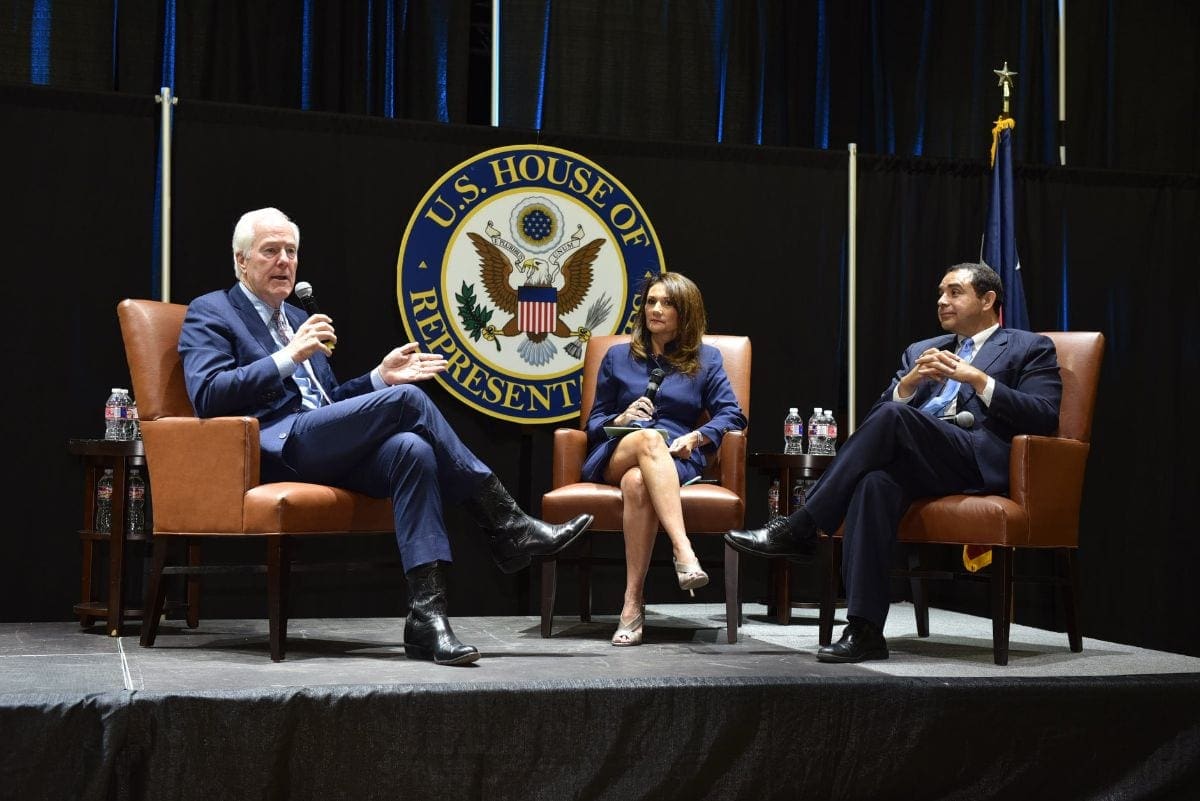 Pharr, Texas – The City of Pharr hosted The Rio Grande Valley Partnership and Futuro RGV as they held the United States-Mexico-Canada Agreement (USMCA) Forum on Friday, August 30, 2019, at the Pharr Events Center to discuss how the USMCA modernizes North American Trade. Among the panelists featured were U.S. Senator John Cornyn and U.S. Congressman Henry Cuellar who gave an update on the actions that are being taken in Washington to ensure the passing of USMCA. Other panelists and attendees heard from the local perspective regarding trade and how the agreement impacts our local economy in South Texas.
Pharr Mayor Ambrosio Hernandez gave a welcome on behalf of the City of Pharr, and introduced a federal panel discussion with U. S. Senator John Cornyn and U. S. Congressman Henry Cuellar, moderated by Veronica Gonzales, Vice President of Government and Community Relations for the University of Texas – Rio Grande Valley.
"As leaders in South Texas, we have done our part to combine our joint efforts to work as a region to promote trade and commerce, and with the new Rio Grande Valley Metropolitan Planning Organization (RGV MPO) we are now able to access millions of state transportation funding for critical infrastructure projects, including bridge projects that will work to promote and enhance freight crossings and trade at our bridge and along our highways," Hernandez said. "We are fueling the tri-lateral trade industry through our efforts, and we must continue to work with our federal partners and senate and congressional leaders to advocate for the passing of the USMCA," he added.
Hernandez continued, "Senator Cornyn and Congressman Cuellar have been instrumental in advocating for the needs of our region and state and have themselves visited with leaders in Mexico and Canada to discuss the importance of USMCA. I thank each of you for being here with us today and leading us into this important discussion as we continue to work with our federal policymakers to reach a consensus on USMCA," he added.
Senator Cornyn stated, "Updating NAFTA by passing USMCA is important because a lot has happened in the past 25 years, particularly in the energy sector and the digital economy."
"I'm optimistic that with the help of Congressman Cuellar, Mayor Hernandez, and other Rio Grande Valley leaders we'll get this done," Cornyn added.
"I have witnessed first-hand how free trade has transformed our communities in South Texas," said Congressman Cuellar. "Every day, $1.7 billion in trade and investment crosses the border, and in 2018, trade between the U.S. and Mexico exceeded $611.5 billion. Now, it is time to put Texas workers, farmers, and consumers first and pass the USMCA so they can continue to benefit from these critical markets and export opportunities. This trilateral trade agreement will build on our current partnerships with Mexico and Canada by strengthening job growth and improving labor and trade practices. I will continue to work with my colleagues to ratify the USMCA this year. I want to thank my friend, Senator Cornyn, for his commitment to passing this trade agreement in the Senate. I would also like to thank the City of Pharr, RGV Partnerships, and Futuro RGV for hosting this event."
Texas State Senator Juan "Chuy" Hinojosa remarked, "Much of the economic growth of the Rio Grande Valley is due to trade with Mexico. More than one million Texas jobs depend on NAFTA/USMCA and the Texas economy benefits from the $1.1 billion in trade per day. The RGV ports alone, are responsible for $48.5 billion in trade per year. To keep pace with the population and economic growth, investing in transportation infrastructure is key. With the recent authorization of the Valley MPO, now one of the largest in the state, our region will have access to more funds to construct larger projects required to continue being an economic driver for the state."
Texas State Senator Eddie Lucio praised the local efforts to advance infrastructure development to promote trade through the RGV MPO, stating, "There is incredible potential for the Rio Grande Valley with the development of critical investments in infrastructure. I'm proud to have supported the unification of the Valley MPOs and TXDOT's Unified Transportation Plan.  The comprehensive and strategic planning program for the next decade and Texas' investment of $2.1 billion for the TXDOT's Pharr District will help meet the demands of regional growth and will facilitate economic development, international commerce, and trade."
Cameron County Commissioner David Garza stated, "Cameron County has invested millions of dollars in transportation infrastructure at our international bridges as well as on the approach roadways leading to the bridges. Cross border trade is important to Cameron County, so we support USMCA. The ratification of USMCA will ensure a greater confidence in international investors that will lead to economic prosperity in our communities."
Cameron County Bridge Director Josue J. Garcia remarked, "It is imperative that Cameron County and the Rio Grande Valley, as a region, support the USMCA. The USMCA will aid all parties involved. As a result, we can expect fair and robust markets to help fuel the economic engine of our region. USMCA will help our region enhance and promote competitiveness. We have heard how this will facilitate trade through our LPOE including the Port of Brownsville.
USMCA will foster creativity and innovation and will promote the legal trans-border trade of goods & services."
Port of Brownsville Commissioner Steve Guerra said, "I was excited to see so many community leaders come together to discuss such a critical topic. Working together will definitely bring a new era of prosperity to our region and I am proud that the Port of Brownsville will play a major role in it."
The USMCA is a free trade agreement with our neighbors in Canada and Mexico that proposes to bring wages, worker protections, and supply chains into the 21st century by replacing and effectively updating the 25-year-old North American Free Trade Agreement (NAFTA), making it work for today's modern economy.
According to a study by the U.S. International Trade Commission, the USMCA will generate new opportunities for American workers and their families by creating 176,000 jobs across the United States and growing the economy by $68 billion. These gains are across the country and across all industries, improving the well-being of countless Americans.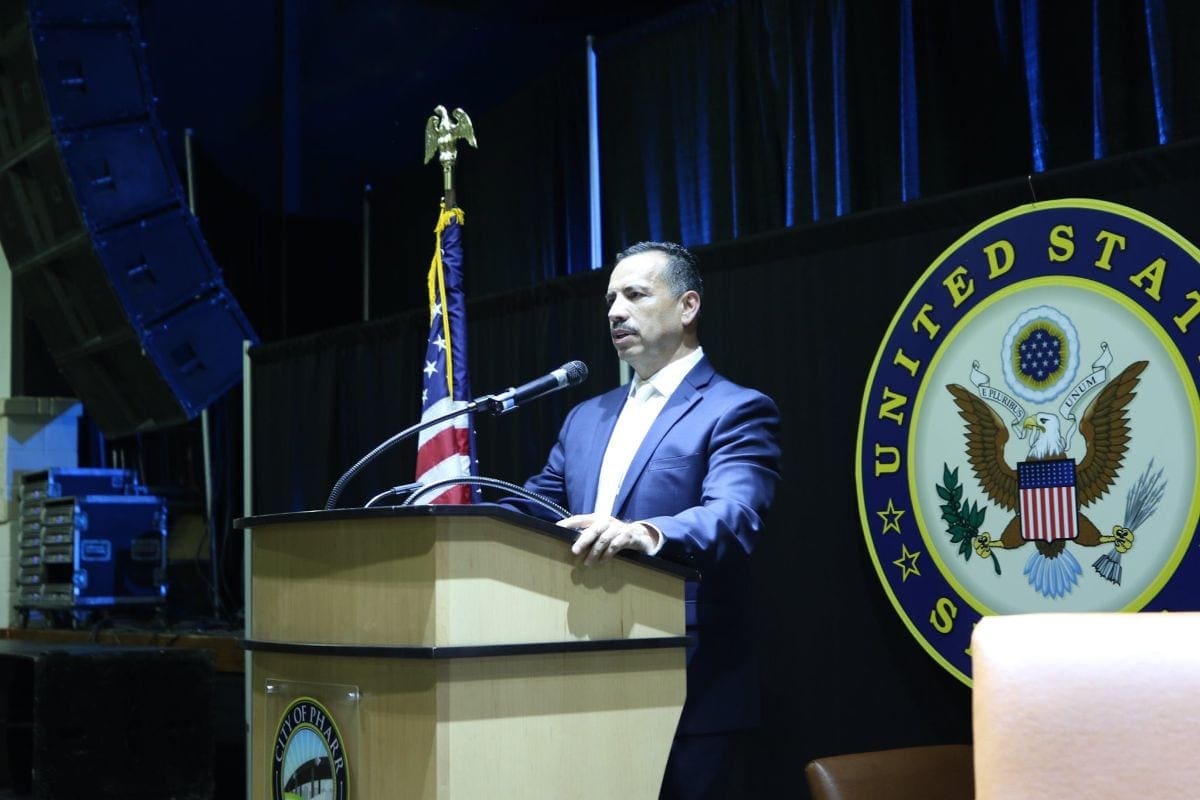 Mayor Ambrosio Hernandez, M.D., introduces the Panel Discussion with Federal Policymakers moderated by Veronica Gonzales, VP of Government and Community Relations for UTRGV, and featuring panelists U.S. Senator John Cornyn and U.S. Congressman Henry Cuellar.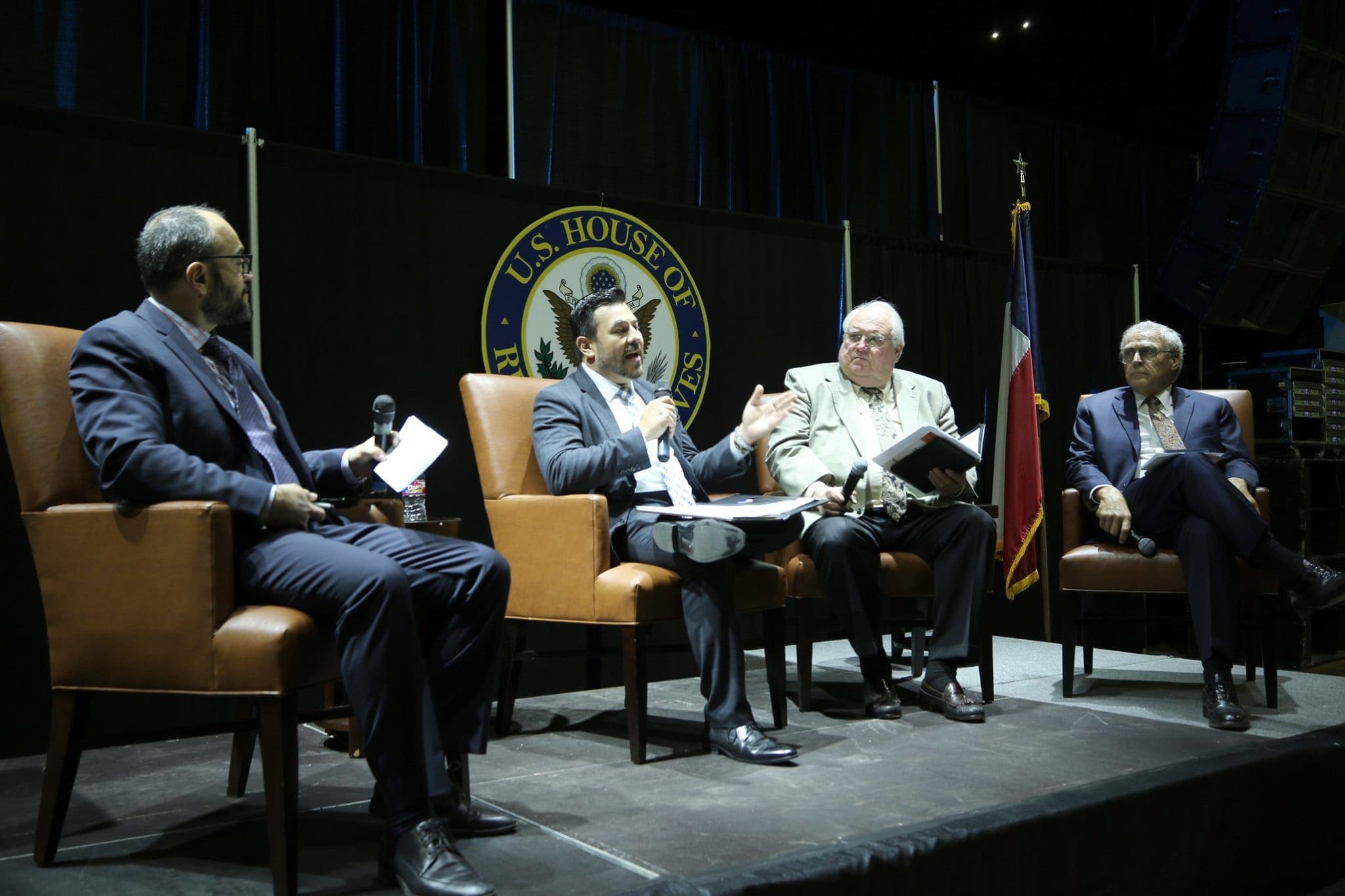 Panel Discussion with Local Perspectives (l to r): Moderator: Dr. Salvador Contreras; Luis Bazan, Pharr International Bridge; John Reed, Chairman Port of Brownsville; and Keith Patridge, McAllen EDC