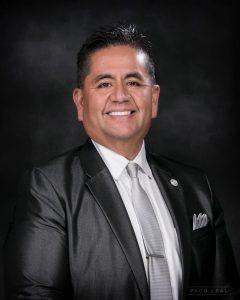 *Photo Courtesy of Paco Leal Photography.
Pharr, Texas – The City of Pharr is proud to announce that Mario Lizcano has been appointed to the Texas Commission on Law Enforcement (TCOLE) by Governor Greg Abbott. The governor made the announcement via a news release this morning. As a regulatory State agency, TCOLE establishes and enforces standards to ensure that the people of Texas are served by highly trained and ethical law enforcement, corrections, and telecommunications personnel. Lizcano's term will expire on August 30, 2027.
"I'm truly and humbly honored to have been appointed by Governor Abbott to this amazing board," said Mr. Lizcano. "I'm supportive of all public servants and I will do my very best to provide support and be a voice for a law enforcement community," he continued. "Thank you to all our public servants and all that they do every day – God bless them and their families," added Lizcano.
An active resident and member of the Pharr community, Mr. Lizcano currently serves on several City of Pharr Boards including the Greater Pharr Chamber of Commerce, Civil Service Commission, Tierra del Sol Golf Course Advisory Board, PEDC II Board of Directors, and the Pharr Housing Authority Board.
"The City of Pharr is proud to have Mario Lizcano represent our city, our region, and our state on this prestigious board," said Mayor Ambrosio Hernandez, M.D. "Mario exemplifies the values and dedication necessary to serve on such a distinguished board and help influence positive changes to improve and enhance the future of law enforcement in Texas," continued Mayor Hernandez. "We congratulate him on his appointment and know he will do an exceptional job serving our state and our law enforcement personnel throughout his term," Hernandez added.
From Governor Abbott's Press Release Announcing Lizcano's Appointment: Mr. Lizcano is an administrator of corporate affairs at DHR Health. He is certified as a volunteer firefighter with the State Firefighters' & Fire Marshals' Association and has served as a basic emergency medical technician with the Texas Health and Human Services for a combined 20 years. Additionally, he is Chairman of the board of the Greater Pharr Chamber of Commerce, Vice Chairman of the Pharr Economic Development Authority, incoming President of the Edinburg Chamber of Commerce, and Board President of Pharr Housing Authority. Lizcano received a Bachelor of Business Administration in Marketing from The University of Texas-Pan American.
Read Governor Abbott's entire press release here: https://bit.ly/[3qtPsMF].