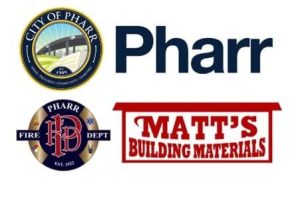 Matt's Building Materials to Present Check to Pharr Fire Department on Wednesday, 5/18 @ 10 am
Pharr, Texas – Matt's Building Materials will be presenting a check to the Pharr Fire Department to benefit the department and victims of fires. The check presentation will be held on Wednesday, May 18, 2022, at 10 am at Mini Matt's Building Materials (404 E Expressway 83) in Pharr.
The Smith family, led by Matt's Building Materials Co-Owner Danny Smith, launched the "We Are Matt's" t-shirt fundraising initiative after the fire that burned down their Pharr store in hopes that they could give back to the first responders that helped them and other victims of fires.
Selling their "We Are Matt's t-shirts online and in-store, the Smith family sold over 1,200 shirts and raised $8,750. They agreed to match and double the amount as a company and will be presenting a check in the amount of $17,500 to the Pharr Fire Department.
"We do not sell t-shirts for a living. We sell hardware & building materials," said Danny Smith. "We never thought to profit from selling t-shirts from our tragedy. We firmly believe that we exist to pass our blessings on to others and that is what we wanted to do by giving the proceeds to the Pharr Fire Department to go toward fire victims," he continued. "We are humbled, blessed, & grateful to have the opportunity to turn the negatives into positives and we will continue to do so as we rebuild." He added, "With the tremendous support received, we are continually reminded that – WE ARE MATT'S. Together."
"I would like to thank the Smith's and the Matt's Building Material family for this gracious donation that will be utilized to help our residents in time of need," said Pharr Fire Chief Pilar Rodriguez, PE. "The funds will also be utilized for proactive measures, such as smoke detectors, that will help to reduce risk in the community," added Chief Rodriguez. "Matt's efforts will help the fire department achieve our goal to reduce or prevent losses in the City," he said.
"We are incredibly grateful to the Smith family and Matt's Building Materials for their support of the Pharr Fire Department," said Mayor Ambrosio Hernandez, M.D. "Despite the challenges they face, they continue to give back to our community and through their resilience, are helping to make a difference by supporting others impacted by fires," he said.
To learn more about the incredible "We Are Matt's" story and initiative visit: https://bit.ly/[[3FRngd9]].
All media and the public are invited to attend.
DETAILSWHAT:  Matt's Building Materials Check Presentation to the Pharr Fire Department WHEN: Wednesday, May 18, 2022 at 10 am WHERE: Mini Matt's Building Materials (404 E Expressway 83, Pharr, TX 78577)