Mayor Dr. Ambrosio Hernandez Receives Education Champion Award from Teach For America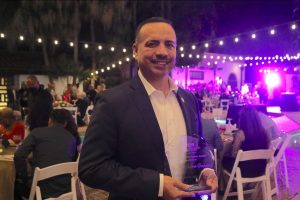 Pharr, Texas – Mayor Dr. Ambrosio Hernandez, received the Education Champion Award from Teach For America – Rio Grande Valley and was honored for his impact on education at their annual Honor Roll Gala held on Friday, April 8 at Quinta Mazatlan in McAllen.
Mayor Hernandez was selected by Teach For America for this year's Education Champion Award for his response to the pandemic by accelerating the city's plans to roll out an affordable broadband network throughout the city to ensure that all residents of Pharr can have high-speed internet access flow at home and advance their education and career opportunities.
"I have always believed that education is the greatest equalizer and I am honored to instill that virtue in my work as the Mayor of Pharr," said Hernandez. "It is critical that we collaborate with our communities to help expand educational opportunities, access to the resources that enhance learning, and set an example for our children by exemplifying the important role education plays in one's life," he added. "It is a true honor to be recognized by Teach For America and stand alongside the other honorees who are paving the way for a new generation of educational success and leadership in our communities," continued Hernandez.
This year's honorees also include The University of Texas-Rio Grande Valley, who was honored as an Institutional Catalyst, and Roberto Garza (Teach For America RGV '02), who was recognized with the Alumni Leadership Award.
"Thank you Teach For America for sharing in my vision and working to ensure that our communities have extraordinary teachers to lead by example," added Mayor Hernandez.
Click here to see a recap of the event:
https://youtu.be/[kjMFqXfFyRo]