Mayor Dr. Ambrosio Hernandez to Receive Educational Champion Award from Teach For America at their Honor Roll Gala on Friday 4/8 @ 6:30 pm
Pharr, Texas – The City of Pharr is proud to announce that Mayor Dr. Ambrosio Hernandez has been selected as this year's Educational Champion by Teach For America. Mayor Hernandez will be honored for his impact on education at the Honor Roll Gala hosted by Teach For America.
The event will take place on Friday, April 8, 2022, from 6:30 pm – 9:00 pm at Quinta Mazatlan (600 Sunset Drive) in McAllen. This year's honorees also include The University of Texas-Rio Grande Valley, who is being honored as an Institutional Catalyst, and Roberto Garza (Teach For America RGV '02), who is being honored with the Alumni Leadership Award.
"I am humbled and honored to receive this award from Teach For America and am proud to lead our city's efforts in continuing to expand educational opportunities and partnerships for our students, teachers, and school districts," said Mayor Hernandez. "Education is extremely important to me and I will always work to ensure the success of the students in our community and region," he added. "Thank you Teach For America!"
A press release issued by Teach For America announced the honorees: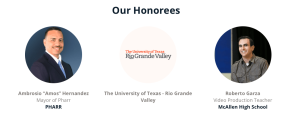 This year's honorees have committed their careers and leadership towards starting new programs, fostering innovation to help students achieve academic and professional success, and furthering the promise of education to realize the dreams and full potential of all students in the Rio Grande Valley.
Teach For America's Honor Roll Gala will honor local education champions and shine a spotlight on the impact of Teach For America's network over the past two years. At Teach For America, we have invested in updated training and support and are already recruiting and preparing to bring in the next group of exceptional, equity-oriented teachers. All support from this event supports these efforts in our local community and provides better educational opportunities for the most vulnerable students in the Rio Grande Valley.
For more information on how you can support and/or attend this year's gala, please visit: [HonorRollGala]
All media is invited to attend. Please RSVP to [email protected].
DETAILSWHAT:  Mayor Dr. Ambrosio Hernandez to Receive Educational Champion Award from Teach For America WHEN: Friday, April 8, 2022, from 6:30 pm – 9:00 pm WHERE: Quinta Mazatlan ( 600 Sunset Drive, McAllen, TX 78503)
Teach For America works in partnership with communities to expand educational opportunity for children facing the challenges of poverty. Founded in 1990, Teach For America recruits and develops a diverse corps of outstanding college graduates and professionals to make an initial two-year commitment to teach in high-need schools and become lifelong leaders in the effort to end educational inequity. Today, 8,600 corps members are teaching in 52 urban and rural regions across the country while more than 42,000 alumni work across sectors to ensure that all children have access to an excellent education. Teach For America is a proud member of the AmeriCorps national service network. For more information, visit