The Board of Commissioners of the City of Pharr met for a regular meeting on Monday, December 19, 2022, and considered an agenda that included the following highlights:
City Proclaims December 19, 2022 as Arbor Day
Mayor Ambrosio Hernandez, M.D., and the Pharr City Commission approved a proclamation declaring December 19, 2022, as "Arbor Day" in the City of Pharr. The City of Pharr recognizes the value of trees as they contribute to our environment, provide clean air to breathe, enhance the economic vitality of business areas, and beautify our community. All residents are urged to support the efforts to protect our trees and woodlands and plant trees to promote the well-being of this and future generations. Hanna Marble, Urban Ecologist for Pharr Parks and Recreation accepted the proclamation. "This proclamation celebrates the immense benefits and purpose of having trees in an urban setting such as at our local businesses, parks, or at home in your backyard – trees are essential," Marble said.
Commission Recognizes City Clerk Hilda Pedraza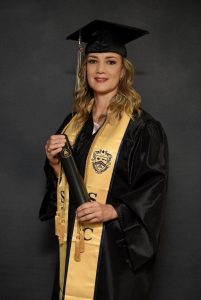 The Pharr City Commission recognized City Clerk Hilda Pedraza on her graduation from South Texas College with a Bachelor's Degree in Operations Management. Pedraza previously earned an Associate of Applied Science in Public Administration Degree from STC and is certified as a Texas Registered Municipal Clerk. "We are so proud of this great accomplishment and are proud to see all that you have accomplished," said Mayor Hernandez. "We wish you all the best!"
City Announces December Sales Tax Report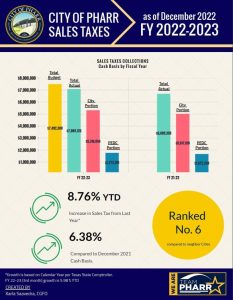 Interim City Manager Anali Alanis announced that the sales tax activity for the city of Pharr as of the month of December 2022 continues to show a positive upward trend, demonstrating a steady increase in sales activity. According to the report, the City of Pharr shows an increase of 8.76% year-to-date true growth compared to the same period last Year (2021) and 6.38% compared to last December 2021 Payments.
City Approves MOU with South Texas ISD for use of the Sports Complex parking lot
The Pharr City Commission approved a Memorandum of Understanding with South Texas ISD for the use of the Sports Complex parking lot at 201 E. Moore Rd. South Texas ISD wishes to use the parking lot at Moore Rd. Sports Complex for the transportation/bus pick-up of students enrolled at Med High/Science Academy in Mercedes, TX.
Featured Event: 2023 Ball Drop – Saturday, December 31, 2022, from 7:30 pm to 12 am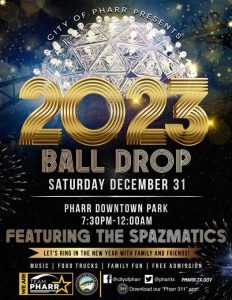 Let the countdown begin RGV!

Join us for the FIRST-ever City of Pharr New Year's Eve Ball Drop, Saturday, December 31st at the Pharr Downtown Park from 7:30 PM – 12:00 AM. FREE ADMISSION with a LIVE musical performance by The Spazmatics and fun for the whole family! Let's ring in the new year with sparkle and fun!
______________________________________________________________
¿Listos para el 2023?

Inicia el conteo regresivo!Acompáñanos a festejar la de víspera de Año Nuevo en la ciudad de Pharr, el Sábado 31 de Diciembre en el Pharr Downtown Park de 7:30 PM. a 12:00 AM ¡La entrada es GRATUITA para todos y tendremos musica EN VIVO de The Spazmatics y diversión para toda la familia!