The Board of Commissioners of the City of Pharr met for a regular meeting on Monday, May 2, 2022, and considered an agenda that included the following highlights:
Commission Proclaims May 1-7, 2022 as Professional Municipal Clerks Week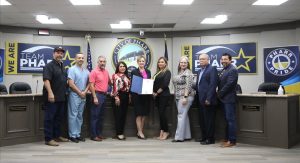 Mayor Ambrosio Hernandez, M.D., and the Pharr City Commission approved a proclamation declaring May 1-7, 2022 as Professional Municipal Clerks Week. The week aims to increase the public's awareness of Municipal Clerks and the vital services they provide for local governments and the community. The Office of the City Clerk adheres to strict ethical, statutory, and recognized professional standards, and this office is the professional link to the responsive government in Pharr, by innovatively responding and serving its internal and external customers with integrity and efficiency, while responsibly and accurately preserving the records of the past. Pharr City Clerk Hilda Pedraza and her staff accepted the proclamation. Ms. Pedraza thanked the commission for their support and also announced that her office has received the 2022 Texas Municipal Clerk's Office Achievement of Excellence Award. The award recognizes excellence in the effective and efficient management of resources in a municipal clerk's office.
Commission Declares May 11 – 17, 2022 as Pharr Police Memorial Week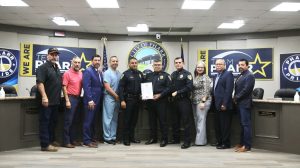 The Pharr City Commission approved a proclamation declaring May 11-17, 2022 as Pharr Police Memorial Week. Congress and the President of the United States have designated May 15th as Peace Officers' Memorial Day, and the week in which May 15th falls as National Police Week to honor the service and sacrifice of those law enforcement officers killed in the line of duty while protecting our communities and safeguarding our democracy. There are approximately 900,000 law enforcement officers serving in communities across the United States, including the dedicated members of the Pharr Police Department. The City of Pharr salutes the service of law enforcement officers in our community and in communities across the nation. Joel Robles, Assistant Chief of Police for the Pharr Police Department accepted the proclamation alongside Pharr PD officers. He also announced that the Pharr Police Department's Mental Health Unit was awarded "Organization of the Year" by the Texas Crisis Intervention Team (CIT) Association at its annual conference held this past weekend. The recognition is a well-deserved honor for the members of Pharr's Mental Health Unit for the work it is doing to provide specialized police responses to individuals with mental illness or who are experiencing a mental health crisis.
Commission Proclaims May 15 – 21, 2022 as Emergency Medical Services Week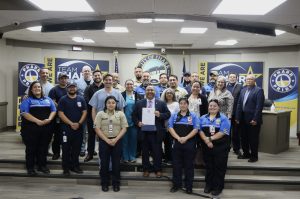 The Pharr City Commission approved a proclamation declaring May 15-21, 2022 as Emergency Medical Services (EMS) Week. EMS Week is a time to thank paramedics, EMTs, and the entire EMS workforce for their service and sacrifices. The City of Pharr recognizes that EMS is a vital public service and is thankful for our Pharr EMS team which provides lifesaving care to those in need in our community and around Hidalgo County 24 hours a day, seven days a week. Danny Ramirez, Pharr EMS Chief, and members of his team were present to accept the proclamation. "We are thankful for the life-saving services you provide every day not only to our constituents but to those around Hidalgo County," said Mayor Ambrosio Hernandez, M.D. "Thank you for your service!"
Commission Declares May 2022 as National Stop the Bleed Month
The Pharr City Commission approved a proclamation declaring May 2022 as National Stop the Bleed Month. During this month, everyone is encouraged to learn the basic skills necessary to control bleeding from accidents and injuries. Victims can die quickly from uncontrolled bleeding, within 5 to 10 minutes. By learning the proper bleeding control techniques, including how to use their hands, dressings, and tourniquets, everyone can help save a life. Each year, May 19th is also recognized as National Stop the Bleed Day. The Trauma Regional Advisory Council (TRAC-V) is partnering with BleedingControl.org to provide free Stop the Bleed training to the citizens of the Rio Grande Valley. The free training will be offered on May 19, 2022, at the Pharr EMS Headquarters (3001 S. Cage Blvd) in Pharr for the general public. "We invite everyone to join us, our goal is to train 700 people that day and we will have classes all day long," said Pharr EMS Chief Danny Ramirez. The proclamation was accepted by Pharr EMS and doctors from local hospitals including DHR Health and McAllen Medical Center.
City Commission Recognizes New City Manager Andy Harvey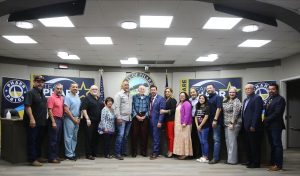 Mayor Ambrosio Hernandez, M.D., and the Pharr City Commission recognized newly appointed City Manager Andy Harvey during the city meeting. Police Chief Andy Harvey was announced as the city's new City Manager on April 22nd. With his extensive leadership experience and background in public service management, Harvey is uniquely poised to transition into this new role. Harvey will remain Chief of Police as well. "Having served for more than 26 years in local government has prepared me for this important leadership role of city manager," said Harvey. "I am humbled by the opportunity and trust afforded to me by Mayor Hernandez and our Commission to lead the men and women that care for and serve our city every day," Harvey continued. "Our future is bright and can't wait to get going," Harvey added. "We are proud to welcome Chief Harvey into this new role and know he will jump in and take us to the next level," said Mayor Hernandez.
Commission Welcomes New Assistant City Attorney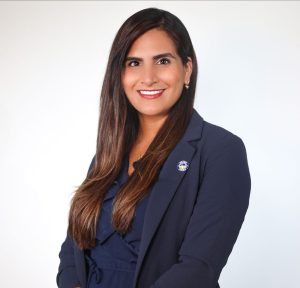 The Pharr City Commission welcomed its new Assistant City Attorney who will also be handling prosecutions, Veronica Bernal McCann. A graduate of PSJA North High School, she went on to attend and graduate with honors from the University of Texas-Pan American in Edinburg, Texas with a B.A. in Political Science and Sociology, and received her J.D. from The University of Houston Law Center in Houston, Texas. "I am grateful and excited to be a member of Team Pharr, a city that welcomed my family and me when we came to the United States and serves as an important foundation of my upbringing," said Ms. McCann.
Commission Authorizes City Manager to Enter Agreement with RGV College
The Pharr City Commission authorized City Manager Andy Harvey to enter into an affiliation agreement with RGV College for EMS student clinical rotations. This agreement will allow the students from RGV College to do their EMS clinic rideouts.