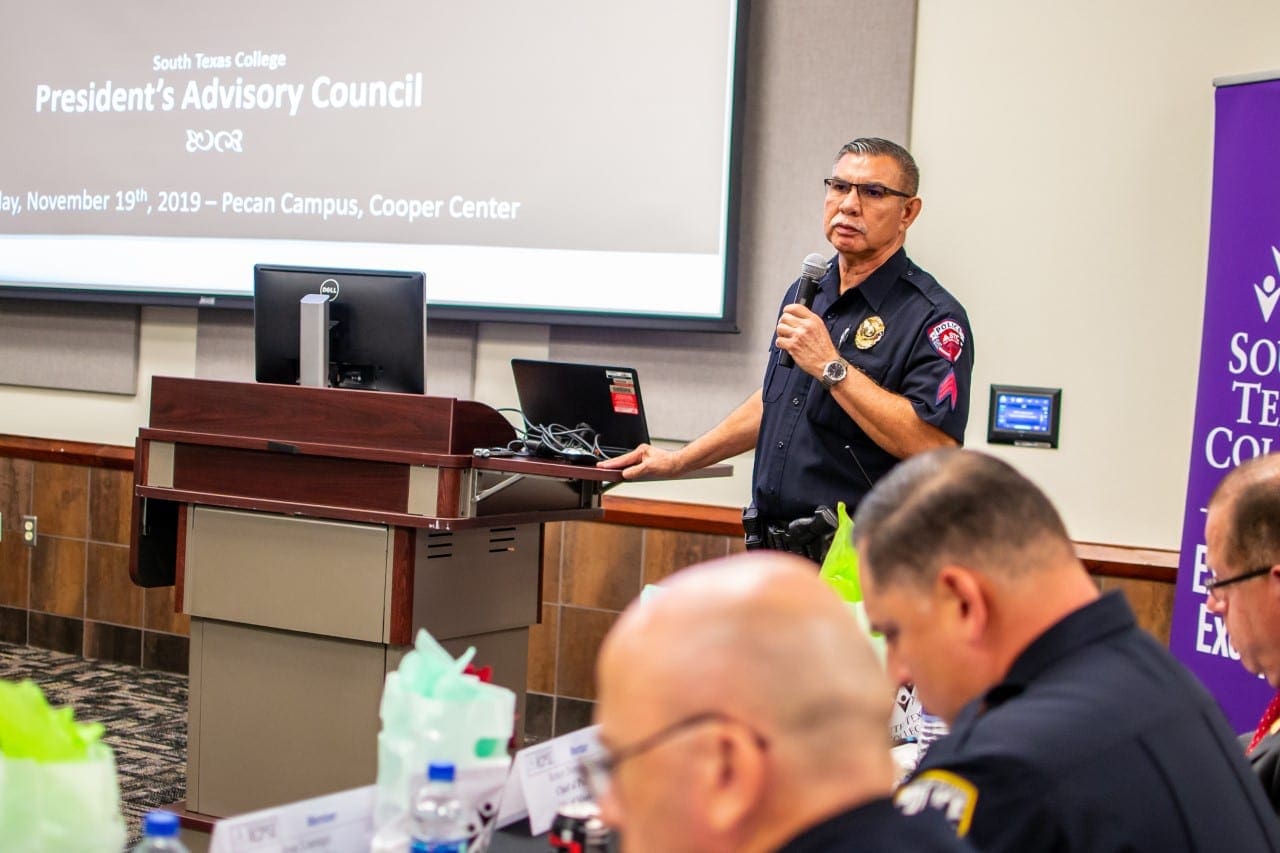 MCALLEN, TEXAS – More than 1,400 law enforcement officers have participated in training at South Texas College's Regional Center for Public Safety Excellence (RCPSE) since January 2019, according to RCPSE interim Chief Administrator Sgt. Jose Moroles who spoke at STC's President's Advisory Council Committee on Nov. 19.
STC is the first border community college in the nation to establish integrative training for local, state and federal professionals in law enforcement, public safety, fire safety, and homeland security along with the US/Mexico border.
The President's Advisory Council meeting was organized to identify strategies that will be used in the development of the college's 2020 RCPSE training implementation plan. The Council serves as the principal means to develop advanced training programs at the RCPSE and to ensure that those programs remain current with evolving technology.
Moroles said the College has embarked on a training program to develop courses most needed by law enforcement. This includes additional training in digital technology and DNA testing in the coming year, he said.
"The whole point of the (President's Advisory) meeting is to come together and share ideas and talk about the priorities for law enforcement, and I think that at the end of the day, there were some suggestions and training that they would like to see," Moroles said. "We are going to go forward with that and see if we can find the right instructors and bring those courses to our law enforcement professionals."
Over the course of one year STC's RCPSE trainings included basic TCOLE mandated courses and specialized courses in interview and interrogation, media and public relations to help PIOs, advanced communication for hostage negotiators, and a collaboration with FBI LEEDA which brought two supervisory courses for law enforcement.
Current goals of the RCPSE include prioritizing the most sought after instruction required by federal, state, county, municipal, and school district law enforcement, further developing partnerships with the Federal Law Enforcement Training Center (FLETC), and assisting agencies in recruiting future law enforcement officers.
"This has not been an easy adventure," said STC President Dr. Shirley A. Reed who addressed members of the Advisory Council and guests at the Nov. 19 meeting. "It has been about developing our vision based on what law enforcement feels is really needed in our region."
In 2018, STC President Dr. Shirley A. Reed extended an invitation to regional leaders in the law enforcement community to participate on the Advisory Council in order to provide recommendations for professional continuing education and college degree programs.
Attendance at the Advisory Council meeting included law enforcement from various federal, state, and local agencies. Key guests at the meeting included Frank Stewart, division chief for mission readiness operations with the U.S. Border Patrol – RGV sector; Cesar Zambrano, resident agent in charge for ATF; and Victor Escalon, regional director for DPS.
The $71.28 million long-range master plan is on a 64-acre site, in Pharr, Texas with additional acres available for future expansion. The Master Plan includes 534,385 square feet of buildings, target range, emergency vehicles operational course, and fire science structures to be completed in three phases over the next decade.