Pharr Appoints Chief Andy Harvey as City Manager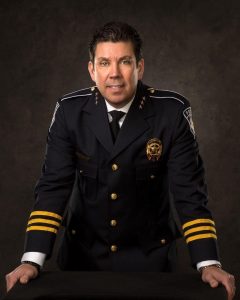 Pharr, Texas – There's a new city manager in Pharr, and he is a familiar face. Pharr Mayor Ambrosio Hernandez, M.D. and the City of Pharr are pleased to announce the appointment of Police Chief Andy Harvey as the city's new City Manager. With his extensive leadership experience and background in public service management, Harvey is uniquely poised to transition into this new role. Harvey will remain Chief of Police as well.
"Having served for more than 26 years in local government has prepared me for this important leadership role of city manager," said Harvey. "I am humbled by the opportunity and trust afforded to me by Mayor Hernandez and our Commission to lead the men and women that care for and serve our city every day," Harvey continued. "Our future is bright and can't wait to get going," Harvey added.
"Chief Harvey is a progressive leader with innovative ideas and a proven track record of success, qualities that align perfectly with our vision to keep moving Pharr forward," said Mayor Hernandez. "We are proud that he is taking on this new role as City Manager to continue steering Pharr in the right direction – towards the future," Hernandez added.
Since becoming the Pharr Police Chief in July 2020, Harvey's innovation and leadership has propelled the agency into a future-focused, 21st century police department. Under Harvey's watch, the department added the first-ever Mental Health Unit and Horse Mounted Unit in the region, expanded the community outreach, and added a Motorcycle Unit to the fleet. The department has increased transparency by working with local media, enhancing our social media platforms, and recently aired the first-of-its-kind police department podcast called Police On Air.
Harvey's leadership experience covers both military and law enforcement professions. After a distinguished military career with over 20 years of service, Harvey retired as the First Sergeant of the 136th Mission Support Group in Ft. Worth, Texas. Harvey led in crisis on two different occasions; in Kuwait at the beginning of Operation Iraqi Freedom and in New Orleans just days after the destruction of Hurricane Katrina. During his enlistment, Harvey attended several Air Force academies, including the Non-Commissioned Officer Academy and the First Sergeant Academy where he earned the Distinguished Graduate Award and the coveted Commandant's Leadership Award, respectively.
Harvey also retired from the Dallas Police Department in 2017. His leadership assignments include patrol, investigations, community policing, and media relations. As a Patrol Watch Commander, Harvey implemented a policing model that places high value in team members' contributions, promotes problem-solving, excellent customer service, a heightened sense of responsibility, and in developing team members to understand the big picture.
As the Dallas Police Media Relations Commander, Harvey implemented several programs including the creation of social networking services and a web video series called First Watch, both in English and Spanish. Harvey has been interviewed frequently on local and national news programs.
Harvey graduated from the University of North Texas with a Master of Science Degree in Criminal Justice. He is also a graduate of the Leadership Command College in Huntsville, Texas, the Caruth Police Institute in Dallas, Texas, and ILEA Police School of Supervision in Plano, Texas.
Harvey champions community policing having authored a book titled Excellence in Policing which has been presented to and read by police of all ranks around the country. In November of 2019, Harvey testified in front of the Senate Judiciary Committee about immigration and policing.