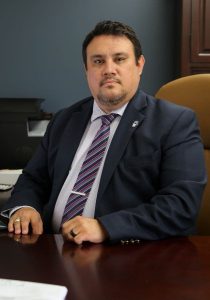 Pharr City Manager Edward M. Wylie
Pharr, Texas –  Pharr City Manager Ed Wylie announced on Thursday, April 21, that he is stepping down from his role as City Manager. The announcement comes after much reflection and consideration from Mr. Wylie who needed to make a permanent move to the city.
The City of Pharr's City Charter requires that the city manager live within city limits – Mr. Wylie does not reside within the city.
Wylie, who has served as City Manager since 2019, said although he has loved his role as City Manager, he could not bear to disrupt his children's lives or leave the home he's established in order to meet the city charter's criteria. Although he is stepping down from his role as City Manager, he will continue to work for The City of Pharr and take on his previous role as Deputy City Manager.
"Change is inevitable, and change is good – and I will continue working diligently for the city's betterment," said Wylie. "I would like to thank Mayor Dr. Ambrosio Hernandez and the Pharr City Commission for being so gracious and understanding as I took the time to evaluate this major decision," he continued. "I look forward to having more time to visit with department leaders and their staff as we work together to move our city forward," added Wylie.
Wylie has been with The City of Pharr for about 28 years and will continue to be involved in the city's daily operations. He began his career in municipal government in 1990, serving as a volunteer firefighter with the Pharr Fire Department, while still a student at PSJA High School. As he began his professional career, he entered public service and has been employed with the City of Pharr in various capacities, including as Assistant Director of Planning, Planning Director, Assistant City Manager, Deputy City Manager, and for the past few years as City Manager.
He added, "I appreciate the trust that Mayor Hernandez and the Pharr City Commission placed in me to serve as City Manager." "There's no higher calling in terms of a career than public service and I have always served the public to the best of my ability," he stated. "I know our next City Manager will do an exceptional job and I look forward to helping with the transition," he said.