The Board of Commissioners of the City of Pharr met for a regular meeting on Monday, March 4, 2019, and Monday, February 18, 2019, and considered an agenda that included the following highlights:
Highlights from the Commission's Meeting on March 4, 2019
Pharr Approves Proclamation Recognizing March 12 as IHOP's Free Pancake Day and Shriners Hospitals for Children Day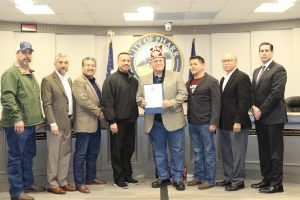 The Pharr City Commission approved a proclamation proclaiming March 12, 2019, as "IHOP's Free Pancake Day and Shriner's Hospital for Children Day" in Pharr. On March 12, 2019, Shriners Hospitals for Children and IHOP, will join together to encourage people to donate to Shriners Hospitals for Children activities in our Pharr. Gilbert Medina from Shriners of South Texas was present to accept the proclamation. "I want to thank you Mayor and City Commissioners for the proclamation and invite all of you to enjoy pancakes on March 12 at IHOP to help support the Shriners," he announced while accepting the proclamation. Shriners Hospitals for Children gives children the opportunity to receive treatment for orthopedic problems, severe burns, and spinal cord injuries and provides them with a head start in developing a normal life, regardless of the patient's ability to pay, that is essential to becoming successful and contributing adults.
Isabel Ozuna Recognized as Recipient of  the Texas NENA "Silent Hero Award"
Isabel Ozuna, a Telecommunicator with the Pharr Fire Department Communications Office (FireComm), has been selected as a recipient of the 2019 "Silent Hero Award" and will be presented with the prestigious award in April during theTexas National Emergency Number Association (NENA) Conference. According to the nominating committee, the Silent Hero Award is presented each year to an individual for exceptional professionalism in the field of emergency communications. This award is given to an individual who goes "above and beyond the call of duty." It is given to a telecommunicator who is recognized as dedicated to emergency communications each and every day. "We are extremely proud to have Ms. Ozuna recognized at the state level for the outstanding work she is doing," stated Kennith Ennis, Pharr Communications Supervisor. Congratulations to Ms. Ozuna for being selected for this award! This is the second year in a row that a member of the Pharr Communications Office wins the award.
Highlights from the Commission's Meeting on February 18, 2019
City Announces December Sales Tax Report
City Manager Alex Meade announced that the sales tax activity for the city of Pharr as of the month of February 2019 continues to show a positive upward trend, demonstrating a steady increase in sales activity. The report is the first month of the City's fiscal year and represents sales activity for the month of December 2018. The sales tax allocation report for February 2019 showed that Pharr received $2.46 million for the month of December 2018. This amount reflects a substantial increase – 43.68% – from the same reporting period in December 2017. This sales tax growth was one of the largest in Hidalgo County for this reporting period. The sales tax growth report showed an overall positive trend in the amount of $1,482,507, an increase of 19.79% for this time period. This is the 3rd month of actual sales for the fiscal year 2018-2019. To date, the City of Pharr sales tax activity is up 23.10%, which equates to $528,787 from this point of the fiscal year compared to last year.
Pharr Approves Resolution creating a Census 2020 Complete Count Committee
Mayor Ambrosio Hernadez, M.D. and the Pharr Cty Commission approved a resolution creating a  2020 Census Committee. The purpose of the Complete Count Committee is to plan and conduct local educational initiatives, publicity, and promotional activities to increase community awareness and participation in Census 2020. Accurate census information is critical to planning for future growth, development, and the social needs of the City of Pharr through the disbursement of federal dollars, which are distributed based on population. Additionally, data collected by the census determine the number of seats each state has in the U.S. House of Representatives, the U.S. Senate, and in the state legislature. Pharr has experienced phenomenal growth over the last ten years and encourages all citizens to fully participate in the 2020 Census. The Complete Count Committee is comprised of city staff, local businesses, faith-based organizations, and community organizations.
Featured Event: St. Patrick's Day 5K Run/Walk – Saturday, March 16, 2019, beginning at 8 am
Join us for the annual city of Pharr St. Patrick's Day 5K Run/Walk on Saturday, March 16th, beginning at 8:00 AM at the PSJA Stadium (703 E. Sam Houston St. Pharr, Texas).
To register visit endurancesplits.webconnex.com/13thannualst.patricksday5K or visit our Parks & Recreation office at 413 E. Clark Ave. Pharr, Texas
Prices:
Children: $5
Adults: $15
For more information call 956-402-4550.