The Board of Commissioners of the City of Pharr met for a regular meeting on Monday, April 1, 2019, and considered an agenda that included the following highlights:
Highlights from the Commission's Meeting on April 1, 2019
April 14-20 Designated as National Public Safety Telecommunicators Week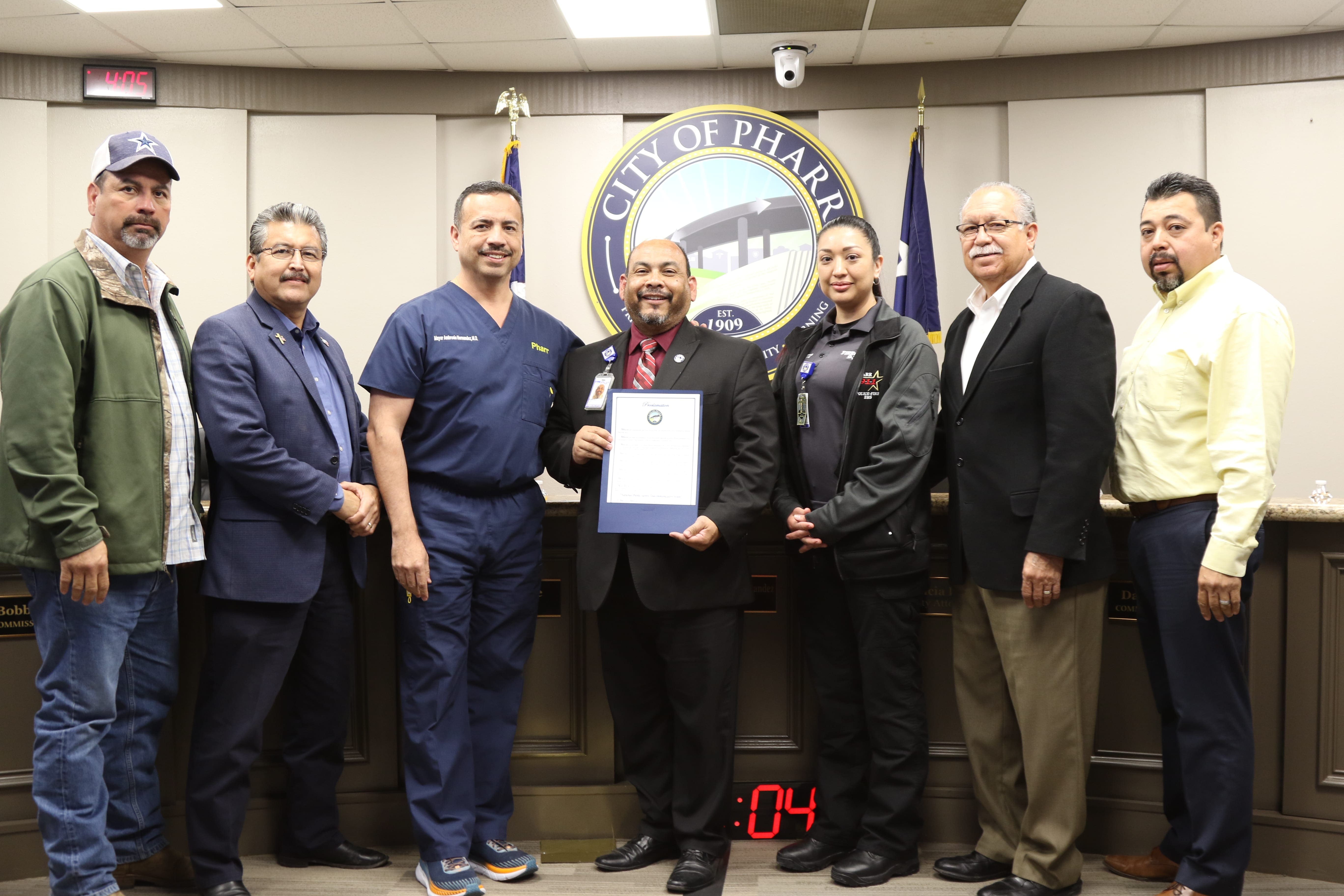 Mayor Ambrosio Hernandez, M.D. and the Pharr City Commission proclaimed the week of April 14-20, 2019, as National Public Safety Telecommunicators Week in Pharr. Danny Ramirez, Communications Director for the city, accepted the proclamation and thanked city leaders for recognizing and honoring Pharr's telecommunications department. The department, which serves as the single vital link for our police officers, firefighters, and EMT's responds to emergency calls, dispatches emergency professionals and equipment and renders life-saving assistance to citizens. "Our telecommunications dispatch and personnel are integral to public safety and we commend their hard work and dedication," stated Mayor Hernandez.
City Approves Ordinance Renaming Rancho Blanco Road to Javelina Drive
Pharr City leaders approved an ordinance renaming Rancho Blanco Road to Javelina Drive. The renaming of the public roadway to Javelina Drive will benefit the students and community of PSJA Southwest Early College High School, a Pharr-San Juan-Alamo ISD campus whose mascot is a Javelina. The City of Pharr continues to proudly support partnerships with our educational institutions to benefit our communities.
To stay updated on all events happening in Pharr and watch all city commission meetings tune into Channel 12, subscribe to our YouTube channel, like us on Facebook and Twitter and visit Pharr.Life.