The Board of Commissioners of the City of Pharr met for a regular meeting on Monday, February 3, 2020, and considered an agenda that included the following highlights:
City Proclaims March 7th as Children's Advocacy Center of Hidalgo County Day


Pharr City Commission present representatives of the Children's Advocacy Center with a proclamation declaring March 7, 2020, as Children's Advocacy Center of Hidalgo County Day. Pharr Mayor Ambrosio Hernandez, M.D. and the Pharr City Commission approved a proclamation designating March 7, 2020, as Children's Advocacy Center of Hidalgo County Day. The center, which was established in 2000, is one of 800 Children's Advocacy Centers nationwide, and one of 71 certified Children's Advocacy Centers in Texas and the first child-focused facility and community-based program of its kind in Hidalgo County, servicing child abuse victims age 2 – 17 years of age.

The center works to reduce the emotional trauma to child abuse victims, which supports the prevention of child abuse through community education and promotes the effective prosecution of those who perpetrate crimes against children. Lorena Castillo, President of the Board of Directors of the Children's Advocacy Center, accepted the proclamation on behalf of the organization and stated, "We appreciate your continued support of the Children's Advocacy Center and we are proud to support our communities in Hidalgo and Starr Counties. We are often the first stop for children who have been suspected of abuse, neglect, or those who have experienced a violent crime. Our goal is to restore the lives of children and families affected by abuse and neglect through hope, healing, and justice. We do this by providing victim support, mental health services, forensic medical evaluations and by facilitating investigations of these cases in collaboration with the District Attorney's Office, Law Enforcement, and CPS. Last year we saw 1,900 abused children, 150 from the city of Pharr. We are proud of our partnership with the Pharr Police Department and investigators and we thank you for your commitment to helping make a difference in the lives of children," she said. "We thank you for your support!"

Castillo announced that in order to raise awareness and funds for the organization, the Children's Advocacy Center of Hidalgo County, is hosting their 10th Annual VINOS event at the Embassy Suites McAllen Convention Center on Saturday, March 7, 2020, from 7:00 pm – 11:00 pm, featuring delicious food provided by local restaurants, fine wines and amazing entertainment by Satellite and The Renaissance Rockers.

City Hall to Undergo Renovations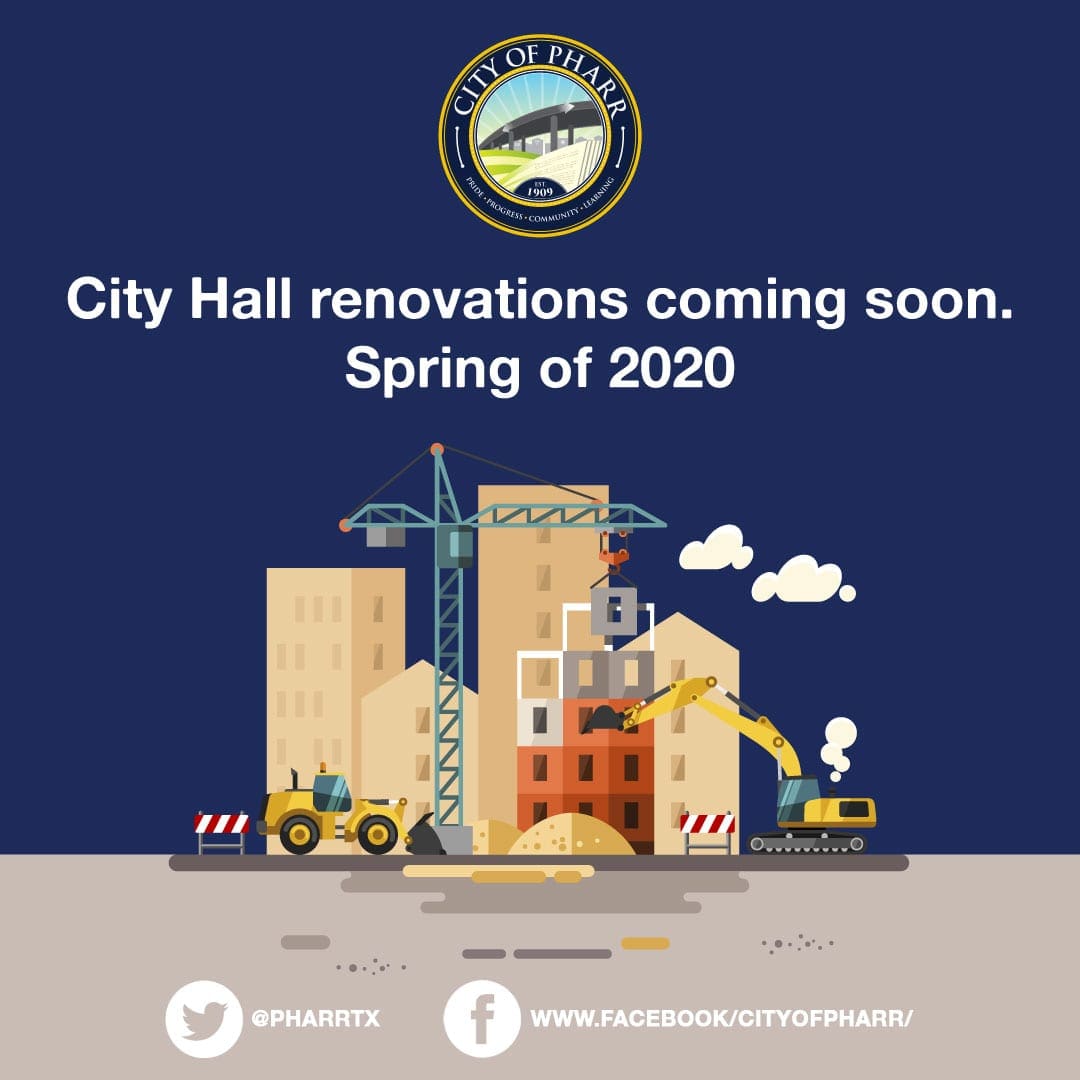 Pharr Interim City Manager Ed Wylie announced that Pharr City Hall will soon be undergoing renovations. City Hall will continue to operate and be open to the public with services remaining uninterrupted during the process. 

City Adopts Newly Updated Personnel Policy Manual
The Pharr City Commission approved the third and final reading of Ordinance amending Ordinance No. O-2017-35 to adopt a new and updated Personnel Policy Manual. The existing Personnel Policy Manual was last updated in September 2017 and needed to be updated, modified, and revised to incorporate changes in the law affecting personnel management in the public sector, as well as to take into account the growing size and abilities of the City's workforce.

Pharr Incentivizing Residents to Make Water Bill Payments Online with a $3.00 Discount
Commissioners approved Ordinance amending Ordinance No. O-2019-38 prescribing a discount to residents who make water bill payments online. With the New City Hall remodeling project, Pharr is trying to diminish walk-in payments to reduce traffic as much as possible by incentivizing residents with a discount of $3.00 ($36 a year per customer).

According to city statistics, only an average of 4,000 accounts (out of 20,000) use online payments every month. The city is hoping to increase volume to collect more online payments. The fiscal impact will be approximately 1% or approximately $288,000 out of an estimated $15,718,500 estimated in total collections assuming online payments double.

Residents can make payments through the City of Pharr's website www.pharr-tx.gov by clicking on the "Quick Access" link on the top right-hand side and then choosing "Online Payments" once selected, they can proceed to click on "Utility Billing" to complete their payment. 

City Approves Purchase of New Police Vehicles
The Pharr City Commission approved the authorization of the purchase of ten 2020 Chevy Tahoes for the Pharr Police Department to replace old units. 

Commissioners Approve MOUs with Valley View ISD and PSJA ISD District Police Departments
Pharr Commissioners approved Memorandum of Understandings with Valley View ISD and PSJA ISD District Police Departments for jurisdiction. The Texas Education Code Section 37.081 requires a school district police department and the law enforcement agencies with which it has overlapping jurisdiction to enter into a memorandum of understanding that outlines reasonable communications and coordination of efforts between the department and the agencies.

Pharr IT Director Recognized 
Pharr city leaders and Interim City Manager Ed Wylie congratulated Pharr Information Technology Director Jose Peña for his completion of a 12-month national program; he is now a Certified Government Chief Information Officer.

Pharr Police Department Headed to UTRGV Basketball Championship Competition
The University of Texas Rio Grande Valley has invited police departments from throughout the RGV to participate in a friendly basketball tournament during their halftime shows. Most recently, the Pharr Police Department beat the Edinburg Police Department and is now headed to the Championship round. "We invite everyone to join us and cheer on the Pharr PD and UTRGV in two weeks during the Championship round on February 18, 2020, at 12 pm at the UTRGV Fieldhouse," said Pharr Chief of Police Jose Luengo. "We wish you the best of luck and hope you come home with the trophy," said Mayor Hernandez.