The Board of Commissioners of the City of Pharr met for a regular meeting on Monday, March 6, 2023, and considered an agenda that included the following highlights:
City Declares March 6, 2023, as "Laura Nassri Warren Day"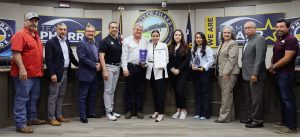 Mayor Ambrosio Hernandez, M.D., and the Pharr City Commission approved a proclamation declaring March 6, 2023 as "Laura Nassri Warren Day" in the City of Pharr. The commission recognized her for her outstanding work as an architect and as a role model for other women in architecture, as well as for her dedication to the growth of Pharr through her work. Laura Warren first became a licensed architect in Mexico and South America in 1992, then in the United States in 2003. In 2004, she founded The Warren Group Architects, Inc., a binationally certified firm providing design and project management services throughout Texas, Mexico, and South America. She was appointed by Governor Abbot as a Commission Member for the Finance Commission of Texas and the Texas Financial Education Endowment Board, and also serves as a Board Member for the City of Pharr's Greater Pharr Chamber of Commerce and has served as former president of the International Women's Board of the University of Texas Rio Grande Valley and the first woman president of the McAllen South Rotary. Laura Warren was recently named Architect of the Year and awarded Project of the Year by the Texas Society of Professional Engineers and National Society of Professional Engineers, and the American Society of Civil Engineers for her work on the City of Pharr's state-of-the-art Natatorium. Congratulations, Laura!
Featured Event: The HUB Market Days Honoring Women's International Day – Saturday, March 11, 2023, from 6 pm to 10 pm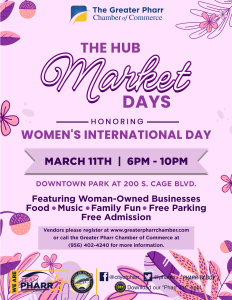 Featured Event: 17th Annual St. Patrick's Day 5K Run Walk – Saturday, March 18, 2023, at 9 am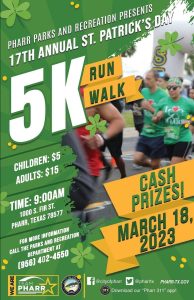 Get ready for the BIGGEST 5K in the RGV!
The 17th Annual St. Patrick's Day 5K Run/walk presented by the City of Pharr Parks & Recreation is happening March 18th!
Register today!

https://runsignup.com/[Race][Register][]?raceId=125094
For more information please call The Pharr Parks & Recreation Department at(956) 402-4550.
(ESPAÑOL)
Prepárate para la gran carrera 5K!

La carrera anual del día de San Patricio presentada por Pharr, se llevará a cabo este próximo 18 de marzo