Pharr City Report for August 3rd, 2020

The Board of Commissioners of the City of Pharr met for a regular meeting on Monday, August 3, 2020, and considered an agenda that included the following highlights:
Pharr Sees Increase in Property Tax Values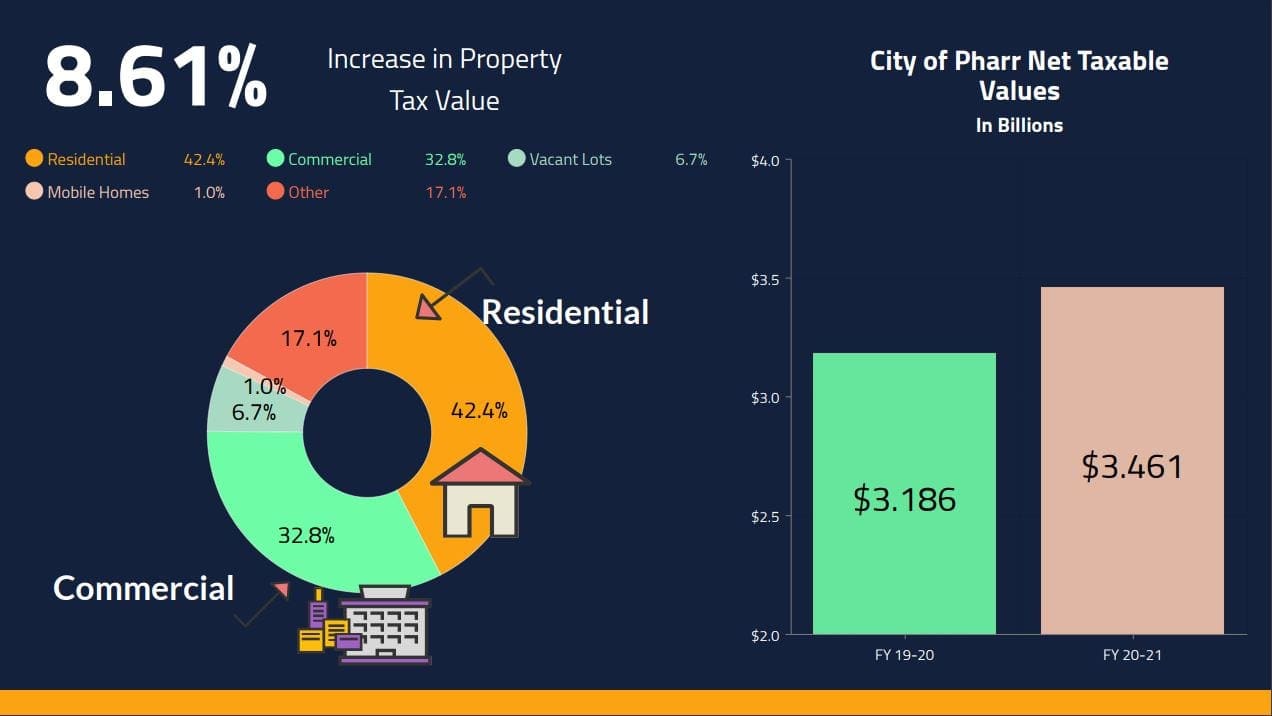 City Manager Ed Wylie announced that the City of Pharr Property Assessment Value for Tax Year 2020 saw an increase from $3.1 billion to $3.4 billion; an overall increase of 8.6% ($250 million dollars). Wylie mentioned that the city's goal of increasing the value has been met as a result of giving incentives for building residential subdivisions. "Our strategy has been working and we are proud to continue to see our city grow," he added. 
City of Pharr Extends Declaration of Disaster After Hurricane Hanna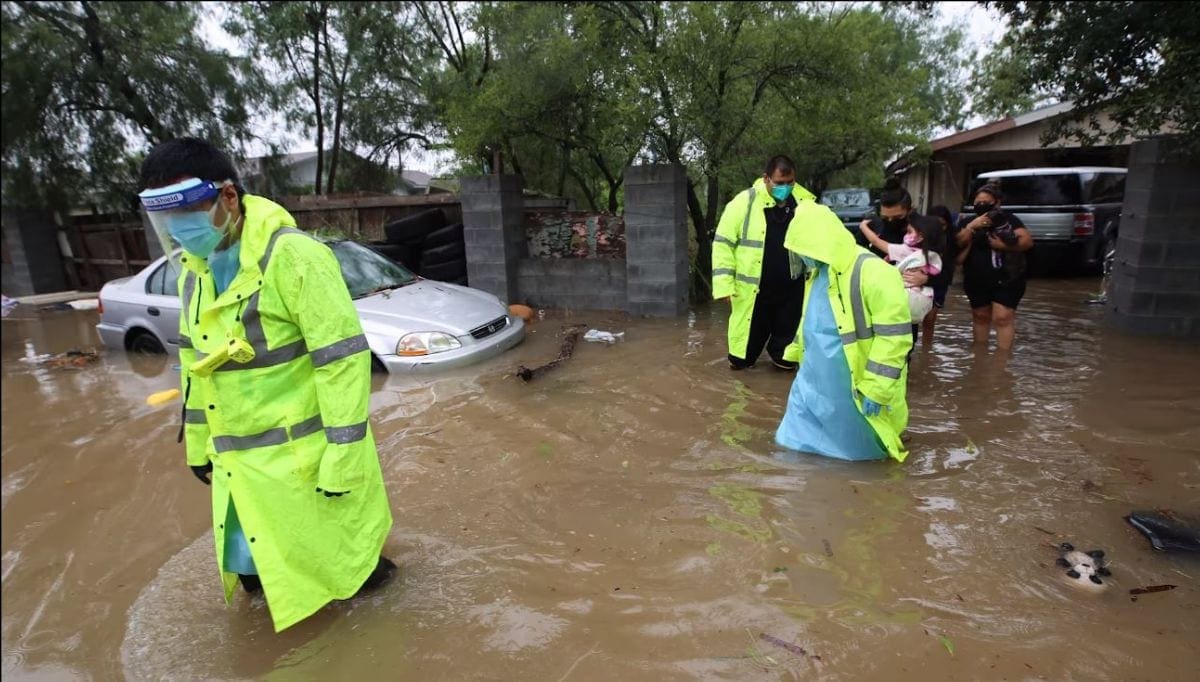 On July 25, 2020, the Mayor Issued a Declaration of Disaster due to the rains and flooding resulting from Hurricane Hanna. The Declaration is valid for only 7 days unless extended or renewed by the City Commission. Due to the extent of flooding and damage to property, the Mayor of Pharr has determined that extraordinary measures must be taken to protect the public health, safety, and general well being of the Citizens of Pharr to alleviate the suffering of people and to protect or rehabilitate property. There are ongoing efforts to assess and remediate damage to areas within the City, and an extension of the Declaration of Disaster is necessary. The declaration will remain in effect until terminated by the mayor and city commissioners. 
Commission Adopts Amended Ordinance Creating a $500 Fine for Driving Over Flooded Roads
Adopted on first reading, the Pharr City Commission, approved an Ordinance amending Chapter 126, Traffic and Vehicles, Article IV, Operation of Vehicles Generally, by adding a new Section 126-150, traversing flooded streets with a vehicle. Due to the recent rains and flooding the City has identified the need for an ordinance addressing vehicles traveling through flooded streets that have resulted in damage to surrounding properties as a result of the wake caused by the vehicles. The Commission understands that flooding is a significant concern for many Pharr residents, and despite the City's continuous flood mitigation efforts over the past several years, heavy rainfall periodically results in flooded street conditions throughout the City. Prohibiting such activity helps with the City's ongoing flood hazard mitigation efforts to reduce damage to homes and personal property from flooding, and will enhance the City's continued participation in the Community Rating System and National Flood Insurance Program.
"People need to be mindful that when they are driving through flooded roadways, they exacerbate flooding in nearby homes by creating a wake, which pushes water further into homes and property," said Commissioner Daniel Chavez. "Unfortunately, we have seen this happen too many times and we want to help protect our citizens and mitigate the damage to their homes," he added.
Under the new amended Ordinance:
It shall be unlawful for any person to traverse a flooded street in an automobile, truck, boat, or other vehicle or vessel at such speed as to create a wake therein that may or is likely to cause personal injury or damage or increased flooding to the property or premises adjoining such flooded street or streets.
It shall be an affirmative defense to prosecution under this section that the person was performing a rescue operation or was protecting the public order and safety.
Each violation of this ordinance shall be punishable by a fine not to exceed $500.00. Every violation of this Ordinance may occur, shall be considered a unique and separate criminal offense.
Permit Fees Waived Due to Hurricane Hanna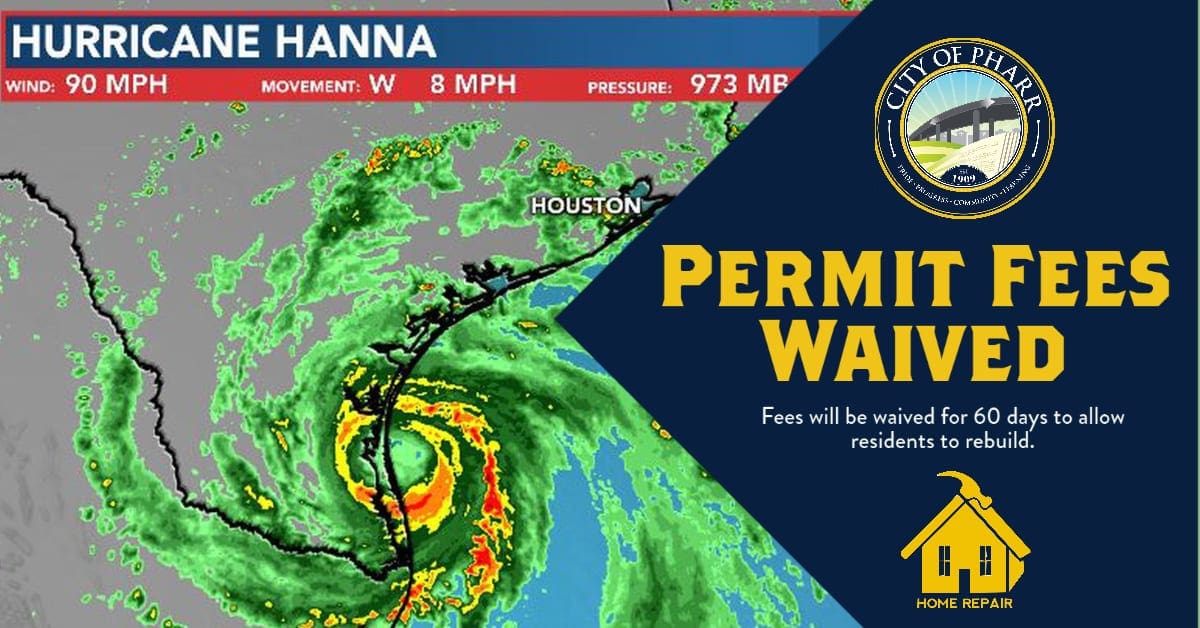 The Pharr City Commission adopted on first reading an Ordinance amending Ordinance No. O-2008-36, creating a temporary sixty (60) day exemption from permit fees for repair and reconstruction of structures damaged due to Hurricane Hanna. This will allow residential and commercial owners the ability to remediate their property in a more efficient and effective manner. "We are sympathetic that our citizens are under extreme stress right now because of the damage caused by Hurricane Hanna and we want to make the process easier for everyone," said Ed Wylie, City Manager. "We are waiving the fees for 60 days, but citizens still have to submit permits and the city will continue with inspections to ensure everything is done correctly," added Wylie.
Commissioners approved an ordinance authorizing the issuance, sale, and delivery of City of Pharr, Texas Waterworks and Sewer System Revenue Bonds, Series 2020A in the aggregate principal amount of $18,150,000. As approved by Texas Water Development Board; Waterworks and Sewer System Revenue Bonds Series 2020A will be issued to fund water infrastructure projects.
Commission Approves Revenue Bonds to Fund Water Infrastructure Projects
The Commission also approved an ordinance authorizing the issuance, sale, and delivery of City of Pharr, Texas Waterworks and Sewer System Revenue Bonds, Series 2020B in the aggregate principal amount of $13,880,000. As approved by Texas Water Development Board; Waterworks and Sewer System Revenue Bonds Series 2020B will be issued to fund wastewater infrastructure projects.
Featured Event: Pharr First Responders Festival – Friday, August 7, 2020, from 7 pm to 8 pm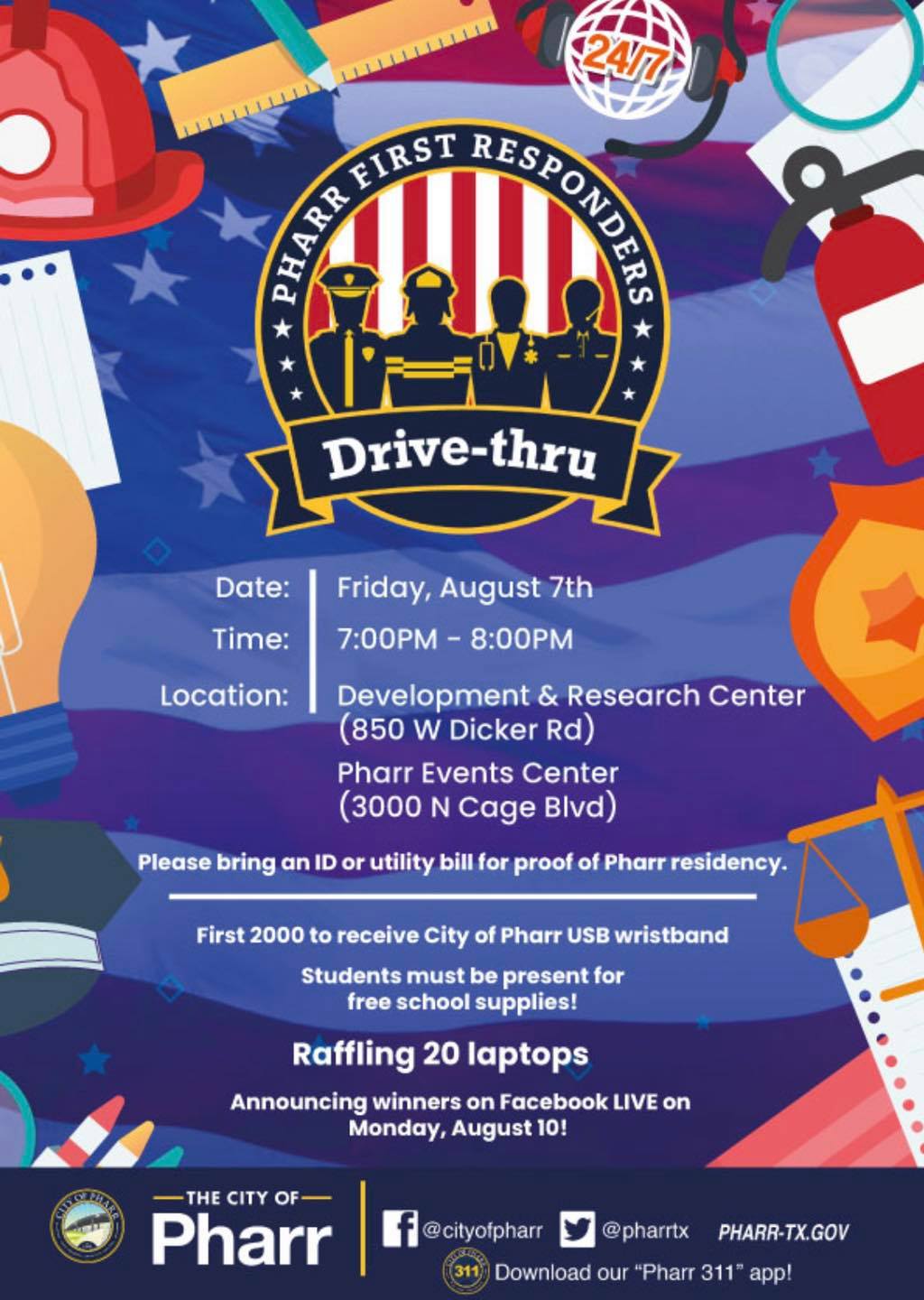 The City of Pharr will be hosting our annual Pharr First Responders event. This event will be transitioning from our typical festival into 2 simultaneous drive-thru events to be held on Friday, August 7th at 7 PM.
Students must be present for free school supplies and to get a ticket for a chance to win one of the 20 laptops to be raffled. The first 2,000 students will also receive a City of Pharr USB wristband.
The City of Pharr and our First Responders support all students and wish them a successful school year.