Pharr City Report for October 10th, 2020

City Commission Approves Proclamation Declaring the Pharr Police Department's Social Contract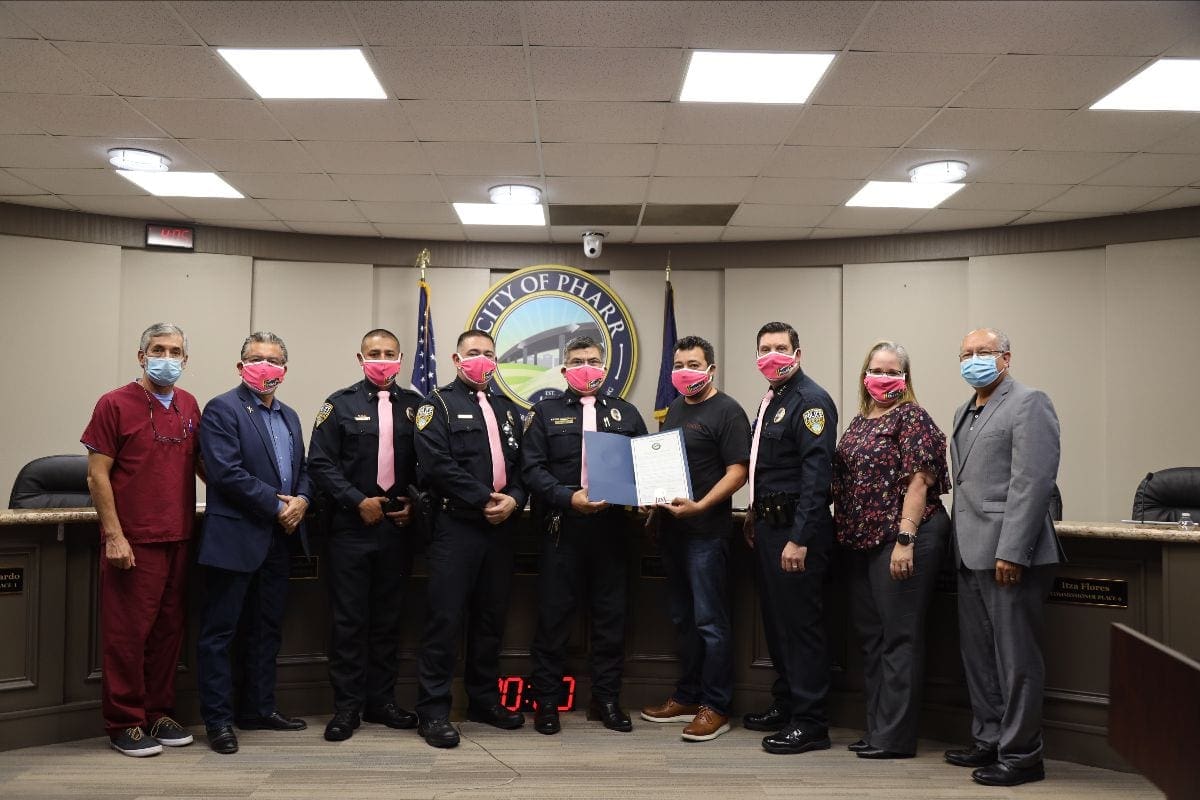 The Pharr City Commission approved a Proclamation declaring the Pharr Police Department's Social Contract, which outlines their responsibility in service and respect to each other, the department, and the community. Pharr Police Chief Andrew Harvey Jr. presented the proclamation to the city commission. "We are excited to present this social contract that we worked on together as a team to hold ourselves accountable and better serve our community," said Harvey. "This is part of our journey moving forward and will help lead our department to excellence," he added.
Pharr Sales Tax Activity Continues to Increase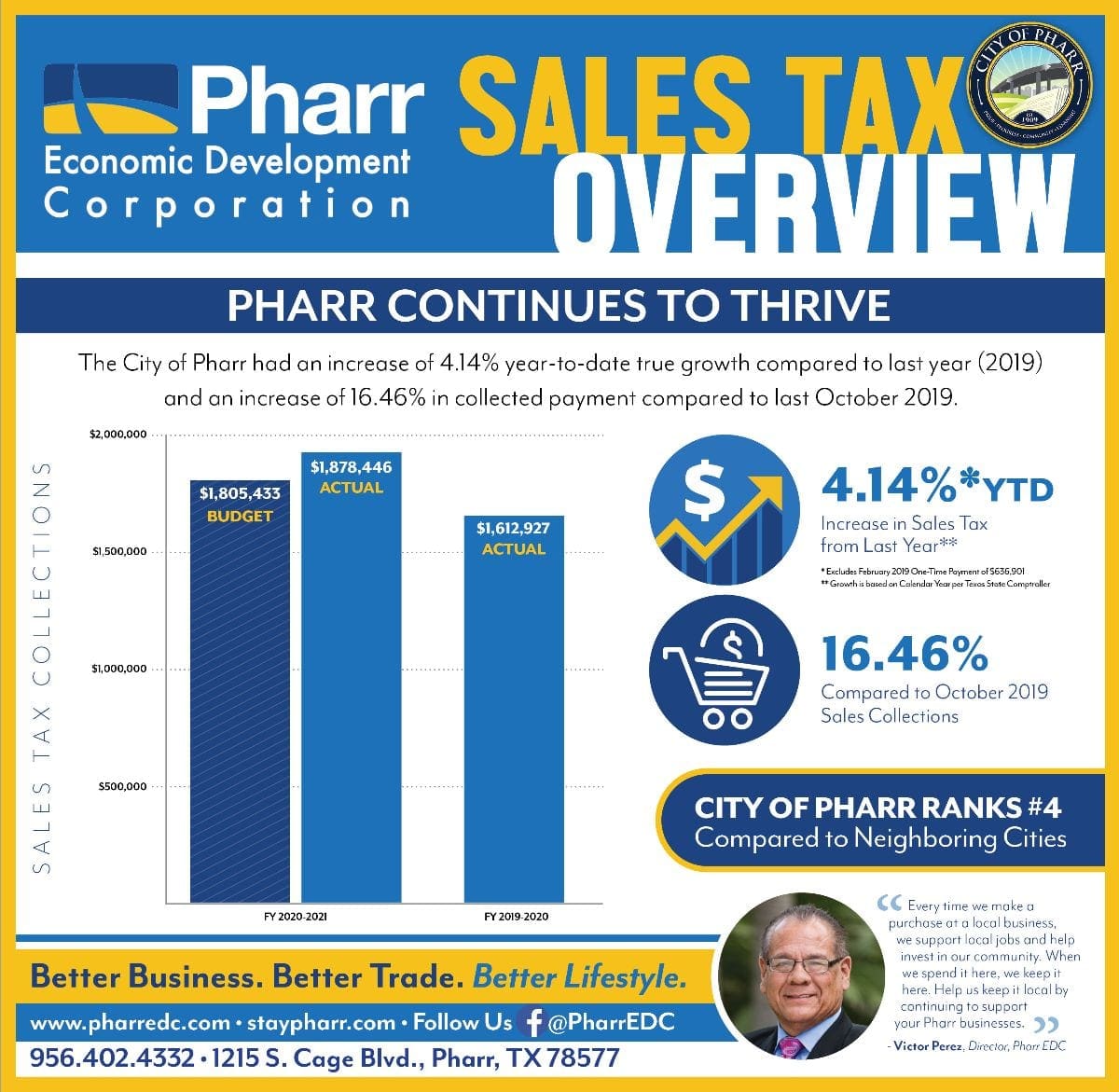 City Manager Ed Wylie announced that the sales tax activity for the city of Pharr as of the month of October 2020 continues to show a positive upward trend, demonstrating a steady increase in sales activity. The City of Pharr had an increase of 4.14% year-to-date true growth compared to last year (2019) and an increase of 16.46% in collected payment compared to last October 2019. 
Pharr IT Department Recognized for Winning State Excellence Award

The Pharr City Commission recognized the Pharr IT Department for winning the Excellence Award at this year's Texas Association of Governmental Information Technology Managers (TAGITM) Conference. The IT Department won the award for the City of Pharr 911 Communications & Data Center project. According to the organization, Excellence Award winners demonstrate outstanding innovation and application of leading-edge computing or communication technologies. Candidates for Excellence Awards are nominated by TAGITM members. Winners are chosen by a committee of peers who judge nominated projects based on their impact on improving internal operations, providing exceptional customer service, or enhancing communications. "This is the first time any county or city in the Rio Grande Valley receives this award from the state," said City Manager Ed Wylie. Pharr IT Director Jose Pena thanked the commission and also announced that for the first time, the City of Pharr IT Department was also asked to present at this year's conference on the Pharr Parks WiFi and Surveillance Project. "Congratulations to the Pharr IT Department and staff, we are proud of your hard work and are especially excited to see you being recognized by your peers at the state level," said Mayor Ambrosio Hernandez, M.D.  
Featured Event 1: Trunk or Treat Drive-Thru – Friday, October 23, 2020, from 6 pm to 8 pm 
Join us for our Trunk or Treat Drive-thru Event held on October 23rd from 6:00 pm – 8:00 pm at the following locations!
Pharr Events Center – 3000 N. Cage Blvd.
Pharr Sports Complex – 100 E. Moore Rd.
Jones Box Park – 1201 W Rosa Ln.
This event will be a one-way candy bag drive-thru and will be following CDC guidelines. For more information, contact Officer Zepeda at 956-402-4765 or at [email protected]
Featured Event 2: Movies in the Park-ing Lot – Saturday, October 24 at 7:30 pm.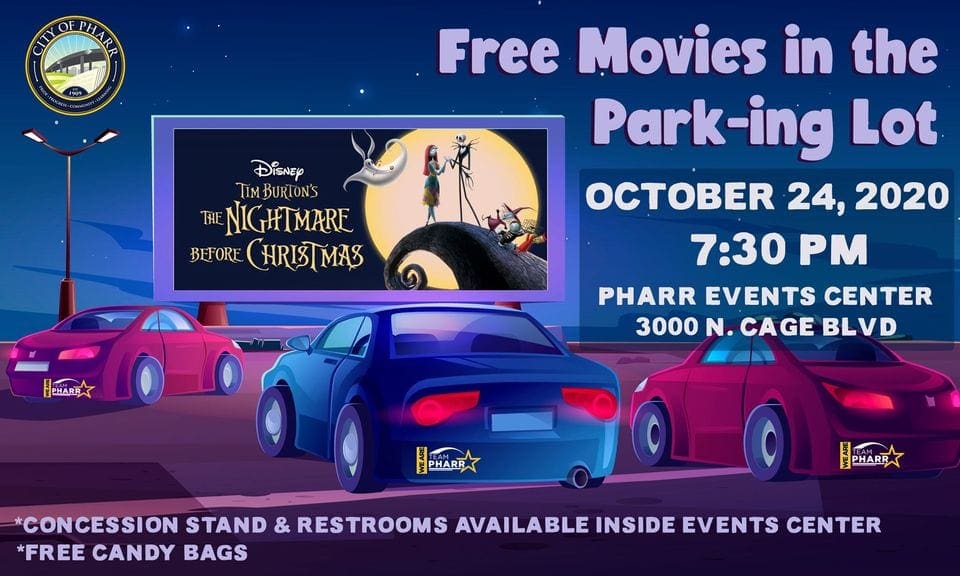 Join us for our Movies in the Park-ing Lot!
We will be showing The Nightmare Before Christmas! This FREE event will be on October 24, at the Pharr Events Center starting at 7:30 pm!
There will be limited parking spots so make sure you get there early!
Featured Event 3: Trail of Terror – Monday, October 26 through Friday, October 30 from 7:30 pm to 10:00 pm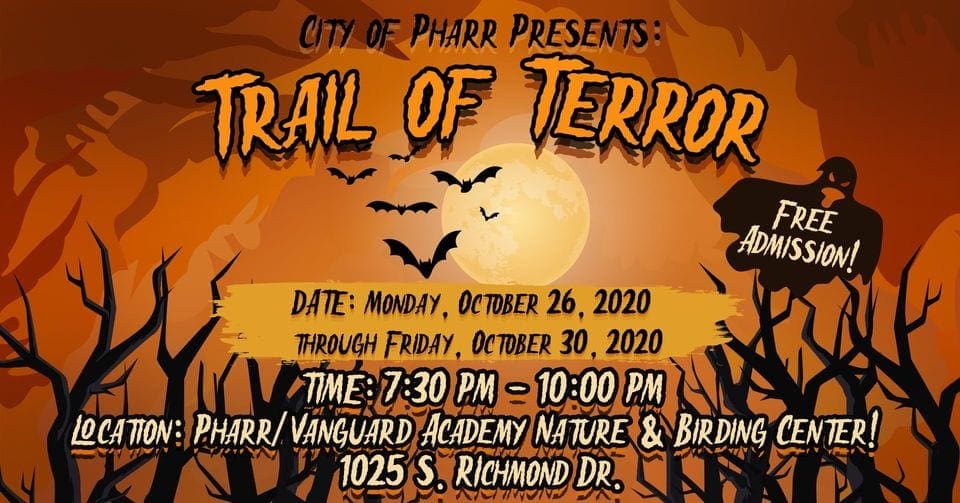 Join us for some good old family-friendly scares at our Trail of Terror!
The Trail of Terror will be happening between Monday, October 26th through Friday, October 30th at the Pharr/Vanguard Academy Nature and Birding Center from 7:30 PM to 10:00 PM.
Admission is free and tickets for this event will be available for pick up starting Tuesday, October 20th, 2020 at the Pharr Memorial Library.
Face masks are required, for more information please call Parks & Recreation at (956) 402-4550.