The Board of Commissioners of the City of Pharr met for a regular meeting on Monday, October 15, 2018 and considered agendas that included the following highlights:
Edward Wylie Appointed as Interim City Manager
Mayor Ambrosio Hernandez, M.D. and City Commissioners appointed current Deputy City Manager, Edward M. Wylie as Interim City Manager. Mr. Wylie has formerly served as the Development Services Director for Pharr.
Pharr Designates October as Disability Employment Awareness Month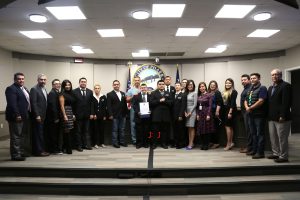 Mayor Ambrosio Hernandez, M.D. and City Commissioners approved a proclamation designating October as "Disability Employment Awareness Month," a month focused on increasing the public's awareness of the contributions and skills of American workers with disabilities. Veronica Quintana, Pathways Toward Independent Program Director at Pharr-San Juan-Alamo ISD accepted the proclamation, along with several students from the program.  "It is important that we work to connect our student with disabilities with jobs to help them continue to learn independence and employability skills," she said while thanking city leaders for their support. "We are grateful for the support of the Texas Workforce Solutions, Pharr EDC and the city for their work in helping our students connect with businesses and employers," she continued.
October Proclaimed as Manufacturing Month in Pharr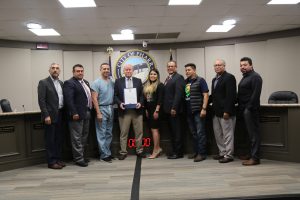 The Pharr City Commission approved a proclamation designating October 2018 as "Manufacturing Month" and October 3, 2018, as "Manufacturing Day" in Pharr. Manufacturers in Texas employ 6.9% of the workforce, an estimated 875,000 manufacturing employees, including 7,200 in Hidalgo County, 427 in Pharr, augmented by 52,800 in Hidalgo County and 1,800 in Pharr working in Transportation & Warehousing. Mike Willis, Executive Director of the South Texas Manufacturers Association announced during the acceptance of the proclamation that the South Texas Manufacturers Association and Pharr Economic Development Corporation, in coordination with the Pharr-San Juan-Alamo Independent School District, and South Texas College, held a Manufacturing Day Celebration on Wednesday, October 3, 2018, at the Pharr Development and Research Center. "We are working with our communities, partners, and businesses to educate our students about the importance of manufacturing jobs, skills, and there economic impact in our cities and region," he said. "During the event, students had the opportunity to tour manufacturing plants, learn about careers in the manufacturing industry, and even visited the UTRGV Engineering Department," he added.
Pharr Earns Texas Municipal League Award for Scenic City Designation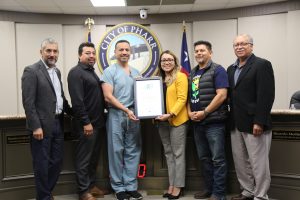 City of Pharr Director of Development Services Melanie Cano announced that the City of Pharr received a plaque at the Texas Municipal League (TML) Conference for earning a Silver ranking as part of the Scenic City Certification. Thirteen Texas cities were recognized as 2018 Certified Scenic City award recipients through the Scenic City Certification Program, a project of Scenic Texas and its 15 Program Partner organizations. The Scenic City Certification Program recognizes cities for their demonstrated commitment to high-quality scenic standards for public roadways and public spaces.  Four cities have earned certification for the first time and nine are re-certifying or upgrading existing certification status, bringing the total number of certified cities across Texas to 75. Official certification is earned by cities that score points in the upper range and meet threshold standards for landscaping, tree planting, and sign regulation.