Pharr EDC Foundation Launches, Founding Board Members Inaugurated

Pharr, Texas – The Pharr Economic Development Corporation (EDC) in partnership with the City of Pharr, is proud to announce that they have launched the newly created Pharr EDC Foundation and recently held an induction ceremony welcoming the Founding Board of Directors.
As the City of Pharr's economic development arm, the Pharr EDC has always focused its efforts on creating direct pipelines for students, post-secondary education workforce development, entrepreneurship, and business development. These efforts will further be expanded through the Pharr EDC Foundation, with a special focus on education.
"This is an exciting moment for the Pharr EDC and something we have been working towards," said Victor Perez, Executive Director of the Pharr EDC during the ceremony. "The Pharr EDC Foundation, through the dedication and assistance of its board members, plans to focus its efforts on providing scholarships, internship opportunities, and financial literacy education to students within the City of Pharr," added Perez.
The foundation advisory board includes President, Victor Perez who is the Executive Director of the Pharr EDC; Vice-President Reynaldo Perez who is an Adjunct Professor at Vanguard Academy and South Texas College; and Treasurer, Dr. Ambrosio Hernandez, M.D., Mayor of Pharr.
During the ceremony, the Founding Board of Directors were administered the oath of office by Pharr City Commissioner Dr. Ramiro Caballero.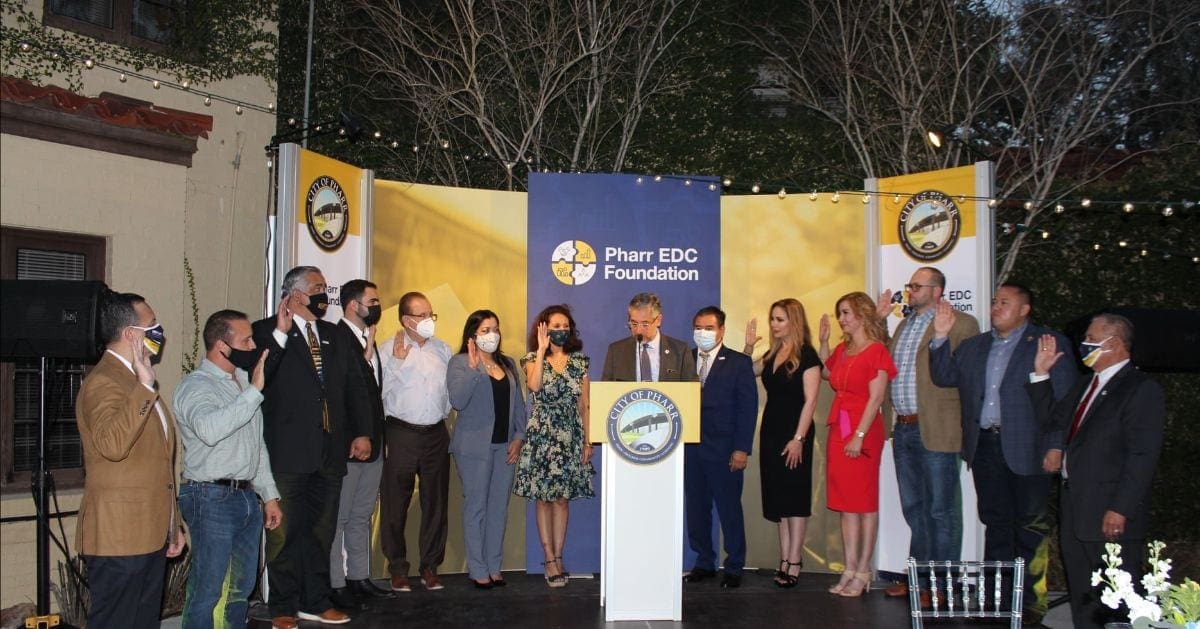 Founding Board Members of the Pharr EDC Foundation take the oath of office administered by City Commissioner Dr. Ramiro Caballero during the Inauguration Ceremony.
The Pharr EDC Foundation Founding Board of Directors are Felix Chavez, Jr., President/Owner of Junior's Supermarket, Edna De Saro, Executive VP & Marketing Director of Lone Star National Bank, Veronica Gonzales, VP of Governmental & Community Relations for UTRGV, Hans Humphrey, New Projects Director for CIL, Sara Lozano, Dean of Business, Public Safety, and Technology for South Texas College, Jerry Maddox, Owner of Fazoli's Pharr, Dorian Madrigal, General Sales Manager for CAPA, Tony Martinez, Managing Member of Primo Trading Services, Alex Meade, Vice President of Economic Development & Public Finance for Texas Regional Bank, Dr. Annabelle Palomo, CEO/School Director of RGV College, Johnny Rodriguez, Director of Public Relations for Bert Ogden Auto, and Robert Tudor, Owner of Rapid Transport, United Truck Parts, and Dura Trucks. Stuart I.R. Haniff, MHA who is the Chief Executive Officer for The Food Bank RGV will serve as an Advisor to the Board.
As distinguished business owners, entrepreneurs, and career professionals, the Pharr EDC Foundation Founding Board Director's expertise and business acumen will play a critical role in shaping the educational and economic future of students in Pharr.
"Through the Pharr EDC Foundation, we hope to foster relationships within our community to expand educational and workforce opportunities for students and individuals within Pharr, while supporting our economic growth," said Mayor and Pharr EDC Foundation Treasurer, Ambrosio Hernandez, M.D. "Education is a critical key to workforce development and we are committed to advancing and supporting our future workforce by providing them with scholarships, internships, and resources, to set them on the path to success," continued Hernandez.
The Pharr EDC Foundation is committed to supporting Pharr students' achieve their educational and career dreams by helping them pay for college at all levels, whether it is for a trade or technical degree or a four-year university.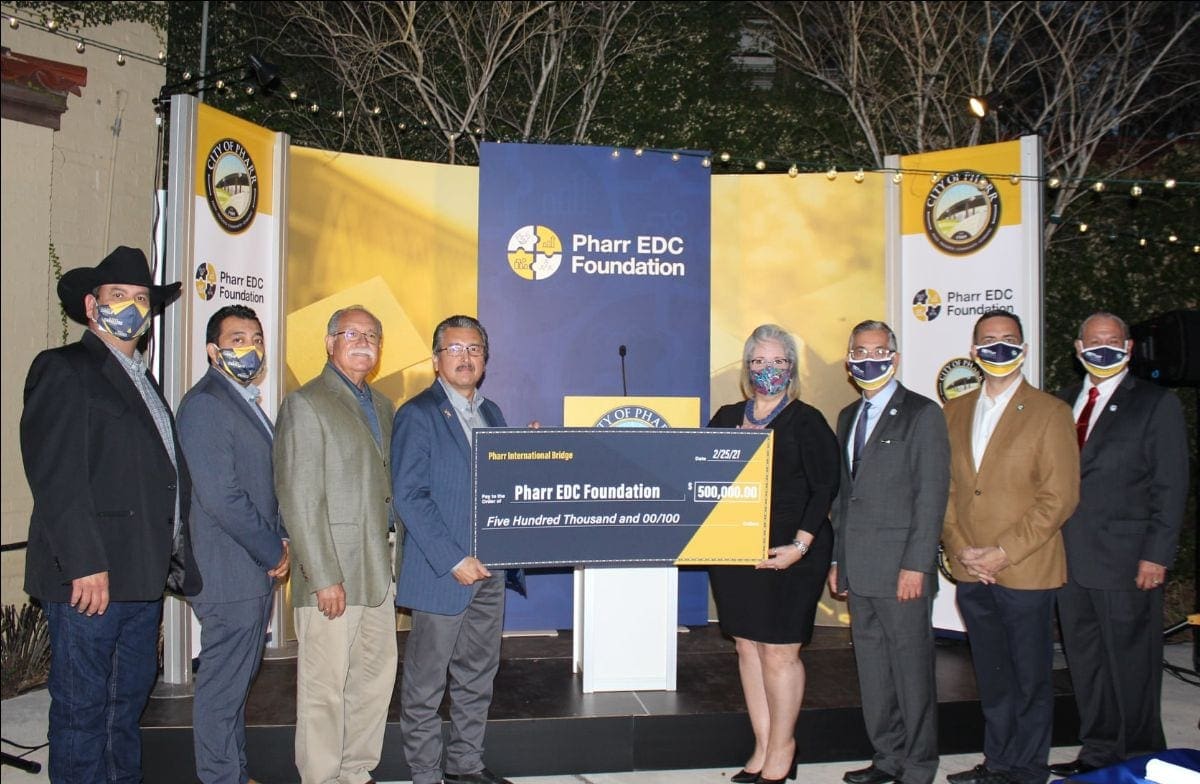 Pharr City Commissioners present the Pharr EDC Foundation with a $500,000 check for student scholarships (L to R): Commissioners Bobby Carrillo, Daniel Chavez, Ricardo Medina, Eleazar Guajardo, Itza Flores, Dr. Ramiro Caballero, Mayor Ambrosio Hernandez, M.D., and Victor Perez, Pharr EDC Executive Director.
As part of this commitment, the Pharr City Commission presented the Pharr EDC Foundation with a $500,000 check during the ceremony. Mayor Hernandez announced during his remarks that funding for the foundation will come from revenues generated by the Pharr International Bridge and through fundraising efforts by the board.
The Pharr EDC Foundation plans to launch its website in the coming months, and scholarship applications will be made available shortly thereafter.