Pharr Mayor Hernandez, CPRIT Oversight Committee Member, Announces $2.5 Million Cancer Research Grant to UTRGV
In his capacity representing Pharr, the Rio Grande Valley, and the medical community of Texas, Pharr Mayor Ambrosio Hernandez, M.D., as a member of the Oversight Committee of the Cancer Prevention & Research Institute of Texas (CPRIT), is proud to announce that CPRIT has awarded funding in the amount of $2.5 million to The University of Texas – Rio Grande Valley (UTRGV) for an Integrated Cancer Research Core Facility, the only specialized facility of its kind within 250 miles.
"This is very exciting news for the Rio Grande Valley and Texas," said Hernandez. "This grant award further solidifies UTRGV's fairly young medical school's significant and emerging role as a leader in cancer research, and will provide researchers with countless opportunities for innovation and creativity to examine cutting-edge and breakthrough treatments for cancer patients," Hernandez continued.
"As a community, we value the medical advancements that are being made here in our backyard, that are studying medical issues specific to our local demographics and informing the greater medical community-at-large," Hernandez added. "I am honored to be contributing to the significance of this moment as a member of CPRIT's oversight committee, as a medical professional, and as a leader in our South Texas community," said Hernandez. "Many lives will be impacted by the medical research at this Integrated Research facility, and we should all be proud of UTRGV on this notable accomplishment and for being competitive among the most reputable medical schools in all areas of medical research," Hernandez added.
According to CPRIT, the grant award process is "extremely competitive," explained Wayne Roberts, CPRIT's Chief Executive Officer. Roberts added, "Receiving such a significant grant as a new institution is a tribute to the UT Rio Grande Valley's developing role in fast-tracking cancer research in the Valley and Texas."
This grant award from CPRIT is timely, as UTRGV has just announced the creation of its new Cancer and Surgery Center, with oncology advisory services provided by The University of Texas MD Anderson Cancer Center, according to a news release issued by the university yesterday. The Integrated Cancer Research Core Facility funded by CPRIT will likely inform and work alongside the new Cancer and Surgery Center as it advances cutting-edge research and clinical treatment services.
"UTRGV is committed to expanding medical care and conducting relevant research for the Rio Grande Valley community, and this CPRIT award will allow us to continue to fulfill our mission by helping us create an Integrated Cancer Research Core Facility," UTRGV President Guy Bailey said. "I thank Mayor Dr. Ambrosio Hernandez and the City of Pharr for their continued support of UTRGV and our School of Medicine, and everyone who helped our university obtain this impactful grant," added Bailey.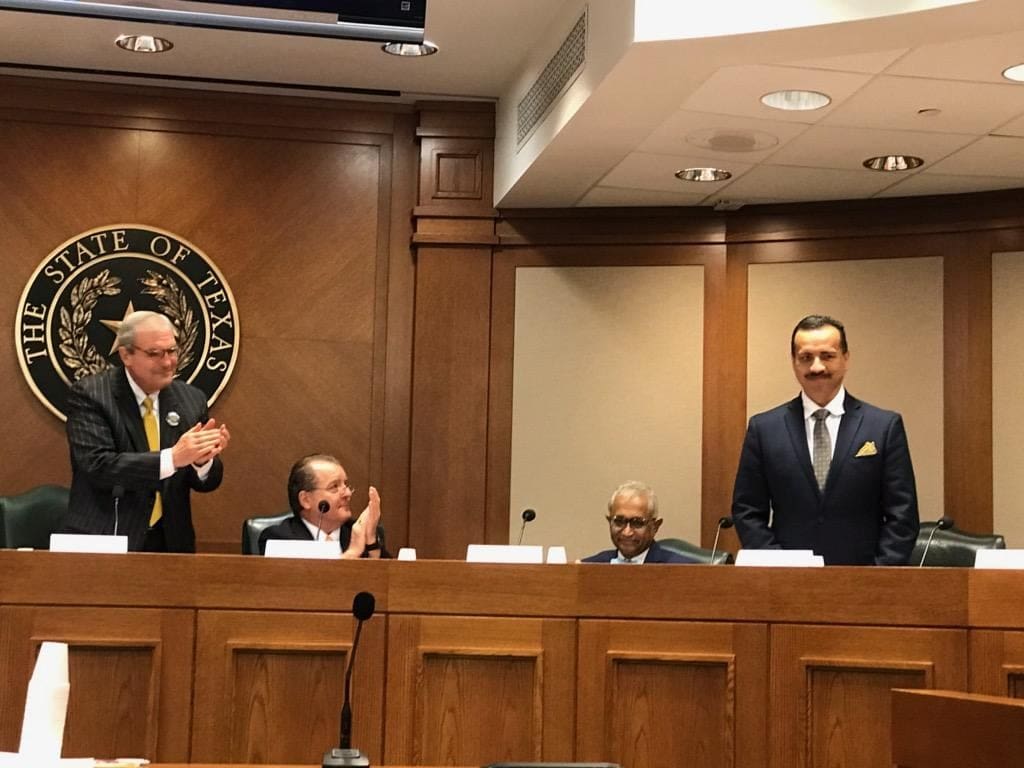 "I knew in 2007, when I first coauthored legislation creating the CPRIT, that it would have a huge impact on our state," said Senator Eddie Lucio, Jr. "CPRIT's grant confirms the prestige and impact that UTRGV has in our community," added Lucio. "Not only is UTRGV a powerhouse for South Texas, but it will also now be known as a powerhouse for cancer research, further enabling those in our community, state, and nation to seek and receive the care and the much-needed help they deserve," Lucio stated.
"I am pleased CPRIT made this award to UTRGV," said Senator Juan "Chuy" Hinojosa. "Our legislative delegation has been meeting with CPRIT leadership advocating for financial support to expand our cancer treatment infrastructure in South Texas," he added. "An important step in our efforts included the appointment of Dr. Hernandez to the CPRIT Board," stated Hinojosa. "He understands the needs of our communities and is a strong voice for our region," he continued. "Working together, we will ensure that Valley residents with cancer have access to top-notch researchers, facilities, and doctors available to them during their battle," added Hinojosa.
Hernandez was appointed to the CPRIT's Oversight Committee in February 2020 by Texas Lieutenant Governor Dan Patrick.
"I am honored to serve and represent our community and Texas as a member of CPRIT's Oversight Committee, and I want to acknowledge and thank State Senators Eddie Lucio, Jr., and Juan "Chuy" Hinojosa for believing in me and for their support in promoting my appointment," Hernandez said. "Together, and along with CPRIT and now UTRGV, we are advancing scientific knowledge and contributing to life-saving prevention and treatment services for cancer patients," Hernandez ended.
COURTESY FORWARD
View the full text of CPRIT's grant announcement at:
https://www.cprit.state.tx.us/news-events/articles/cancer-prevention-research-institute-of-texas-awards-25-million-to-ut-rio-grande-valley/