FOR IMMEDIATE RELEASE
THURSDAY MARCH 26, 2020
Pharr, Texas – The City of Pharr learned from Hidalgo County officials that the first case of the coronavirus (COVID-19) affecting a resident of Pharr was confirmed today. The County informed Mayor Ambrosio Hernandez, M.D. that investigators with the Hidalgo County Health and Human Services Department are actively involved in interviewing the patient to determine who they may have had contact with. Individuals who have had direct contact with the patient will be contacted by health officials, the County said, and no further information is available at this time.
From the onset of this pandemic, the City of Pharr has taken proactive measures to prepare our community for the inevitable onset. From the implementation of the Emergency Disaster Declaration to working with Homeland Security partners to secure our southern border at the Pharr International Bridge by pre-screening to prevent any high-risk individuals from entering our city or placing them in self-quarantine, city officials have worked closely with federal, state, county, and municipal leaders to mitigate the spread and minimize the impact of COVID-19 in our community.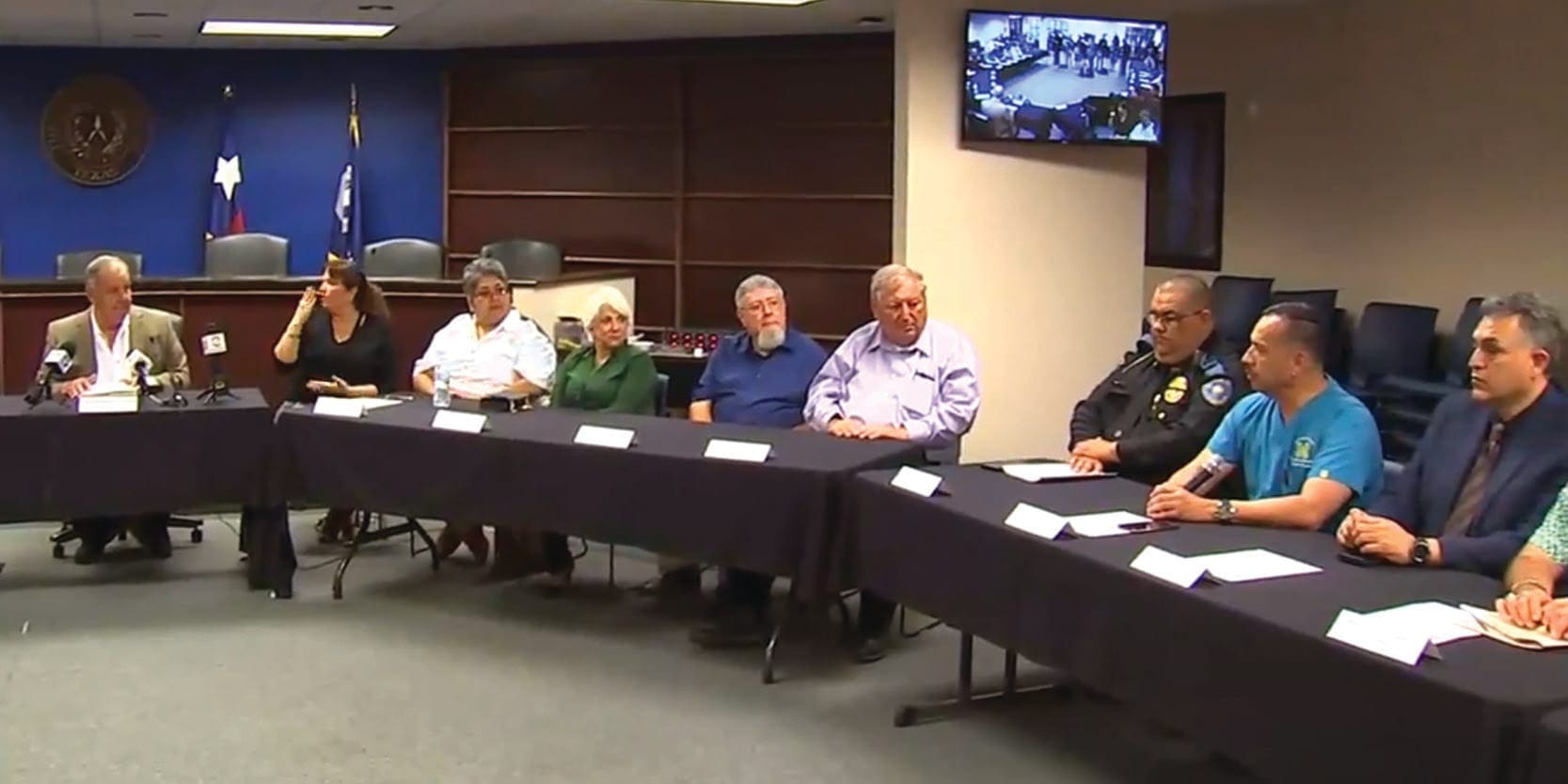 Mayor Hernandez meets with Hidalgo County Judge Richard Cortez and local area mayors to address the coronavirus (COVID-19) crisis on March 17, 2020.
Upon learning of the positive cases, Dr. Hernandez stated the following, once again urging all residents to take proactive measures to protect themselves from exposure and slow the spread of the virus:
     Today we fight an invisible enemy that has taken our world without notice and it does not discriminate. Frankly, we are all at risk. We have worked aggressively to protect our citizens and our families from this unseen enemy.  
Now, we have learned that one of our own has been affected by this enemy and has tested positive for COVID-19. Our thoughts are with him and his family, and we pray for his health and recovery. We continue to urge all residents to stay at home and avoid interacting with others outside of the home as much as possible. This disease is silent, undetectable for days or weeks, and it can be very deadly. Our health care systems can very easily be overwhelmed, as we are seeing across the country and the world.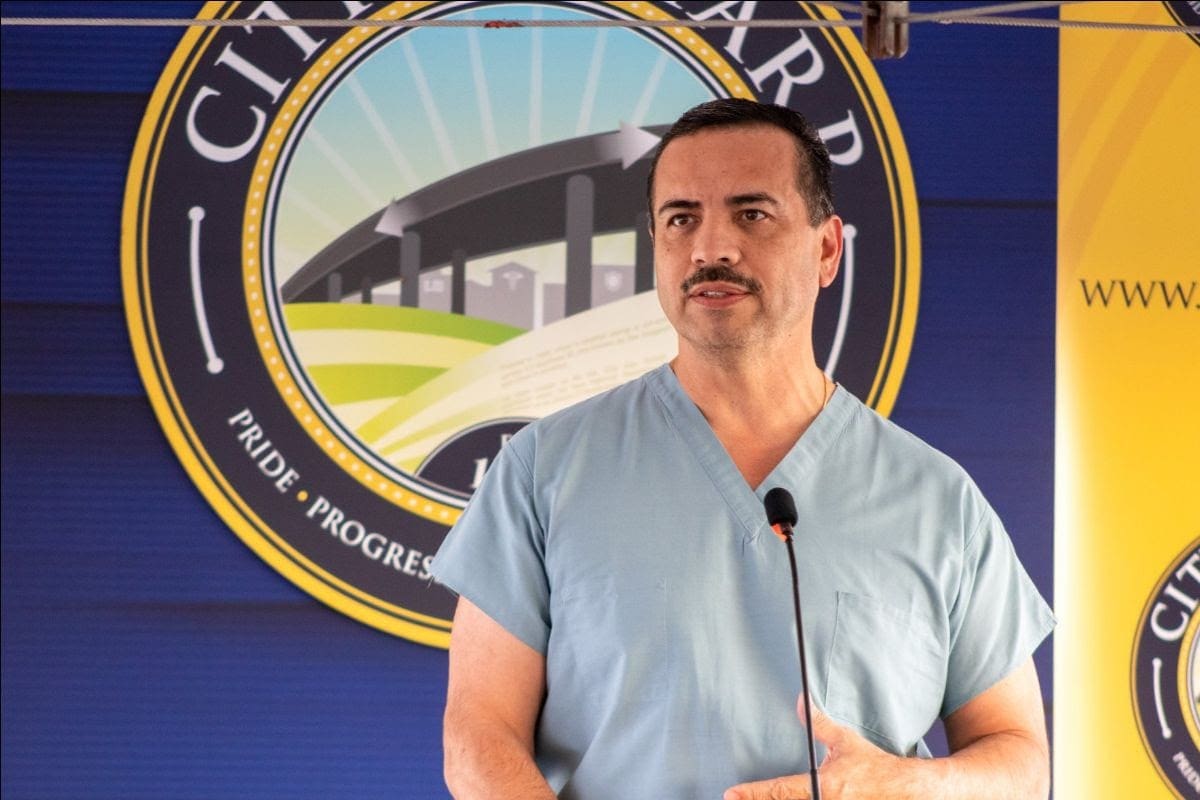 I implore our county and local leaders to follow the recommended guidelines of the Centers for Disease Control, which we are all doing, but we must do more. As a border community, we need to be more stringent with our suggested restrictions and requirements. Many people enter our area through bridges, airports, and buses, from destinations of unknown origin, who may have been exposed to COVID-19.
     The CDC has recommended that anyone who has been to areas affected by COVID-19 or has been exposed to someone with COVID-19 should expect to face limitations on movement and activity. I have urged our county officials and border leaders that we must do everything we can to mitigate the uncontrolled entry of potential COVID-19 carriers, and we must act now – by screening extensively and mandating self-quarantine for those who may pose a potential risk to our community. Today, Texas Governor Greg Abbott announced that all people flying to Texas from New York, New Jersey, Connecticut and the city of New Orleans will be subject to a mandatory 14-day quarantine. 
     The fact is that community spread of this disease is rapidly accelerating. Since every part of this country has now been affected by COVID-19, and there is no way to tell who has been exposed to COVID-19 or is carrying the virus, I urge everyone to stay at home, clean and wash hands frequently, and monitor their symptoms and temperature for any possible signs. We must all do everything we can to slow the spread of this disease. 
     This is a critical moment in our lives. As the days pass, and more testing becomes available, there will likely be more positive cases confirmed. Rest assured that we will continue to fight this enemy and will do all that is necessary to protect you, your families, and our way of life, understanding the health care impact and needs as a physician, and by using all available resources, powers, and information available to me as your mayor.
We are all in this together, and we will get through this together.
     Stay home, stay safe, stay healthy, and God bless!
###