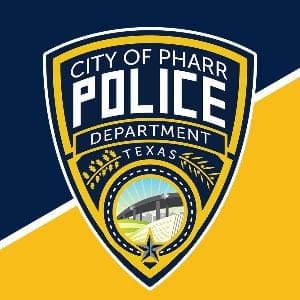 Pharr Police's Therapy K9 Ammo to Visit Nurses at DHR TOMORROW, Friday, 5/13 @ 11 am
Pharr, Texas – The Pharr Police Department's Therapy K9, Ammo, will visit nurses at the DHR Health Women's Hospital, this Friday, May 13.
As we know, a nurse's job can be tedious and stressful at times, since they play a vital role in the medical community and are constantly helping save lives. We realized this more than ever, when the pandemic hit and changed our lives forever.
That's why the Pharr Police Department is thrilled to be able to bring to joy, smiles and comfort to the dedicated, hard-working nurses at DHR.
Ammo will take part in the Hospital Week Celebration that will be held at the DHR Health Women's Hospital.
Nurses will have the opportunity to interact with and pet Ammo, who has undergone months of specialized training to be deemed a therapy K9.
All media is invited to meet Ammo and his handler Officer Alfredo Ortiz of the Community Engagement Unit.
DETAILS
WHAT:  Pharr Police's Therapy K9 Ammo to Visit Nurses at DHR Health Women's Hospital
WHEN: TOMORROW, Friday, May 13, 2022, from 11 am to 1 pm
WHERE: DHR Health Women's Hospital (5502 S. McColl Rd.) in Edinburg, TX
Point of Contact at Event: Officer Danny Garcia (956-648-6264)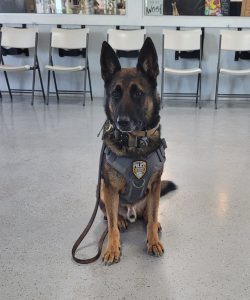 Pharr Police's Therapy K9 Ammo
BACKGROUND: The RGV's First Police Therapy K9
K9 Ammo was born on 10-10-2017. His training began in Boerne, TX at Worldwide K-9. Ammo was purchased and trained for currency and ammunition detection. He arrived at the Pharr Police Department on his first birthday, 10-10-2018, and became an officer.
Throughout his career as a currency and ammunition detection K9, Ammo helped multiple agencies recover millions of dollars in U.S. currency as well as multiple illegal firearms. In 2022, Ammo was selected to become the RGV's first Police Therapy K9. The training for this transition had to start from the very basics as if training a new K9.
Ammo had to be retrained on his obedience, command language, and work drive, to better suit his new purpose and mission. Still undergoing this transition, Ammo has already shown a vast improvement and has adjusted to this new task.
There's plenty of joy and smiles when Ammo is around! He's participated in events such as: The City of Pharr's Hub Phest, school presentations, neighborhood watch, Community Police Citizens Academy, Easter Egg Hunt, Safety Expo, Special Olympics and Domestic Violence Awareness Walk.
MEDIA ADVISORY
Media Contact: Daisy Martinez
Phone: (956) 877-5716