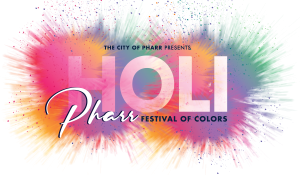 Pharr, Texas – The City of Pharr will host the inaugural Holi Pharr Festival of Colors to commemorate the arrival of spring. Together with the local Indian community and Indian association, Pharr joins communities across the world in celebration of this festive occasion, which marks the arrival of spring and the passing of winter in a fun, joyous, and colorful event. City leaders hope to make this an annual event and invite the entire community to join in the celebration.
The Holi Pharr Festival of Colors will be held on Saturday, March 26, 2022, from 2 pm to 4 pm at Dr. William Long Elementary Park (1000 E. Eldora Road, Between Raider Dr. and N. Veterans Blvd.) in Pharr.
Powder colors will be provided. Recommended dress code is white attire.
All media and the public are invited to attend.
DETAILS
WHAT: Holi Pharr Festival of Colors
WHEN: Saturday, March 26, 2022, from  2 pm to 4 pm
WHERE: Dr. William Long Elementary Park (1000 E. Eldora Road, Between Raider Dr. and N. Veterans Blvd.), Pharr TX