PSJA North football team set to participate in Tips for Toys on Sunday, 12/11 @ 9:30 am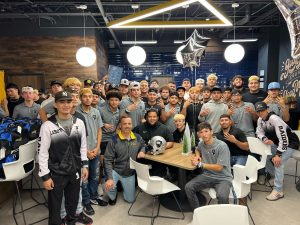 Pharr, Texas – Football players from PSJA North High School will be giving back this holiday season by participating in the City of Pharr's Tips for Toys.
"We are excited to give back to the community who supported us this season," said head football coach Marcus Kaufmann. "Participation in the tips for toys campaign will help our athletes realize what an effect even a small gesture can have on others in the community," he added.
The Raiders will be waiting tables at IHOP (1601 S Cage Blvd, Pharr, TX 78577) on Sunday, December 11, 2022, at 9:30 am. Tips collected will go towards the Tips for Toys fund.
Media is invited to attend.
DETAILS
WHAT: Raiders Participate in Tips for Toys
WHEN: Sunday, December 11, 2022, 9:30 am
WHERE: IHOP Pharr (1601 S Cage Blvd, Pharr, TX 78577)