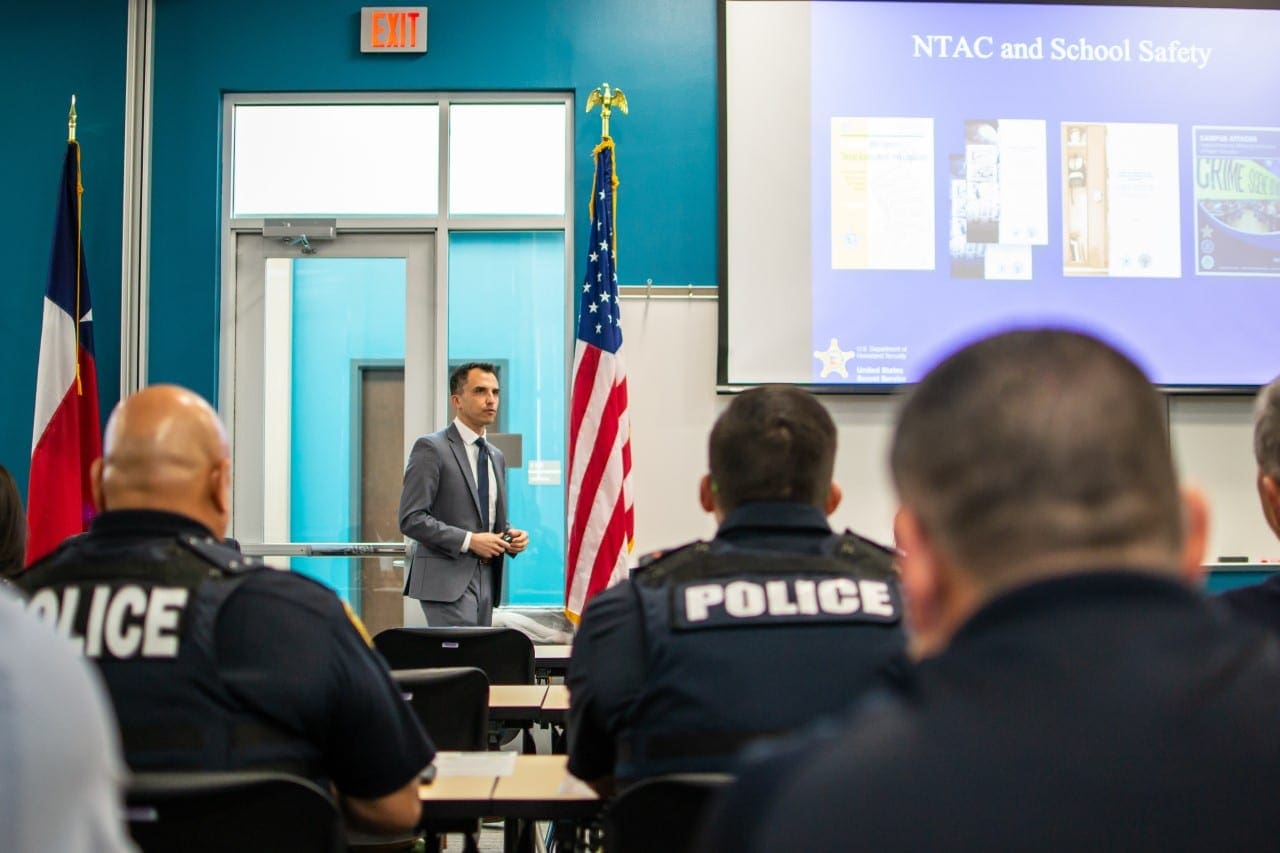 Pharr, TX (Oct. 16, 2019) – A recent training on identifying potential threats within schools has proved to be invaluable, especially for law enforcement within local ISDs, according to organizers of a National Threat Assessment Center Presentation Oct. 10.
The South Texas College Regional Center for Public Safety Excellence (RCPSE) hosted more than 100 law enforcement officers and representatives from various agencies, cities and ISDs who attended a four-hour course provided by personnel from the National Threat Assessment Center (NTAC), a component of the U.S. Secret Service.
NTAC specializes in research, training, and consultation on threat assessment and the prevention of targeted violence. It offered an intensive look into mitigating threats for those in attendance.
Secret Service Special Agent in Charge at the San Antonio Field Office Paul Duran and Resident Agent in Charge at McAllen's Secret Service office Brian Gibson helped coordinate the presentation. Pharr mayor Dr. Ambrosio Hernandez gave opening remarks to attendees.
"We want to make sure we have this type of education available to the entire Rio Grande Valley," said Mayor Hernandez. "We believe strongly in law enforcement, and we believe strongly that at the core of our great democracy is faith. We have faith in our law enforcement training, and we know you put your life at risk every single day.
"We are so grateful for what you do, and the City of Pharr will always be here to help any and all law enforcement as well as this campus," he said.
NTAC's presentation at RCPSE addressed topics including identifying possible potential threats, investigating and gathering information, assessing poses of threats or violence, developing risk management strategies and interventions, and interactive case studies.
The training was provided free of charge, and was open to school resource officers, police investigators, school administrators, school counselors, school psychologists or anyone else potentially involved in a risk detection/management position.
"Threat assessment is something that is in the DNA of the Secret Service, it's something that every agent, office, and analyst does," said Secret Service Social Science Research Specialist Steven Driscoll. "This program is something we have been doing for decades, instituting best practices at school districts."
Despite extensive research on the subject, there remains no accurate "profile" of students who engaged in targeted school violence, according to NTAC.
Between 2015 and 2016, there were 827,030 incidents of crime in school ranging from simple assaults to serious violent incidents nationwide, according to NTAC citing figures from U.S. Department of Homeland Security.
Acting RCPSE campus administrator Sgt. Jose Moroles expressed that the training was invaluable, especially for law enforcement within schools.
"Some of the training dealt with identifying potential threats and students who may be exhibiting concerning behaviors, as well as investigating and gathering information on the background and behaviors of concerning students," Moroles said. "The course was extremely useful for threat assessment training for school officials."
STC's RCPSE provides training for local, county, state and federal professionals in law enforcement, public safety, fire science, and homeland security along the US/Mexico border.
STC is dedicated to providing excellence in educational programs and accessibility to a diverse population. The RCPSE campus specializes in continuous opportunities for professional growth and access to training. The center also serves to strengthen public safety, and benefit those who make public service a career.