Texas GLO Homeowner Assistance and Reimbursement Programs (HARP) Open to Qualifying Pharr Residents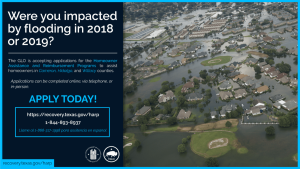 Pharr, Texas – The City of Pharr is working with the Texas General Land Office (GLO) to remind residents that funding is still available for the Homeowners Assistance and Reimbursement Programs (HARP). The program which opened one year ago was set up to help local residents impacted by the 2018-2019 flooding from storms that affected the Rio Grande Valley.
"This funding is important to help those affected by flooding in our community," said Mayor Ambrosio Hernandez, M.D. "If you had to make repairs to your home or are still living with the aftermath, please contact the GLO to start your application process today," he added. "We want to make sure everyone gets the help they need before the funding runs out," continued Hernandez.
HARP covers repairs or full reconstruction of a primary residence, as well as repayment of eligible out-of-pocket repair costs up to $50,000. An application must be submitted along with the required documents for consideration. HARP is on a first-come, first-served basis and all homeowners are encouraged to apply immediately as funds are estimated to run out by the end of the summer. Visit recovery.texas.gov/harp to apply today or call 1-844-893-8937.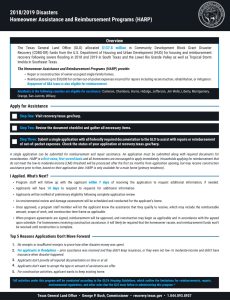 PRESS RELEASE
Pharr Media Contact: Yuri Gonzalez
Phone: (956) 310-2139
Email: [email protected]
GLO Media Contact: Brittany Eck
Director of Communications, Community Development & Revitalization
Texas General Land Office
George P. Bush, Commissioner
(512) 463-5708 direct
(512) 963-7800 Cell