Pharr Celebrates Start of the 2022-2023 Produce Season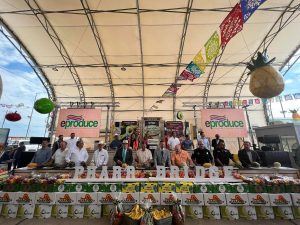 Traditional Cutting of the Fruit – Mayor Ambrosio Hernandez, M.D., and special guests including Texas State Senators Juan "Chuy" Hinojosa and Eddie Lucio Jr., Chairman of the Pharr International Bridge Board Edgar Delgadillo and board members, and Pharr Bridge Director Luis Bazan participate in the ceremonial cutting of the fruit.
Pharr, Texas – City of Pharr officials and Pharr International Bridge leaders celebrated the start of the 2022-2023 Produce Season by welcoming guests to this year's themed event "A Taste of Trade" which featured an array of brightly displayed fresh fruits and vegetables and local chefs preparing meal samplings out of the displays of produce. The event was attended by elected officials, dignitaries, produce growers, importers, distributors, and consumers representing the United States and Mexico.
The Pharr International Bridge continues to be the #1 bridge for produce crossings in the nation, with over 65% of all produce from Mexico crossing through Pharr.
"We feed the world through our bridge," said Pharr Mayor Ambrosio Hernandez, M.D. "Everything goes from this bridge throughout the United States from the East Coast, Midwest, and ultimately winds up in other countries such as Germany and we are so proud of that," he continued. "Today we also recognize and celebrate the hard work of our bridge staff and board for the great success our port of entry continues to experience," added Hernandez. "It takes a team and we have been working diligently with many partners to ensure that our bridge continues to have the infrastructure, resources, and funding to meet our future needs," he said.
On average, the Pharr International Bridge crosses 200,000 produce shipments per year. Fresh fruits and vegetables including avocados, pineapples, mangoes, tomatoes, carrots, and more make their way through the bridge every day.
"Each year our annual event continues to grow and we are so proud to have the opportunity to showcase our trading power, highlight our bi-national partnerships, and celebrate our produce ranking amongst our many produce and logistic partners," said Bazan. As part of our theme "A Taste of Trade", we showcased several dishes prepared by local chefs and restaurants using fresh produce from our bridge," he added. "This is something new we added this year, and we hope everyone enjoyed visually seeing just how many of our produce products cross through Pharr," he continued.
The U.S. has consistently remained Mexico's No.1 trading partner for produce and goods. Pharr's ideal geographical location has resulted in a successful and fruitful partnership between the two countries and in the growth of their produce trading capacity which breaks new records year after year.
"Trade with Mexico supports almost 500,000 jobs," said Senator Juan "Chuy" Hinojosa during his remarks. "Texas could not be so strong economically without Mexico being a partner," added Sen. Hinojosa.
The celebration concluded with the ceremonial cutting of the fruit and the distribution of fresh produce to guests.