City of Pharr and UTRGV Celebrate Signing Ceremony for New School of Nursing Facility in Pharr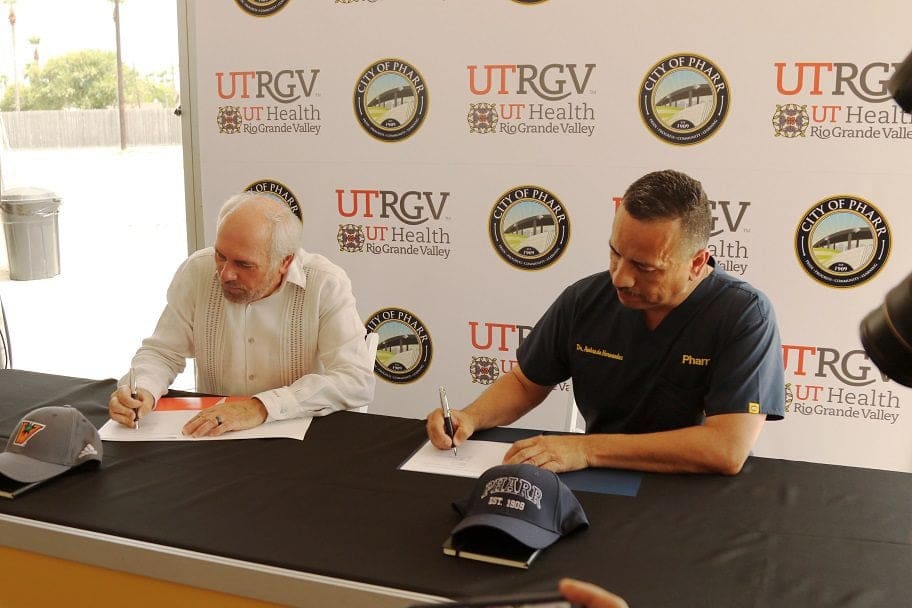 The City of Pharr and The University of Texas Rio Grande Valley held a Signing Ceremony on Thursday, September 2, 2021, to celebrate the UTRGV School of Nursing facility expansion in Pharr. This project will increase access to healthcare in the area while helping to address nursing shortages in the region.
The new facility will be constructed in Pharr as part of a U.S. Department of Commerce $2 million grant from CARES Acts funding. The project's goal is to address nursing shortages in the Valley and prepare it for COVID-19 response.
"The City of Pharr is extremely proud to partner with UTRGV to educate and train the future nursing workforce in our region," said Mayor Ambrosio Hernandez, M.D. "As a physician myself, I understand the need we have for nurses and as a Mayor, I am proud that this facility will be located here in Pharr, where access to UTRGV and all our regional hospitals are closely situated," he added.
UTRGV's School of Nursing continues to expand in Pharr and this is yet another example of the working partnership between the two entities. In 2019, the City of Pharr, PSJA ISD, and UTRGV broke ground on a natatorium. UTRGV plans to construct a sports medicine institute adjacent to the new facility in Pharr. The new building will give medical students the opportunity to practice, learn and work with the community to provide sports medicine therapy and care.
UTRGV President Guy Bailey said this collaboration with the City of Pharr is an important step in growing the School of Nursing and providing education opportunities for the Valley.
"We are grateful to the City of Pharr for its generosity and thank Mayor Hernandez for his support of the UTRGV School of Nursing," Bailey said. "Together, we can help attract and retain the best and the brightest students as we further expand the Valley's healthcare services."
The federal funding for the state-of-the-art facility will be matched with $24 million in local investment, and the project is expected to create 750 jobs and $30 million in private investment, according to a release from the U.S. Department of Commerce.
The ceremony was attended by City of Pharr officials, special guests from the UTRGV School of Nursing, The University of Texas System Regent Nolan Perez, M.D., Texas Higher Education Coordinating Board Vice Chair Dr. Fred Farias, State Representative Sergio Munoz, Jr., State Representative Terry Canales, representatives from Region One Education Service Center and PSJA ISD, Hidalgo County officials, UTRGV School of Nursing faculty and students, and other notable guests.
To view video of the Signing Ceremony, visit https://www.facebook.com/cityofpharr/videos/1382329972162280.