City of Pharr Celebrates Groundbreaking of New Regional Water Detention Facility & Dog Park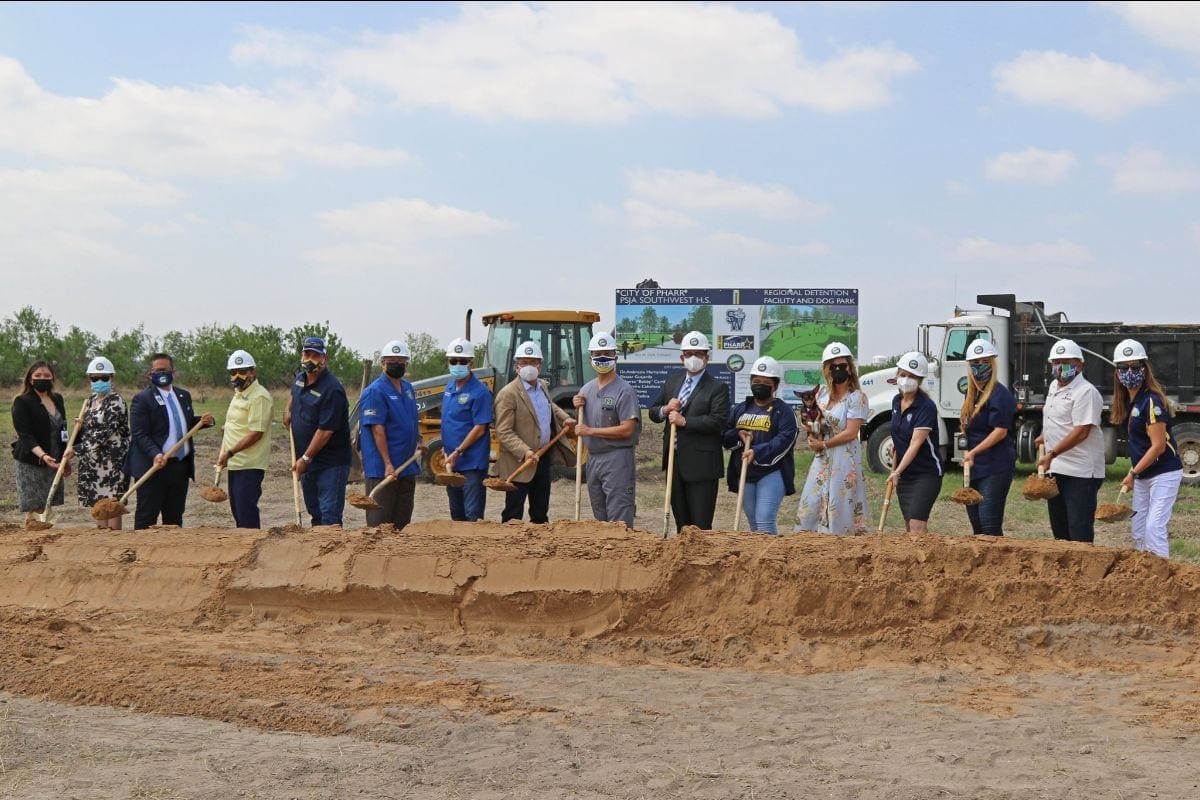 Pharr city officials held a Groundbreaking Ceremony for the City of Pharr and PSJA Southwest Early College High School Regional Water Detention Facility & Dog Park located at 520 E. Saint Anne Drive in Pharr.
This project is one of several in the City of Pharr's Drainage Improvement Plan to enhance drainage infrastructure and help mitigate future flooding. The City of Pharr is partnering with architecture students from PSJA ECHS for the design of the project area.
"We are proud to break ground on the city's newest project in collaboration with our partners at PSJA Southwest ECHS," said Mayor Ambrosio Hernandez, M.D. "This project will not only help improve our drainage infrastructure in the city but also serve as a recreational area and dog park for our citizens to enjoy," he added.
The project cost is estimated at $4.5 million with funding provided by the Texas Water Development Board, through the Flood Infrastructure Fund. This new drainage project will improve Pharr's drainage infrastructure. Project plans include the creation of a new detention facility which is expected to hold up to 100 million gallons of floodwater.
"As your city leaders, we are committed to enhancing your quality of life, while making good use of our resource," said City Commissioner Bobby Carrillo. "While generally many drainage areas are left "as is" (oftentimes becoming an unuseful eyesore) we in the City of Pharr are challenging ourselves, our engineers, and our students from PSJA Southwest ECHS to make this space useful and serve as a multipurpose area for our community to enjoy," he continued.
"This new drainage detention facility will not only serve to stop flooding in our city but also as an outdoor recreational haven for our citizens," added City Commissioner Dr. Ramiro Caballero. "We want our families to make use of this area and our plans to make that happen include having a dog park, walking trail, and other amenities available on the site," added Caballero.
"Our drainage projects will make a big difference in mitigating flooding in our city and we look forward to the outcome of this project, so we can replicate it as we identify other needed drainage improvements," said City Commissioner Daniel Chavez. "This is very innovative and we are proud to not only provide a solution to flooding for this area but also to make use of this space within our community," he added. "We are especially proud to collaborate with students from PSJA Southwest ECHS on the design of the project," said Chavez.
The future 23-acre detention facility is currently in the design phase with construction expected to begin in the Fall of 2021.