Pharr Fire FD to Host "Fill the Helmet" Fundraising Event to Benefit Uvalde Victims, TODAY, 5/26 from 3 pm to 5 pm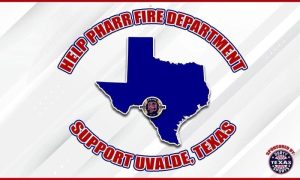 Pharr, Texas – The Pharr Fire Department will be hosting a "Fill the Helmet" Fundraising Event to Benefit victims of the Uvalde tragedy and encourages all RGV residents to make a donation.
The event will take place TODAY, May 26, 2022, from 3 pm to 5 pm at two locations in the City of Pharr: (1) Business 83 and Cage and (2) W. Kelly Avenue & South Jackson. 
"Everyone has felt the devastating impact of the shooting at Robb Elementary in Uvalde, and as we stand together to support our fellow Texans during this time of heartache and need, we are asking our community to join us in raising donations to be sent to the victims and their families," said  Pharr Fire Chief Pilar Rodriguez, PE. "Please consider making a donation and help us "Fill the Helmet," continued Rodriguez.
All donations collected will be delivered to Uvalde victims.
"We support the City of Uvalde and  Uvalde CISD, and we stand in solidarity with them during this immensely difficult time," Pharr Mayor Ambrosio Hernandez, M.D. said. "Anything we can do to help will be done and I am proud of our Pharr Fire Department for bringing forward this initiative and encouraging our local community members to "Fill the Helmet," he added. "We encourage anyone wanting to donate to please stop by either of our two locations today between 3 pm to 5 pm and help us make a difference."
All media and the public are invited to attend.
DETAILS
WHAT:  Pharr FD "Fill the Helmet" Fundraiser for Uvalde Victims
WHEN: TODAY, May 26, 2022, from 3 pm to 5 pm
WHERE: (1) Business 83 and Cage and (2) W. Kelly Avenue & South Jackson in Pharr