Pharr Hosts Sen. Cornyn for Mental Health Roundtable Discussion & Press Conference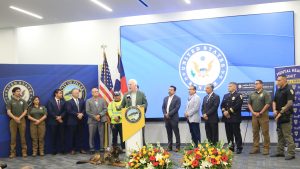 Pharr, Texas – City of Pharr leaders were excited to host U.S. Senator John Cornyn at a roundtable discussion on local Mental Health initiatives and federal legislation with regional leaders and law enforcement agencies. Pharr city commissioners welcomed Cornyn and individuals representing collaborative agencies including Tropical Texas Behavioral Health, the Hidalgo County District Attorney's Office, DHR Health Behavioral Hospital, and the University of Texas Rio Grande Valley, among others.
Cornyn opened the discussion by providing attendees with an overview of the importance of mental health treatment for local communities, especially in the wake of the recent mass shooting in Uvalde, Texas. Cornyn lauded his efforts to pass key legislation in the U.S. Senate for the Justice and Mental Health Collaboration Reauthorization Act of 2022. The legislation reauthorizes expiring programs under this initiative and also expands the use of multi-disciplinary response teams and provides resources and mental health training for law enforcement officers. The Act also enhances access to mental health services.
"We appreciate Senator Cornyn's efforts to promote and support mental health legislation through which innovative and collaborative programs like the Mental Health Unit are made possible, and we are seeing a direct impact on our community," said Mayor Ambrosio Hernandez, M.D. "This type of compassionate intervention that they provide is working to save lives, and we are so proud of the work that the Mental Health Unit is doing in our city for our residents," Hernandez added.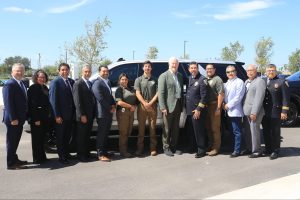 Pharr City Commissioners and City Manager/Police Chief Andy Harvey provided Cornyn with an overview of Pharr's innovative Mental Health Unit. The Unit, founded in 2020 through a collaborative initiative between the Pharr Police Department and Tropical Texas Behavioral Health, utilizes trained mental health officers and a clinician to respond to incidents where an individual may be experiencing a mental health crisis and get them the help they need. The Unit was recently awarded a $550,000 grant by the U. S. Department of Justice to expand its services and was recognized earlier this year as "Organization of the Year" by the Texas Crisis Intervention Team Association.
The visit included a brief and intimate testimonial by an individual who was helped by the Mental Health Unit, and he thanked them for changing his life after experiencing a crisis. He now has a steady job and credits the Unit for helping him through his situation. At a press conference after the roundtable, Cornyn remarked, "If we can get people the help they need and access to that care, that protects them from being a danger to themselves or others as well."
"The challenge of mental health affects every family in America," Cornyn continued. "I'm so happy to be here in Pharr and to hold this up as a great example of what can be duplicated in other parts of the state and other parts of the country," Cornyn added.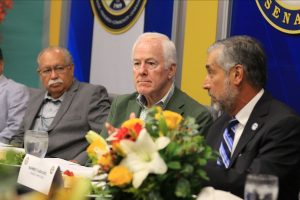 Pharr Commissioner Ricardo Medina, Senator John Cornyn, and Pharr Commissioner Ramiro Caballero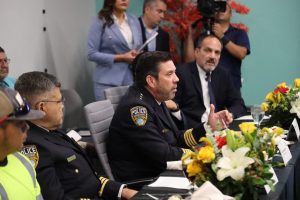 (l-r) Pharr Assistant Chief of Police Joel Robles, City Manager/Police Chief Andy Harvey, and Tropical Texas Behavioral Health Chief Operating Officer Mike Taylor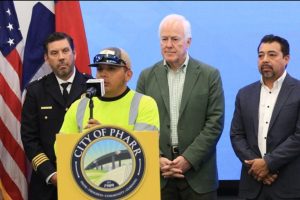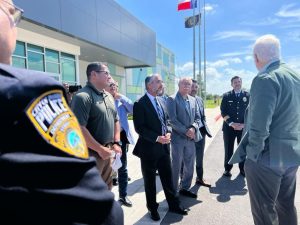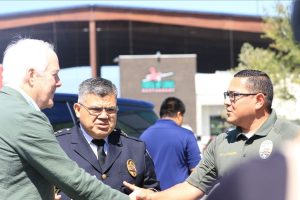 MEDIA ADVISORY
Media Contact: Yuri Gonzalez
Phone: (956) 310-2139
Email: [email protected]