Pharr Launches Census Headquarters, Announces New Census Initiatives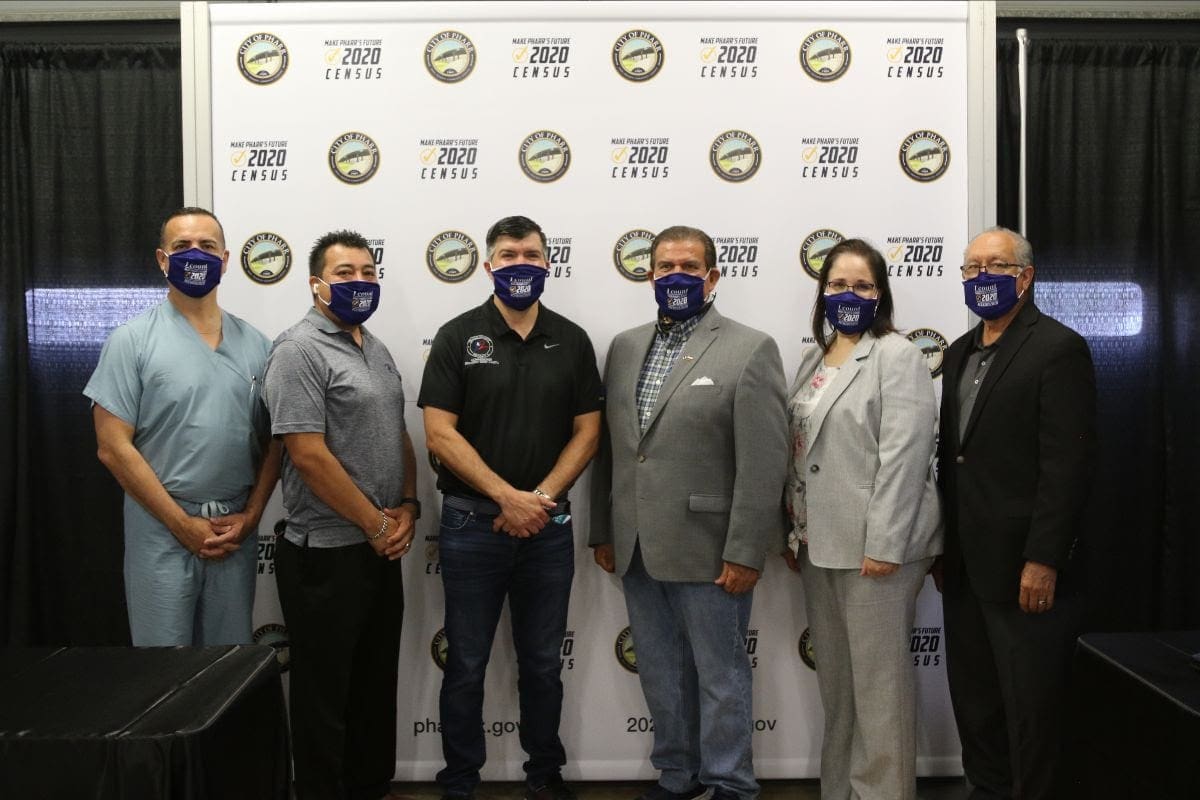 (Pictured l-r) Pharr Mayor Ambrosio Hernandez, M.D., Pharr City Commissioner Daniel Chavez, Hidalgo County Precinct 2 Commissioner Eddie Cantu, Texas State Senator Eddie Lucio, Jr., Pharr City Commissioner Itza Flores, and Pharr City Commissioner Ricardo Medina attend a press conference to announce Census Initiatives.
FOR IMMEDIATE RELEASE
TUESDAY, APRIL 28, 2020
Pharr, Texas – At a virtual press conference held Tuesday, Pharr City leaders and local school district leaders announced the launch of the 2020 Census Complete Count Initiative which includes the opening of Pharr's new Community Census Headquarters and a new partnership with school districts. The City of Pharr continues its efforts to collaborate with local school districts to ensure that all families in the community are counted in the 2020 Census, especially now as the city and schools, like others around the nation, are facing the coronavirus (COVID-19) pandemic.
City leaders announced via the virtual press conference that the city has created a Census Headquarters, located at 114 W. Cherokee, Pharr, Texas 78577, to ramp up Census efforts amid the COVID-19 pandemic. Maintaining all social distancing guidelines issued by the CDC, Pharr Census Team Members will work out of the building to phone bank, conduct online assistance, and continue outreach efforts to encourage Pharr families to complete their 2020 Census questionnaire.
"We are proud to continue our Census initiatives and keep our Census workers employed as we take new approaches to educate our community and remind them to complete the Census," stated Mayor Hernandez. "An accurate Census count is important to ensuring we have fair representation in Congress and at the state level, and that we are distributed federal funds to our communities' vital programs over the next decade – impacting housing, education, transportation, employment, health care, public policy, and more," said Hernandez. "It is especially important for our local communities in times like this, such as the coronavirus pandemic we are all currently living, where resources, grants, and other federal funding and programs are vital to ensure that our families, economies, educational institutions, and governments continue to thrive," he added.
Pharr also announced new Census initiatives in collaboration with all five local school districts. The city has been proactive in providing outreach, educational workshops, and marketing materials in partnerships with all local school districts over the last year in preparation for the launch of the Census on April 1, 2020.
Mayor Hernandez and city leaders have partnered with local school districts including PSJA ISD, Hidalgo ISD, Valley View ISD, and Vanguard Academy Charter School to stress the important role that parents and families play in being counted in the Census and participating in the process.
Mayor Ambrosio Hernandez, M.D., speaks at a press conference to announce the opening of Pharr's Census Community Headquarters and the launch of Census initiatives, including partnerships with local school districts. 
As the coronavirus (COVID-19) continues to spread across Texas, Governor Abbott announced late last week that public and private school classrooms will remain closed for the remainder of the school year to avoid quickening the spread of COVID-19. As such, the City of Pharr has made adjustments to critical Census 2020 outreach efforts.
"Since our circumstances have changed, we want to be mindful of the health of our families, while also taking advantage of this time that our students and their families are sheltering at home to ensure that they complete the Census questionnaire either online, mail, or by phone," Hernandez said.
The City of Pharr has created a Census Flyer to outline how families can fill out the Census questionnaire at home and in addition, they have collaborated with local school leaders to provide a Social Studies credit for students who submit a screenshot or photo of their families submitted questionnaire to their teacher.
"In a truly collaborative effort, the City of Pharr has gone above and beyond to partner up with school districts with this innovative initiative to tie the social studies curriculum to our residents' civic duty of participating in the census," added Rolando Ramirez, Superintendent of Valley View ISD. "In this time of uncertainty, such measures strengthen the city's partnership with the community and assists in ensuring that much-needed funds are allocated to the Rio Grande Valley," he said.
All school district leaders have been working alongside the city to ensure a complete Census count.
"I want to thank Mayor Ambrosio Hernandez, the City of Pharr, and local leaders for partnering with us on this Census initiative," said Xavier Salinas, Hidalgo ISD Superintendent. "We have worked very closely with the City of Pharr, which we feel is leading the pack in Census numbers," added Salinas. "Mayor Hernandez helped train a lot of our community parent leaders and it's evident with the numbers we have seen in our area," Salinas continued. "One of our certified parent leaders even held a Zoom Meeting this week to train parents on how to fill out their Census, and we credit his vision and proactive approach of the City of Pharr," he said. "Together, we are moving forward in the right direction!"
"IDEA Public Schools is proud to partner with the City of Pharr to support 100 percent participation in the 2020 census," said JoAnn Gama, CEO & Superintendent, IDEA Public Schools. "We are passing out flyers with meal bundles, hosting Census 101 webinars, sharing information on-campus social media accounts, and training our school counselors to help answer questions families might have about the census," she added. "The census is crucial to our democracy, and we're committed to doing our part to ensure everyone counts."
PSJA ISD will be hosting PSJA Census Week from April 27-May 1 to encourage the entire PSJA family to complete their Census. Throughout this week, activities will also be incorporated into the district's distance learning modules to educate students about the significance of this task.
"PSJA ISD continues to create awareness of the importance of our families completing the Census," PSJA Superintendent Dr. Jorge L. Arredondo said. "It is imperative that we continue to work together as a region to ensure every single one of our residents is counted, so we can secure adequate representation and funding for our area."
School districts will also be assisting the City of Pharr in Census Completion Efforts by providing parents with information on how they can complete the census by distributing a Census Flyer on how to complete the Census questionnaire through social media, emails, texts, and by also attaching the flyer to coursework or meals picked up by students or families.
"An accurate count in the 2020 Census will help determine future funding for special education, teacher training, technology, school lunch assistance, Head Start, after-school programs, and more," Hernandez said. "We encourage all our Pharr families and those throughout the region to take this opportunity while at home to fill out the Census online, by mail, or via phone as outlined in the flyer," Hernandez continued. "Our Pharr media team has also produced two Public Service Announcement videos in English and Spanish to guide and explain to families how to successfully fill out the census questionnaire.
English PSA video: https://youtu.be/B8HF2DyzudQ
Spanish PSA video: https://youtu.be/KS8II3kU_zs
City leaders acknowledge that there has been tremendous growth in Pharr over the last decade and are continuing to work with all partners, businesses, community leaders, organizations, and schools to ensure everyone completes the Census and helps "Make Pharr's Future."
Families can access and fill out the Census questionnaire online at www.2020census.gov.