Pharr Police Report Possible Home Invasion Robbery
Pharr Police report a possible home invasion robbery. At approximately 6:45 p.m., at least 2 suspects entered the residence at 711 W. Prieda by force. Multiple shots were fired inside the residence resulting in the death of one of the suspects, Hispanic male in his 20's. A second suspect exited and fled the scene in an unknown type vehicle, possibly grey in color. One of the residents was also struck by gunfire with non-life threatening injuries. Several people are being interviewed by Pharr PD detectives.
UPDATE – Murder Investigation
The Pharr Police Department has arrested and charged Erik Daniel Garza (5-12-93) with the murder of Jose Eduardo Morales (9-16-94). Through the course of the investigation, detectives have identified three persons of interest: Sixto Gonzalez (12-4-96), Leslie Denise Medina (04-18-95), and Dereck Medina (01-23-97). Detectives are currently attempting to locate them along with a 2010 silver in color Chevy Cobalt Texas License Plate BPV-8584.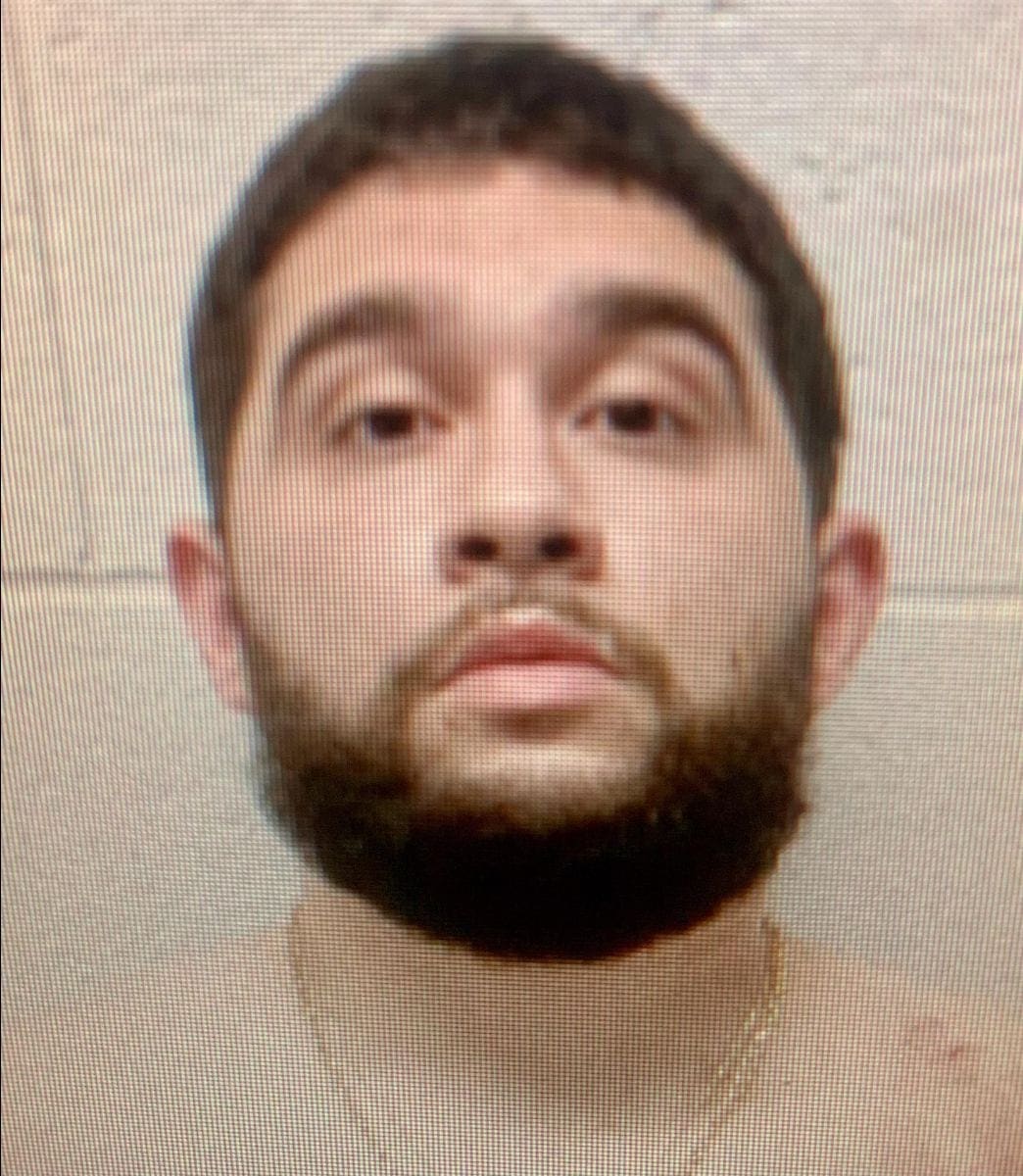 A search warrant was executed resulting in the recovery of 14 weapons, including rifles, shotguns, and handguns, including a large amount of ammunition.
Pharr Police ask that anyone with information please contact our Criminal Investigation Division at 956-402-4700. If you wish to remain anonymous, you may call Pharr Crimestoppers at 956-787-TIPS or 1-800-648-TIPS
UPDATE on Home Invasion/Murder
Public Assistance Needed: These vehicles are possibly being driven by Derek Medina (DOB:01/23/1997) and the other persons of interest- Sixto Gonzalez 12-4-96 and Leslie Denise Medina 04-18-95.
The silver Chevrolet Cobalt is listed as a stolen vehicle. Derek Medina IS CONSIDERED TO BE ARMED AND EXTREMELY DANGEROUS. Any info please call Crime Stoppers @ 787-TIPS *8477)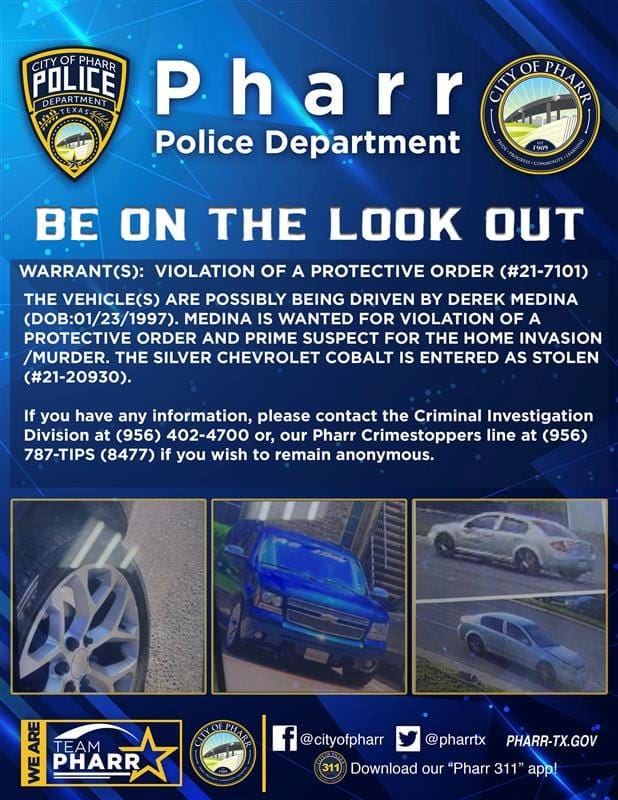 UPDATE on Frieda Street Homicide – 2 in Custody
Sixto Gonzalez was arrested on 06/24/2021 at the Hidalgo Bridge for a violation of federal probation by the US Marshal Service and is currently in their custody at the La Villa Detention Center. Gonzalez was a person of interest in the murder that occurred at 711 Freida, Pharr, Texas.
Dereck Medina was taken into custody in Mississippi by the US Marshal Service on a warrant that was issued by the Pharr Police Department for Engaging in Organizing Criminal Activity. Pharr Investigators traveled to Hernando, Mississippi and took custody of Mr. Medina on our charges, and he was returned to Pharr on 07/01/2021 for his arraignment. Dereck is the second subject of interest in connection to this homicide.