Pharr Presents Trail of Terror: A Spine-Tingling Halloween Experience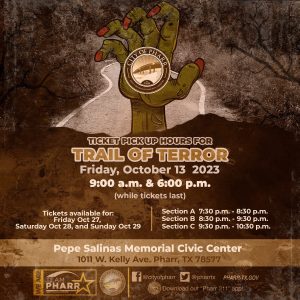 Pharr, Texas – Get ready for a chilling adventure like no other as the City of Pharr invites you to the Trail of Terror! This heart-pounding trail ride promises thrills, suspense, and endless fun for those brave enough to embark on a terrifying journey through the unknown. Get ready to face zombies, psycho nurses, killer clowns, and more spine-tingling guests that will haunt your dreams!

The Trail of Terror is a FREE TICKETED EVENT. Tickets will be available starting Friday, October 13th, at the Pepe Salinas Recreation Center (1011 W Kelly Ave, Pharr, TX). Round one of ticket distribution will begin promptly at 9:00 AM. Round two of ticket distribution will start at 6:00 PM.
Mark your calendars for October 27th, 28th, and 29th. Trail rides begin at 7:30 PM and wrap up at 10:30 PM. The Trail of Terror takes place at the Pharr Vanguard Nature and Birding Center (1025 S Richmond Dr, Pharr, TX 78577).

Each ticket admits a group of up to 6 people, so gather your friends and family and prepare for a night of bone-chilling terror. Do you have what it takes to conquer the Trail of Terror and emerge unscathed?

This event promises to be an unforgettable Halloween experience, filled with screams, surprises, and memories that will last a lifetime. Don't miss your chance to face your fears and join us on October 27th through 29th at the City of Pharr's Trail of Terror!

All media and the public are invited to attend.

TICKET DISTRIBUTION DETAILS:
WHAT: Trail of Terror Ticket Distribution
WHERE: Pepe Salinas Recreation Center (1011 W Kelly Ave, Pharr, TX)
WHEN: Friday, October 13, 2023, at 9:00 AM and 6:00 PM

TRAIL OF TERROR DETAILS:
WHAT: Trail of Terror
WHERE: Pharr Vanguard Nature and Birding Center (1025 S Richmond Dr, Pharr, TX 78577)
WHEN: Friday – Sunday, October 27-29, 2023, from 7:30 PM – 10:30 PM